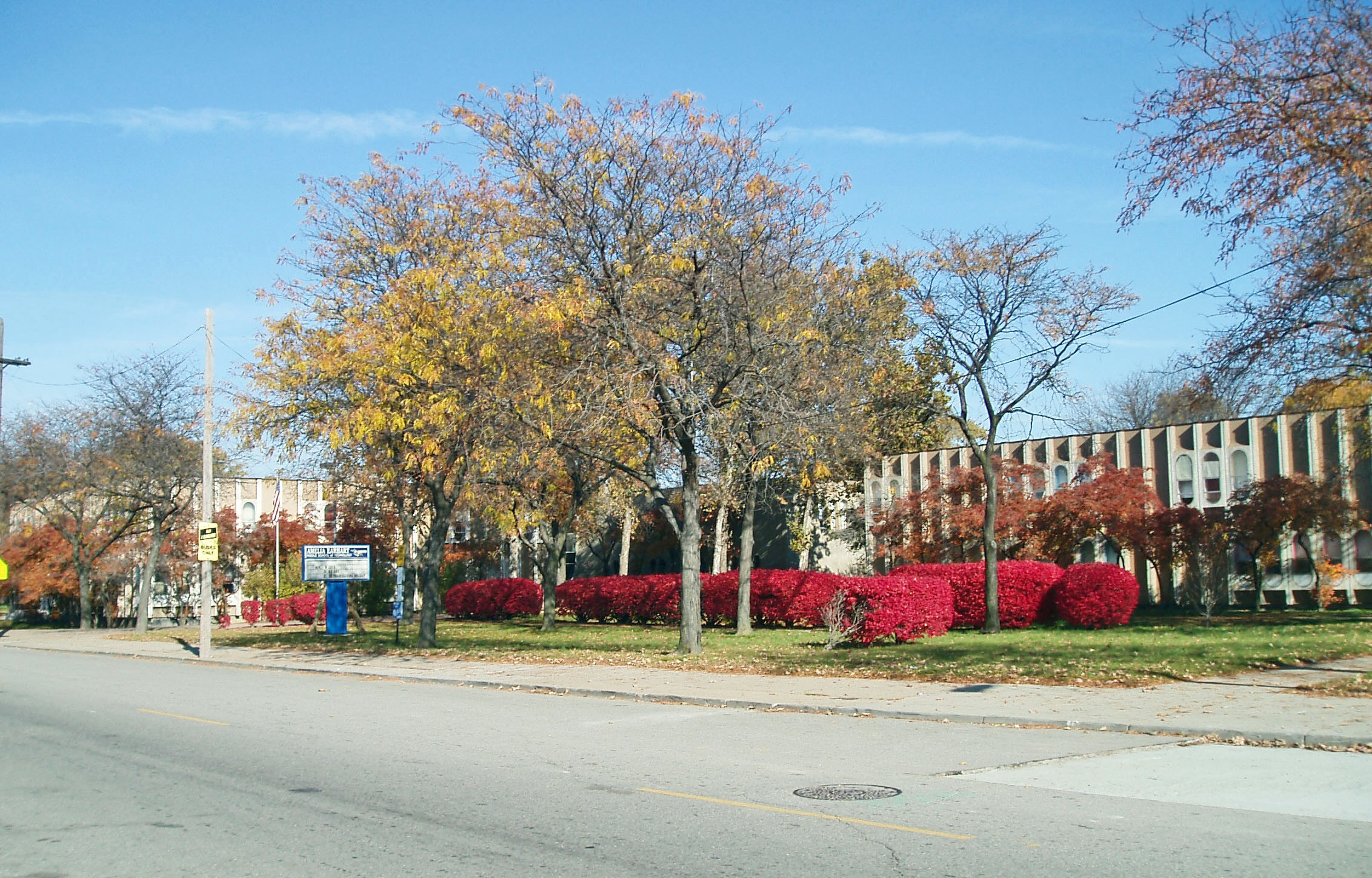 Amelia Earhart Middle School
1000 Scotten Street
This attractive school building is located on an exceptionally well-landscaped campus. Not all public schools are surrounded by green trees and flowering bushes. Sylvan Clark Park, with its sculpture garden, recreation center and soccer fields is just across Scotten, so the school compliments this much revived park. This is a multicultural and technologically advanced middle school serving largely Hispanic neighborhoods. I presume that it was built in the late 1950s, but I do not know who designed the school or exactly when it was completed.
It is named after the nation's first famous aviatrix. Amelia Earhart was born in Atchison, Kansas in 1897, but her father apparently held many different jobs in several locations. Her family moved to Chicago and she graduated from Hyde Park High School in 1915. She lived for some time with a sister in Toronto and served, during World War I, as a nurse's aide in a military hospital there. She attended Columbia University in New York for one year and obtained the credentials needed to become a social worker.
In 1920, she returned to her family of origin. At that time, they were living in California. Her father took her for an airplane ride. She became smitten with aviation and devoted the rest of her life to flying, although she was employed as a social worker in Boston for several years in the 1920s. She began flight instruction early in 1921 and purchased a small plane that year, a Kinner Airster biplane. In 1922, she set a women's altitude record by soaring to 14,000 feet.
Her achievements were recognized. In 1927, Charles Lindberg became the first person to fly across the Atlantic. Amelia Earhart was the first woman to cross the Atlantic in a plane. Pilot Wilmer Stultz invited her to accompany him and his co-pilot, Louis Gordon, on June, 1928 trip on a Fokker plane. The flight from Newfoundland to Wales took them just under 21 hours. In 1929, she helped to organize a cross country air race for women aviators only. Actually, the women flew their planes from Los Angeles to Cleveland. Will Rogers labeled this the "Powder Puff Derby" and it became an annual event.
No one duplicated Detroiter Charles Lindberg's solo flight across the Atlantic for five years. Amelia Earhart was the second person and first woman to fly solo from America to Europe. Flying a Lockheed Vega, she took off from Newfoundland on May 20, 1932 with the intention of landing in Paris as Lindberg had. Challenges forced her to put down in a farm field near Londonderry. This led to a classic aviation story. As she was exiting her plane, the farmer arrived. Amelia Earhart asked: "Where am I?" The cryptic Irish farmer answered "Gallagher''s farm" and then asked "Have you come far?" Apparently, Amelia Earhart casually answered "From America." She was widely acclaimed in the United States for this feat.
In 1935, Amelia Earhart won distinction as the first person to fly solo across the Pacific. In truth, this was a flight from Honolulu to San Francisco. Previously, ten men had tried to accomplish that trip but failed. In 1937, she sought to become the first woman to fly around the world. Such a trip took much preparation and a rebuilding of her Lockheed L-10 Electra. She and her navigator, Fred Noonan, took off from California on June 1, 1937 and flew in an easterly direction to benefit from wind currents. They completed 22,000 of their 29,000 journey when they arrived at Lea, New Guinea at the end of June. On July 2, they took off from New Guinea with the intention of landing at Howland Island on their way to Hawaii. Amelia Earhart and Fred Noonan were never heard from again.
It is interesting that there is a Detroit public school named for Amelia Earhart, but none for Charles Lindberg. Lindberg was born in Detroit on February 4, 1902 while his mother was a teacher at Cass Tech. There is, so far as I know, no commemoration of Lindberg in Detroit. I wonder if this is attributable to Lindberg's political and racial beliefs at the start of World War II.
Architect: Unknown to me
Date of Construction: Late 1950s or early 1960s, I think
Use in 2009: Middle School
City of Detroit Designated Historic District: Amelia Earhart School is within the Hubbard Farms Historic District, Listed
February 26, 1993
State of Michigan Registry of Historic Sites: Not listed
National Register of Historic Places: Amelia Earhart School is within the Hubbard Farms Historic District. Listed January 29, 1993.
Website for Amelia Earhart School: http://myschool.detroitk12.org/earhart/
Website for Amelia Earhart: http://www.ameliaearhart.com
Website for Clark Park: http://www.clarkparkdetroit.com/
Photograph: Ren Farley, November 6, 2008
Description prepared: January 7, 2009