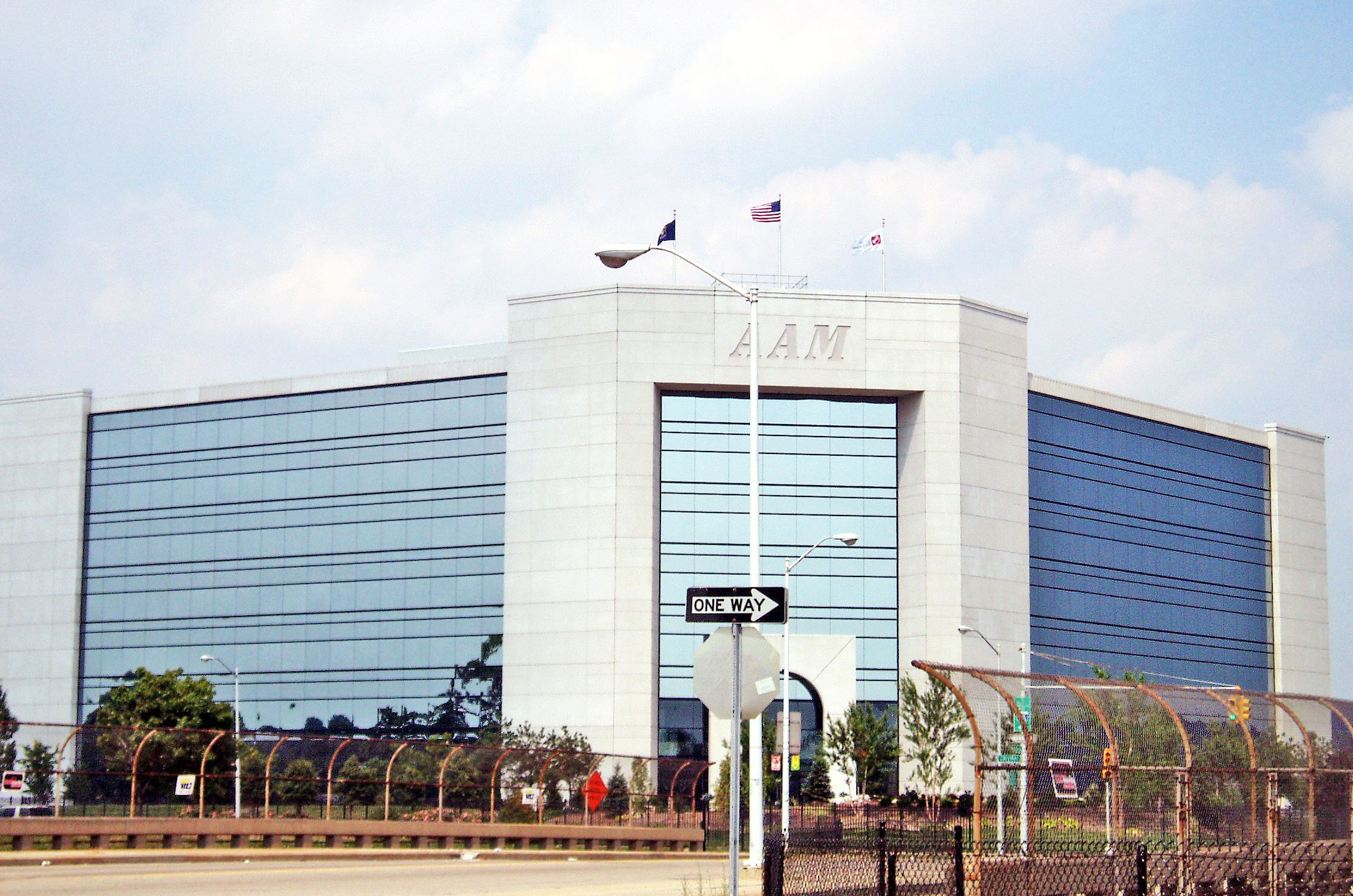 American Axle and Manufacturing World Headquarters
One Dauch Drive near the intersection of Holbrook and the
Chrysler Service Drive off the Chrysler Freeway in Detroit
Because of its location on the Chrysler Expressway, this is one of Detroit's most frequently seen new buildings. And it is one of the city's most striking buildings when the sun glistens off its skin. Does it represent a dramatic turn-around for the vehicle industry and an indicator of what the Motor City can expect in the near future? Unfortunately, American Axle did not fare well in the recession that began in 2008. By 2011, they had terminated their operations in Detroit and this building is now empty.
Detroit's early automobile manufacturers lacked capital so they assembled cars using parts produced by machine shops and other suppliers. The Dodge Brothers shops were the source of many or most of the parts Henry Ford used to assemble his cars in the first years of the Twentieth Century. As the automobile industry became more financially secure, some producers started buying their suppliers. Robert Hupp in Detroit was among the first to own many of the makers of the parts used in his Hupmobiles. The Dodge Brothers went about this differently since, after supplying Ford for years, they split with Henry Ford and produced their own cars using, primarily, parts they made. Around the time of World War I, Henry Ford started purchasing suppliers and, by the mid-1920s, owned coal mines, a railroad, timber lands, Great Lakes ships and most everything needed for turning out Model T's and then Model A's.
There has been no consistent philosophy about whether vehicle manufacturers should own their suppliers or purchase parts from them. The industry has gone through many financial crises and, at such times, producers have raised capital by selling their parts manufacturing facilities. Delphi and Visteon are recent examples of firms that were spun off by GM and Ford in hopes of raising capital and reducing costs.
In 1994, the Final Drive and Forge Business unit of GM's Saginaw Division was sold to a consortium headed by Richard Dauch and James McLernon. This unit produced drive trains, chassis and other key component parts for GM vehicles. The new owners promptly christened their firm, American Axle and Manufacturing. They had an agreement with GM such that GM was obligated to purchase a high percentage of their power trains from American Axle. That agreement gave the firm access to capital. Their business prospered so they modernized the older plants they purchased from GM and built a new technical research center in Rochester Hills. Interesting, they construct their impressive world headquarters building, not in a remote suburban office campus, but in a less-than-sparkling corner of Detroit close to their manufacturing plants at the Detroit-Hamtramck border. Both Michigan and the federal government offer tax credits to investors who clean up brownfields. Those tax credits and tax abatements flowing from Michigan Renaissance or Enterprise Zones help explain the location of this impressive office building. American Axle appears to be an example of new leadership taking over a struggling division of GM, finding the requisite capital and then revitalizing their facilities for the modern vehicle industry. However, probably three-quarters of American Axle's sales are to GM so their prosperity depends upon the popularity of GM cars and trucks. With sales revenue in 2005 approaching five billion, American Axle ranked as the 23rd largest firm in the State of Michigan and ranked as the 18th largest firm in the national ranking of firms in the Motor Vehicle and Parts sector.
American Axle's troubles began in 2008 with major labor strife, and then later that year when the recession began, General Motor's sales fell sharply with great consequences for American Axle. By 2009, it look as if American Axle was on the cusp of bankrupty but its output was crucial for General Motors. GM was able to advance about $110 million to American Axle to keep them in operation. However, to cut cost, American Axle laid off about 900 workers at their Detroit-Hamtramck plant. American Axle survived, but in 2011, closed their operations at this location. I believe that some of the jobs here were shifted to Marysville and the firm's headquarters moved to Three Rivers, Michigan.
Architect: Unknown to me
Date of Opening: 2004
City of Detroit Designated Historic District: Not listed
State of Michigan Registry of Historic Sites: Not listed
National Register of Historic Places: Not listed
Use in 2012: Empty building owned by American Axle awaiting reuse
Photograph: Ren Farley, Summer 2005
Description updated: January, 2012
Return to Commercial Buildings