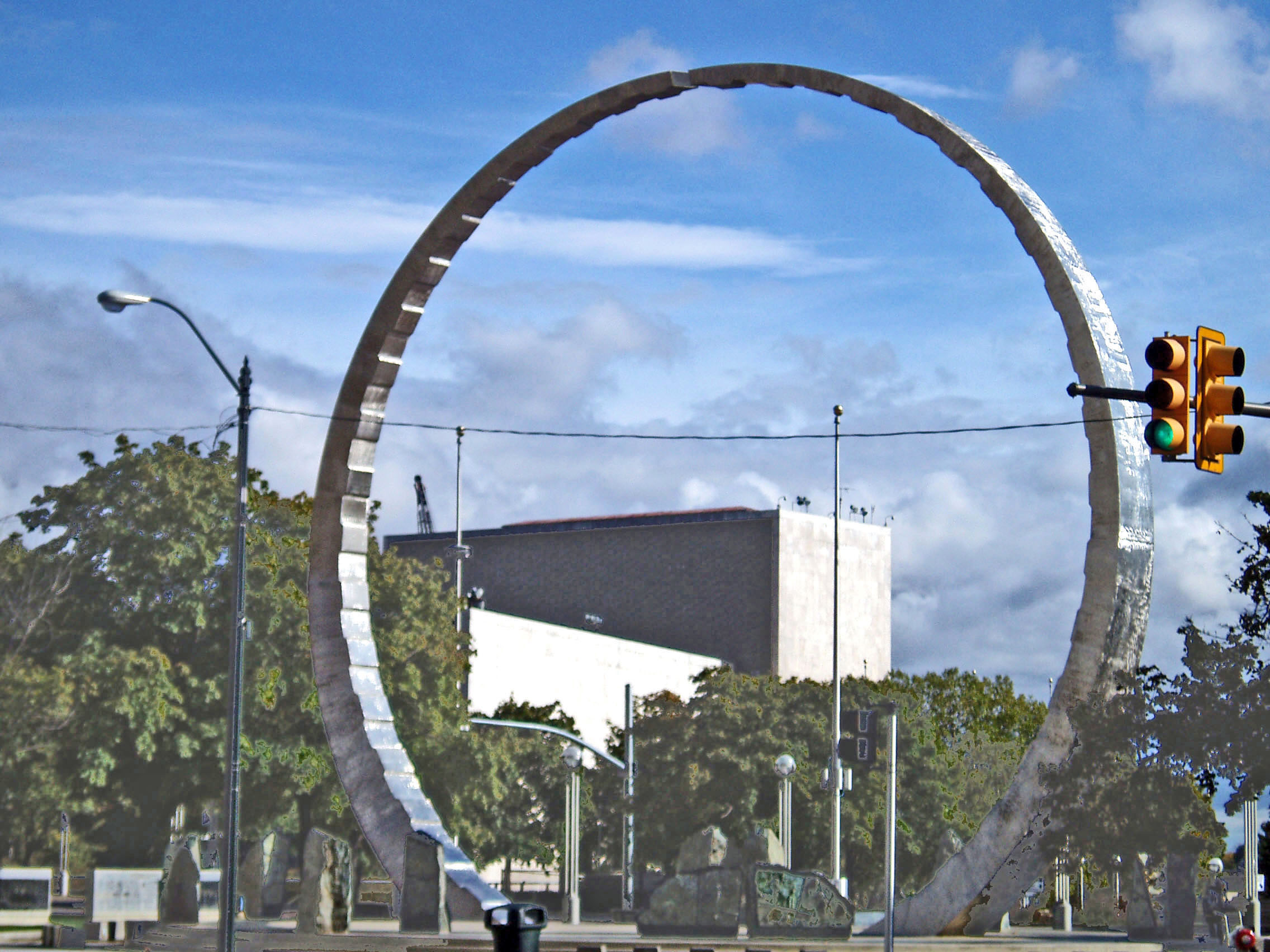 Transcending
The Michigan Labor Legacy Landmark
Located in Philip Hart Plaza in downtown Detroit near the
intersection of Woodward and Jefferson

In 2000, the Michigan Labor History Society established a non-profit endeavor to create a monument that would celebrate the state's contributions to the labor movement. Funding was obtained from the United Auto Workers, for the Detroit are AFL-CIO and from a variety of other civic and labor organizations. Sculptures were invited to enter a competition and submit sketches of their designs. 120 artists entered the competition.

The selection committee chose the sculpture you see, one called Transcending by they artists: David Barr from Livonia and Sergio de Guisti, an Italian sculpture living in Redford Township at this time of his selection. The two steel arcs—the work of David Barr—stretch 63 feet into Detroit's sky and weigh 30 tons. Barr saw them as an elegantly stylized gear emerging from the ground. They are not joined and many assume that reminds viewers of the unfinished mission of the American labor movement. However, at night, a light project from one of the arcs at its zenith to the other. The sculptors assumed that viewers would focus on that light. To them, this light symbolized the energy of workers.

At the base you will see fourteen Vermont granite boulders, each six feet in height. The bas reliefs on those impressive boulders are the work of Sergio de Guisti. They remind us of the sacrifices and achievements of American workers.

There are also more than a dozen plaques commemorating the accomplishments of the American labor movement such as the prohibition of child labor, free public school education and employer paid pensions and health care.

This monument stands close to where Dr. Martin Luther King first gave his "I Have a Dream" speech on June 20, 1963, a speech that reached an even larger audience when Dr. King repeated its famous phrases at the Lincoln Memorial in Washington on August 28 of that same year. Dr. King's optimistic phrase: "The arc of history bends toward justice" is included in this sculpture.

Date of dedication: August 30 2003
Scupltors: Steel arc: David Barr
Bas reliefs on the granite stones: Sergio de Guisti
Architect: Charles Metz
Use in 2004: Commemorative sculpture
City of Detroit Local Historic District: Not listed
State of Michigan Register of Historic Sites: Not listed
National Register of Historic Places: Not listed
Photo: Andrew Chandler; July, 2004
Note: The Labor Heritage Foundation has designed 170 locations across the nation as American Labor Landmarks. This is one of 15 in Michigan. The only other such landmark in the city of Detroit is the mural of Diego Rivera in the Detroit Institute of Arts.

Return to Public Art and Sculpture