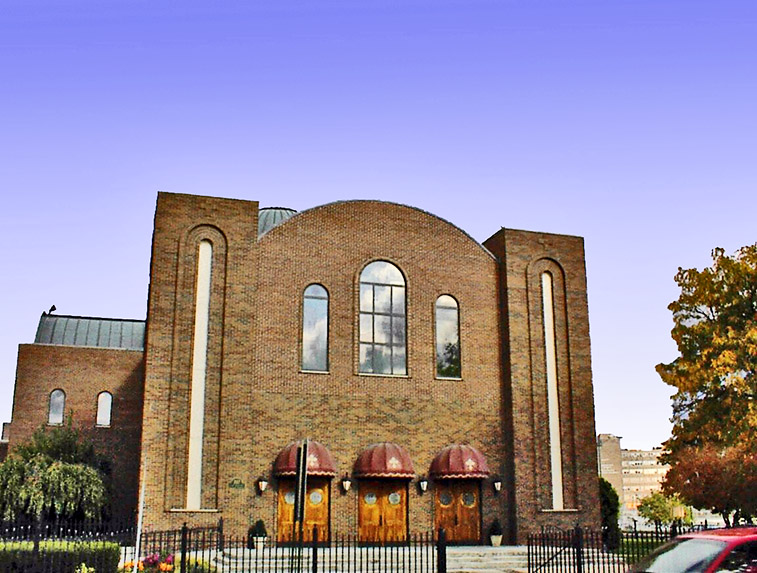 Church of the Annunciation; Greek Orthodox Cathedral
707 East Lafayette in Greektown near downtown Detroit

Many people visit Detroit's Greektown to enjoy the restaurants, hear music at the night clubs or gamble at the casino. But there is interesting architecture to appreciate near Greektown, including the Alexander Chapoton Home at 511 Beaubien, and there are three impressive churches to see: Annunciation Greek Orthodox, Second Baptist at 411 Monroe and St. Mary's Roman Catholic at the intersection of Monroe and St. Antoine. Nearby is one of my favorites: the glistening white Detroit Cornice and Slate Building at 733 St. Antoine.
Roman Catholics arrived in Detroit in 1701. Eastern Orthodox Catholics arrived much later. When Theodore Gerasimos arrived in 1890, he was, apparently, the first Greek immigrant to Detroit. He settled in the neighborhood now known as Greektown but, at the time, it had a largely German population. By 1910, most Germans had moved to more attractive housing elsewhere in the city. The Germans were replaced by a diverse array of newcomers to Detroit: blacks, Mexicans, Lebanese, some Italians, Poles and Greeks. This was a quintessential early Twentieth Century immigrant neighborhood offering housing to a great variety of low-income migrants who lived above the stores and shops. The Greek Orthodox community was large and prosperous enough to build a church in this area, on Macomb.

By the 1920s, the expansion of downtown Detroit meant that most of the residential buildings near today's Greektown were either torn down or converted to commercial uses. By this time, however, Greek entrepreneurs owned a number of restaurants, coffee shops, bakeries and other establishments. After World War II, there were even greater changes in this area just northeast of downtown Detroit. Many of the Nineteenth Century buildings were razed so that the space could be used for parking or so that new structures could be put up. Indeed, the Greek Orthodox church was torn down in the early 1960s. Realizing that they might lose their investments in their properties, the Greek merchants who did business here began, in 1965, to promote the area as an entertainment district. Rather than having their building torn down, they successfully promoted their restaurants, bakeries and shops. Indeed, they did so successfully, so much so that when Detroit's downtown was at its nadir in the 1980s, Greektown was a quite alive with activity. The coming of the Greektown Casino in the 1990s held to promote Greektown as a key entertainment location for the city—one that is within walking distance of the two new stadia, GM's new Renaissance Center headquarters and the spectacular new Campus Martius. Greektown is an area that escaped being leveled in the 1960s because of the promotional skills of the Greek proprietors.
The Greek Orthodox church was designated to be the Cathedral for the Greek Orthodox Metropolis of Detroit in 1962. This is similar to a Roman Catholic or Episcopalian diocese, but this Greek Orthodox Metropolis includes not only Michigan, but a large swath of the middle of the nation. Shortly after 1962, construction of the present church began and was carried out in stages before its completion in 1968. Unfortunately, I know nothing about the architects or the design of this church, nor have I seen the interior.

The State of Michigan's Greektown Historic District includes all building on both sides of Monroe from Brush to St. Antoine; thus it appears to exclude Annunciation cathedral. The National Registry of Historic Place's Greektown Historic District is, apparently, larger than the State of Michigan's Historic District, but also seems to exclude this church.
Architect: Unknown to me
Date of Completion: 1968
City of Detroit Designated Local Historic District: Not listed
State of Michigan Registry of Historic Sites: P25050 Listed January 18, 1980
State of Michigan Historical Marker: Erected August 28, 1980 in front of the church along East Lafayette
National Register of Historic Places: Not listed
Use in 2006: Greek Orthodox Church
Website for the Greek Orthodox Metropolis of Detroit: http://detroit.goarch.org/eminence/
Photograph: Ren Farley
Description prepared: December, 2006