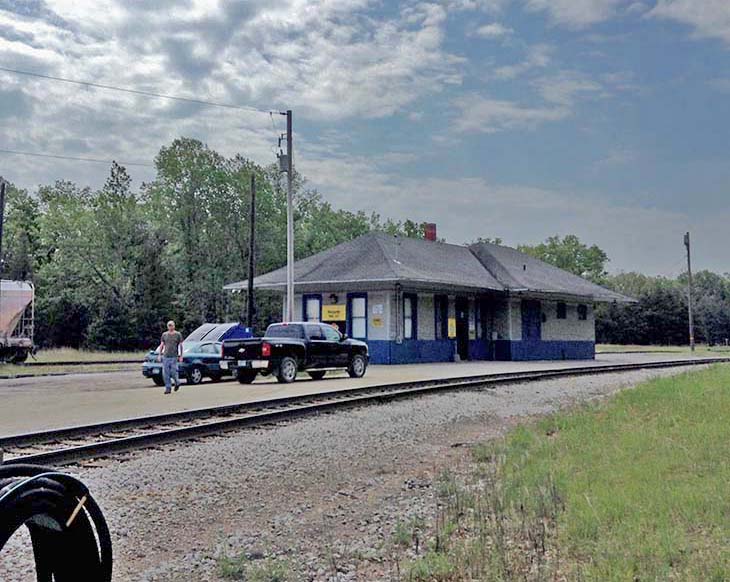 Baldwin Depot, Pere Marquette Railroad
Near the intersection of West Eighth Street and South Astor Road in Lake County

The Flint and Pere Marquette Railroad was organized in 1862 with its investors intending to build a line north from Flint to Saginaw and then west to the mouth of the Pere Marquette River.  This would provide a Lake Michigan port for the products made in Flint. Construction proceeded slowly but the line was the f.irst railroad to reach Baldwin. In December, 1874 the line from Flint and Saginaw was completed through Baldwin and on to Ludington at the mouth of the Pere Marquette River.

The Grand Rapids, Newaygo and Lake Shore Railroad was organized in 1872 to construct a line north from Grand Rapids through Newaygo County to a port on Lake Michigan.  The line did not prosper, and in 1881, it was merged into or taken over by the Chicago and West Michigan Railway, a road that had been organized to construct a  line north along the west side of Michigan from a connection with the Michigan Central at New Buffalo. The Chicago and West Michigan had the resources to extend the former Grand Rapids, Newaygo and Lake Shore north and their rails reached Baldwin in December 1883.  Eleven years later the railroad attained its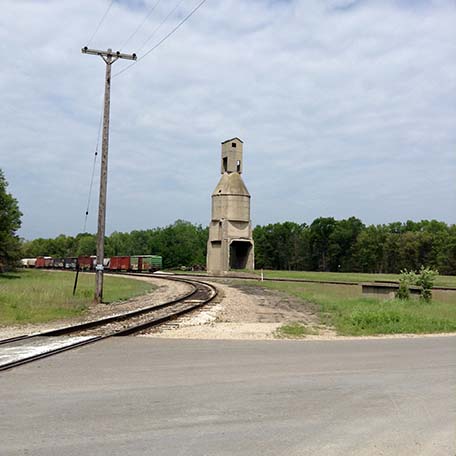 northern terminus in Bay View.

The Chicago and West Michigan, the Flint and Pere Marquette, and the Detroit, Lansing and Northern Railroads merged in 1899 to form the Pere Marquette Railroad. That line acquired many other lines, and in the early 1900s, became a major railroad extending from Buffalo, across Ontario and Michigan to Chicago with several hundred miles of branches, especially in Michigan. The Pere Marquette was purchased by the Chesapeake and Ohio in 1926 and merged into that railroad in 1947.  In 1987, the Chesapeake and Ohio became the CSX, an identity it retains today.

The former Pere Marquette line east from Baldwin to Clare and Saginaw was abandoned in 1988.  It is now the known as the Pere Marquette State Trail from Baldwin to Clare.  That trail has a gravel surface from Baldwin to Reed City but is paved from Reed City to Clare.  The Clare to Bay City roadbed is now known as the Pere Marquette Rail Trail and is paved meaning you can ride your bicycle 107 miles east from Baldwin to Saginaw. The former rail line from Baldwin south to Grand Rapids is now owned by the state of Michigan and serviced by the Marquette Railroad.  The line west from Baldwin to Ludington and the branch to Manistee are also in use and operated by the Marquette Railroad.

Baldwin, a village of 1,643 in 2013, is the seat of Lake County.  The location was originally settled in 1870 by a Mr. Hannibal who named the site after himself.  A few years later a Mr. Grant opened a store here and apparently led a movement to select a new name.  Baldwin was chosen to honor Henry P. Baldwin, a Detroit real estate magnet and wholesaler of  boots and shoes who served as Michigan's governor from 1869 to 1873.  He was one of those who met in Jackson, Michigan to found the Republican Party.  Importantly, he gave the land along Woodward in Detroit where St. John's Episcopal was built, a church designed by Octivius and Albert Jordan and completed in 1863.

Date of Construction:  Unknown to me.  I presume it was built after the Pere Marquette Railroad was established in 1899.
Architect:  Unknown to me.
Architectural style:  Vernacular railroad depot of its era.
Use in 2015:  Office space for the Marquette Railroad
State of Michigan Registry of Historic Sites:  Not listed
National Register of Historic Places: Not listed
Picture: June 3, 2015
Description prepared: June 3, 2015