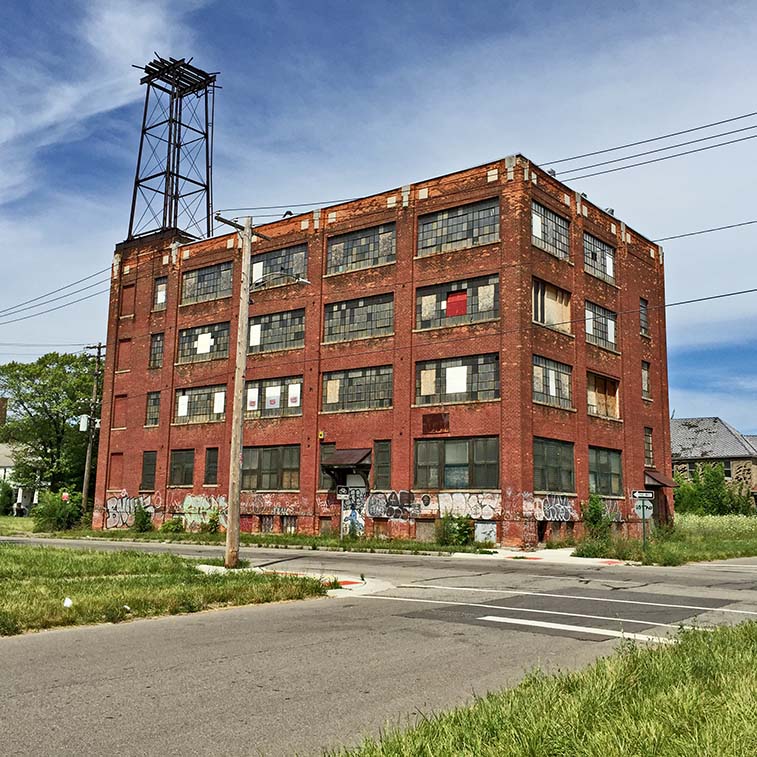 Banner Cigar Company Building
2941 East Warren

In the late Nineteenth Century, tobacco plants were found in many cities but they flourished in places near a source of high quality tobacco.  Southwestern Ontario—just across the Detroit River—was a place where excellent tobacco could be grown and this explains the historic prominence of Detroit in the tobacco industry.  Factory jobs were often dirty and the working conditions dusty and dangerous. I presume that the industrialization of the country after the Civil War promoted the use of tobacco, especially consumption of cut plug by blue-collar workers.  I recall chewing when I worked in the B. F. Goodrich plants in Akron in the 1950s. While there are few statistical data, many women apparently took up the tobacco habit of putting pinches of snuff in their mouths.  By 1890 or so, Detroit was one of the leading centers for the production of cigars and cut plug tobacco capitalizing upon their propinquity to the fruitful tobacco fields of Ontario. Hiram Walker not only earned a fortune in the whiskey industry but invested in Detroit's tobacco industry and the rail line he construted from Windsor to Kingsville brought that good Ontario tobacco to Detroit.

A couple of major changes erased Detroit from the map of tobacco centers.  In 1885, North Carolina entrepreneur and industrialist James Buchanan Duke invented a machine to produce cigarettes.  No longer was it necessary to roll tobacco by hand.  Duke was the father of the modern cigarette, and by the end of the Nineteenth Century, cigarettes were replacing cigars as a favorite method for consuming tobacco.  And then Cuba came to dominate the United States tobacco market since users preferred the taste of products using Cuban leafs.  Nevertheless, tobacco production continued in Detroit and several large cigar plants still line the city's street. I believe that after 1900 or so, Detroit firms imported much of their tobacco from Cuba. The Banner Cigar Company, in the first decade of the last century, must have had considerable faith in their future since they selected one of the city's leading architects, Louis Kamper, to design the impressive building you see here.

There is a fascinating book about the history of the brewing industry in Detroit: Brewed in Detroit: Breweries and Beers Since 1830 by Peter Blum (Detroit: Wayne State University Press, 1999) but no one has yet written a volume about the city's distinguished role in the tobacco industry.  I think that very few, if any, Detroit tobacco firms survived the Depression.  I do not know if the Banner Cigar Building was used for industrial purposes after they stopped manufacturing cut plug and cigars here.

In the early Twentieth First Century, real estate brokers were attempting to sell this structure, pointing out its location—not too very far from Midtown and downtown—and stressing how easily it might be converted into apartments, lofts or condos.  I do not believe their efforts were successful so it remained an empty large—26,000 square feet—industrial building. It is very close to the Detroit branch of the Chicago Branch of the Federal Reserve. One of the purposes of located the federal office building there was to revitalize this east side neighborhood of Detroit.

Bansky is an internationally acclaimed graffiti artist, film director and political activist.  He developed a reputation for painting impressive examples of graffiti art in unexpected places doing so without drawing attention to himself.  Sometime in the early years of this century, he came to Detroit, entered the abandoned Packard Plant on East Grad and painted a graffiti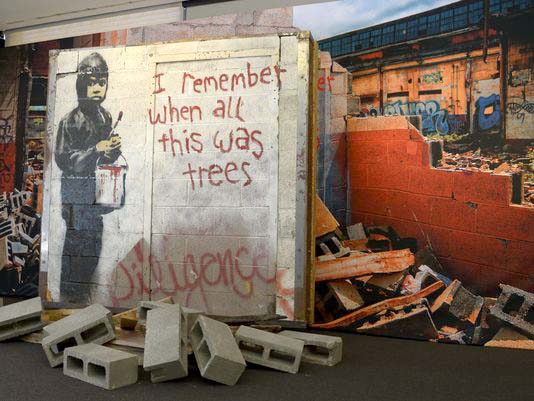 mural.  Eventually, people discovered this Bansky mural, and in May 2010, someone removed it from the Packard plant.  There were challenges about who owned it but it eventually became the property of Detroit's 555 Gallery.  I believe that Gallery paid someone $2500 to obtain possession of the Bansky.

555 Gallery is a local no-profit arts organization that was founded in Ann Arbor in 2002.  They subsequently moved to Ypsilanti and then to Detroit.  They now have their galleries and studios in the former Third Precinct Police station on West Vernor near Mexican Village.  To promote urban renovation including the city of Detroit, the Kresge Foundation donated $500,000 to Artspace.  This is a national organization, based in Minneapolis, promoting the arts and the use of art and artists in urban redevelopment.  The leader of the 555 Gallery, presumably with support from Artspace, announced in 2015 that they would sell their Bansky and purchase the former Banner Cigar Company Building.  The Bansky left Detroit in the summer of 2015 for a California auction.  At auction, the mural was sold for $137,000.   Presumably the auction house will get 20 percent of that price so the 555 Gallery obtained well over $100,000 in late 2015 to purchase the Banner Cigar property.  The Packard Plant Bansky is pictured on this page.

The 555 Gallery announced their intention to take possession of the building you see pictured here in 2016 with plans to create spaces for artists' studios, exhibition areas, community spaces and residential units.  They also announced that the renovations would take five to ten years.

The existing cigar and cut plug manufacturing plants, other than Banner, that I know about in Detroit are the following:

Brown Brothers Tobacco, 119 State at Shelby.  Built in 1887 but I do not know the architect. Has been extensively remodeled and was purchased by Bedrock Financial.  It was recently sold to the Lear Corporation and will become their downtown Detroit design center.

Globe Tobacco Warehouse, 407 East Fort at Brush.  Designed by Alexander Chapoton and built in 1888.  Has been renovated for use as an office building.

Hemmeter Cigar Company Building, 1465 Center Street Designed by Richard Raseman and built in 1911.  The first floor is now a sports bar.

San Telmo Cigar Company, Designed by Albert Kahn and built in 1910. Remodeled for use by the Detroit non-profit, Southwest Solutions.

Mazer Cigar. 5031 Grandy Street. Designed by Albert Kahn and opened in 1924.  This building has recently been used as a Family Wellness Center of the Detroit Home Services Department.

Architect:  Louis Kamper
Date of Construction: 1914
Use in 2016:  Presumably renovations will be carried out soon
Website for 555 Gallery: www.arts.org
Bansky's website: http://banksy.co.uk/
City of Detroit Designated Historic District; Not listed
State of Michigan Registry of Historic Sites: Not listed
National Register of Historic Places: Not listed
Photograph:  Ren Farley; Summer 2015
Description prepared: November, 2016