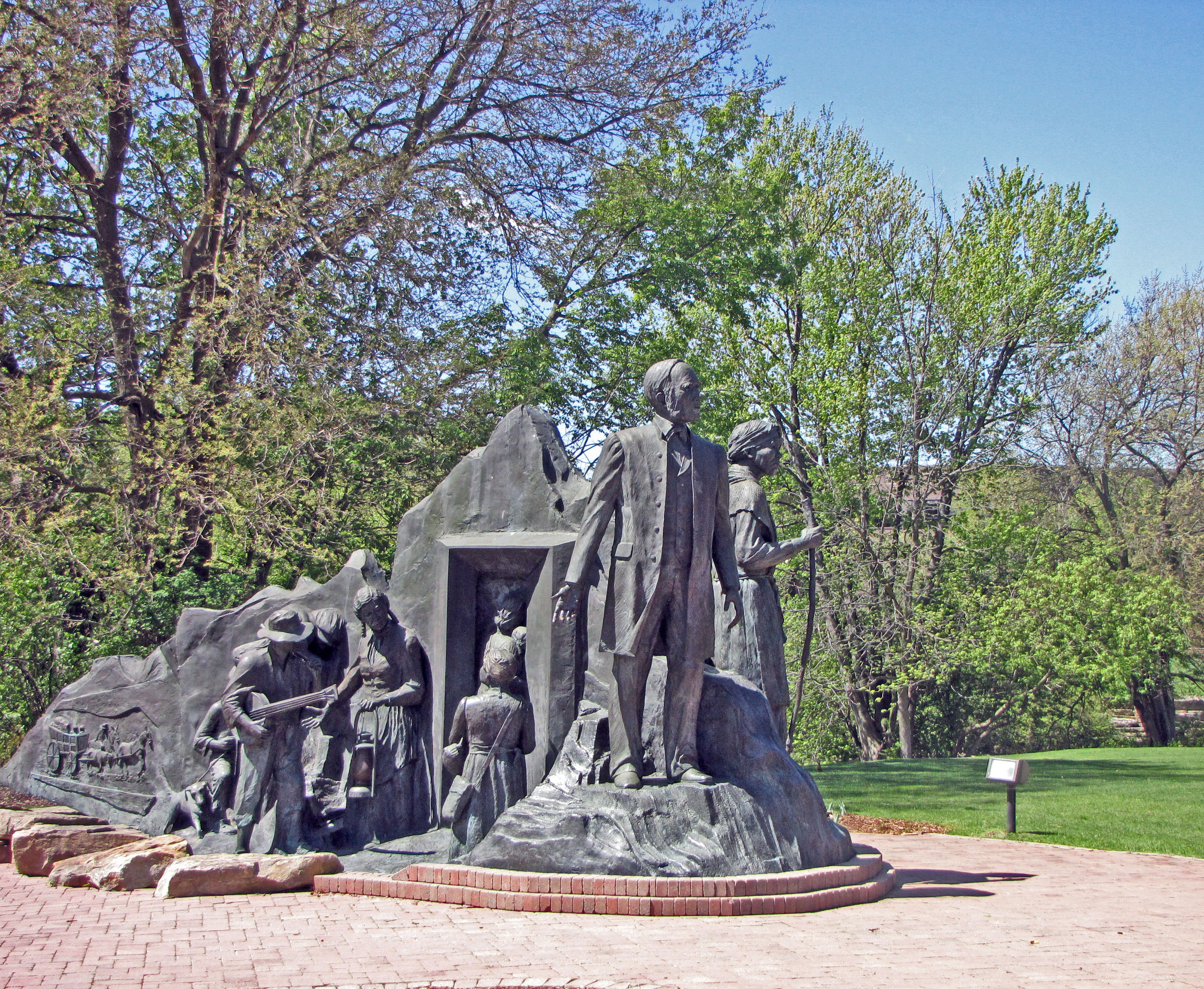 Battle Creek Underground Railroad Sculpture
1 East Michigan Avenue in Battle Creek near the W. K. Kellogg Residence
Erastus Hussey was born in New York State in 1800 but migrated to Michigan in 1824, just before the completion of the Erie Canal led to a population boom in the state.  Hussey purchased land in Wayne County, presumably to establish a farm.  At some point, he returned to New York, perhaps to take over the administration of his family's farm after the death of his father.  In 1839, Erastus Hussey once again returned to Michigan, this time with his wife, Sarah.  They moved to Battle Creek to establish a dry goods store in that growing city. The Husseys were Quakers and quickly became active in Battle Creek's Underground Railroad.  Quite a number of fugitive slaves made their way from the South to Battle Creek, some to stay there where they found numerous protectors and other to stop briefly on their way to Canada where they would emancipate themselves by crossing the Detroit River.  Numerous Quakers had settled in nearby Cassopolis, Michigan.  They welcomed fugitive slaves to that town and protected them or protected them on their journey across Michigan to Canada.  Erastus Hussey specialized in making sure that fugitive slaves got from Battle Creek to the next stop east on the route to Canada: Marshall.

Hussey was an active politician.  He was elected to the lower house in Lansing in 1850 and then became active in the Michigan Liberty Party, a party dedicated to ending slavery in the nation.  In 1854, he successfully ran for the Michigan Senate on the Free Soil Party ticket.  Hussey attended the "Under the Oaks" convention in Jackson on July 6, 1854 where the modern Republican Party was organized.  I believe that he also fulfilled a term as mayor of Battle Creek.  He was editor or publisher of a Michigan anti-slavery publication: Liberty Press. 

Many of the leaders of the Underground Railroad carried out their efforts quite openly and let fleeing slaves know where help might be found.  You might ask why the federal government seldom arrested and convicted the abolitionists who made the Underground Railroad into a well known and productive organization.  Leaders of the southern states consistently argued that slaves were property and the Constitution required that they be returned to their legal owner.  Slave owners knew much about the Underground Railroad, how it operated, where their chattels might be found and recruited slave catchers to go to points on the Underground Railroad to capture their slaves.  After Congress enacted the Fugitive Slave Law in 1850 and the Supreme Court, on March 6, 1857, gave their unambiguous ruling in the Dred Scott litigation denying rights to African Americans, it became extremely clear that the fleeing slaves were property who had no legal rights.  Without any doubt, the federal government was obligated to return fugitive slaves to their owners.

That did not often happen.  Most northern leaders sympathized with escaping slaves even if they did not warmly welcome blacks to their states.  Michigan, as a territory, enacted Black Codes to discourage the immigration of blacks but those laws were not strongly enforced.  Slaves who got to Michigan found conductors who would protect them and help them get to Canada.  They also found lawyers who would litigate for their freedom.  Some northern states, including Michigan, proposed or enacted legislation that restricted the activities of slave catchers who came to the state.  Erastus Hussey, for example, while serving in the Michigan legislature in 1852, introduced a Personal Freedoms Act that restricted the activities of slave catchers.  Federal officials also knew that it would be almost impossible to find a jury in states such as Michigan who would convict a conductor on the Underground Railroad.  Most people opposed slavery and presumed that helping a slave to get to Canada or to live in one of the rural black communities of fugitive slaves that sprung up in Michigan was not guilty of a criminal offense, no matter what Congress and the Supreme Court decreed.  Federal laws and Constitutional requirements calling for the return of fugitive slaves could not be enforced.

The statue you see portrays Erastus and Sarah Hussey helping fugitive slaves along the Underground Railroad that passed through this city.  The sculptor also included Harriet Tubman in the statue.   She was the best known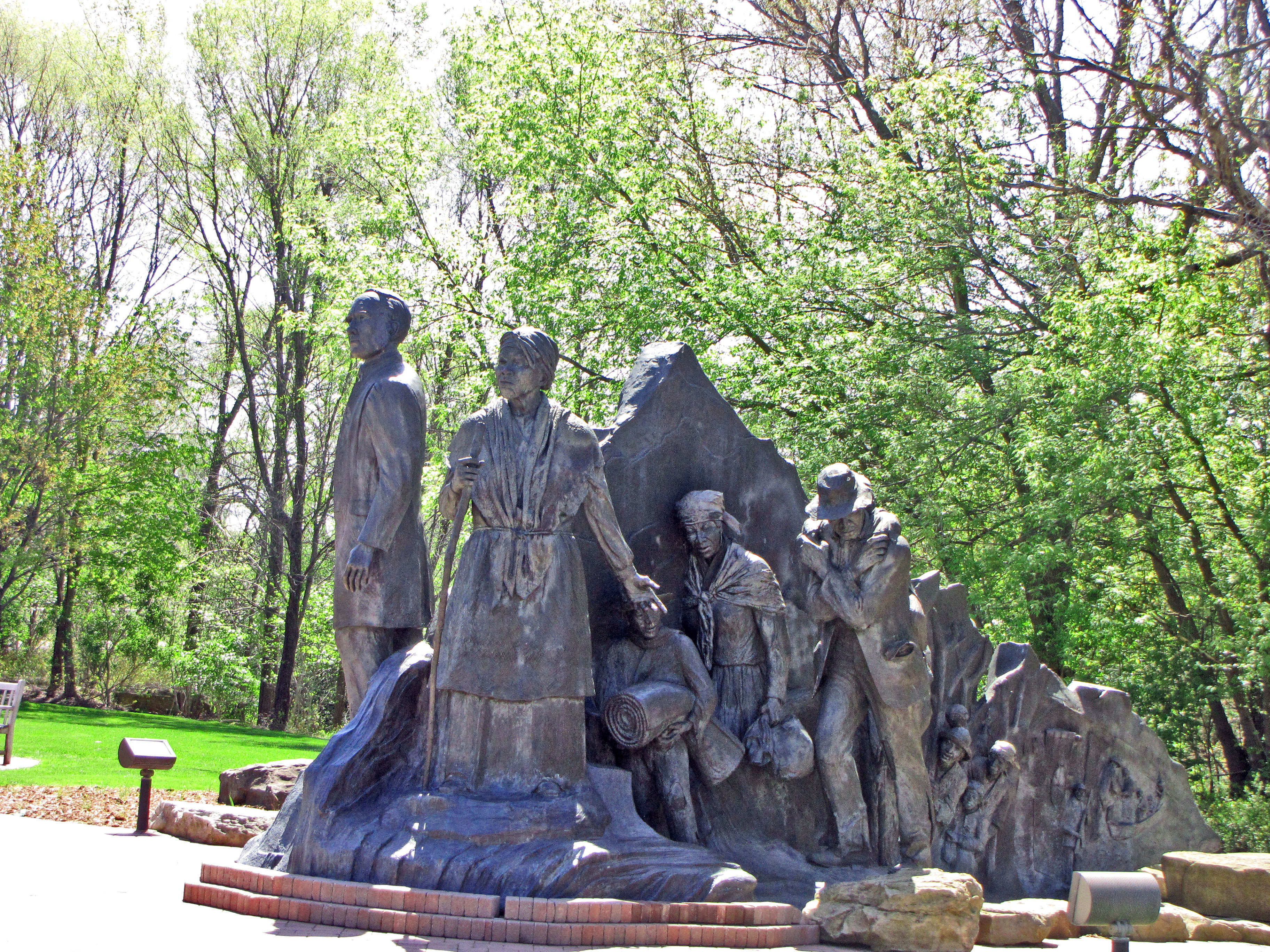 conductor on the Underground Railroad and traveled the county helping fugitive slaves to reach safety.  Prior to 1850, slaves were typically safe from capture in the larger urban communities of the North, but after Congress passed the Fugitive Slave Act in that year, federal officials came under increasing pressure to try to return fugitive slaves to their owners.  Harriet Tubman and other conductors increasingly sent fleeing slaves to freedom in Canada.

Erastus Hussey was just shy of 100 when he died in 1899.  He apparently was justifiably proud of his work as a conductor on the Underground Railroad and claimed to have assisted one thousand slaves as they passed through Battle Creek to Canada.

Ed Dwight, the sculptor, served as a pilot in the Air Force and then became the first African American to enter the training program for astronauts. After completing his military service, he became a sculptor. Many Detroit area residents are familiar with the impressive statuary and memorial commemorating that city's role in the Underground Railroad, the Gateway to Freedom Statue in Hart Plaza and the Tower of Freedom Statue in Windsor about a block away from the Detroit River.
Sculptor:  Ed Dwight
Date of installation: 1994
Material: Bronze
Website for sculptor:  www.eddwight.com
Website describing the Underground Railroad in Michigan:  http://www.albion.edu/library/JAT/MIUGR.htm
Use in 2010: Commemoration of Harriet Tubman and the role Battle Creek citizens played in the underground railroad
For a description of legal efforts to protect fugitive slaves in Michigan, see:  Karolyn Smardz Frost, I've Got a Home in Glory Land: A Lost Tale of the Underground Railroad. (New York: Farrar, Straus and Giroux, 2007)
Photograph:  Ren Farley; April 28, 2010
                                                  
Return to Public Art and Sculpture

Return to Home Page