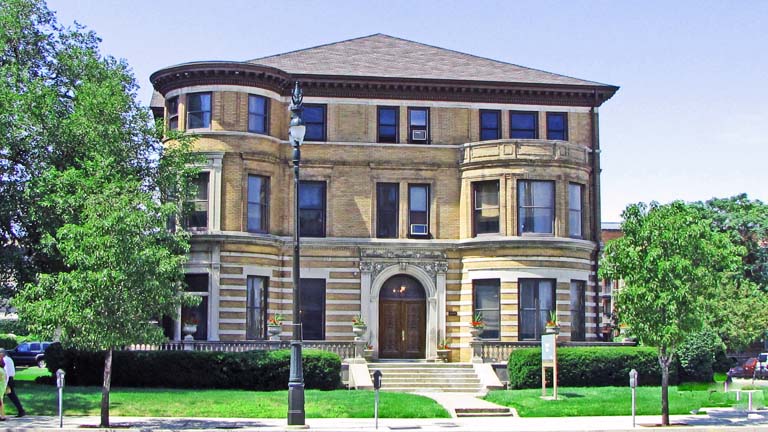 George L. Beecher Home
5475 Woodward at the corner of East Ferry across
Woodward from the East Ferry Historic District and very near the
Cultural Center Historic District and Wayne State University

There are a number of spectacular buildings in Detroit that are not listed on any historical register. This one should go toward the top of that list.
Luther Beecher developed a dry goods business in Detroit after the Civil War and became rich. Apparently, he bragged about paying more taxes than anyone else in Michigan. He died in the early 1890s and left a fortune to his son, George L. Beecher. George Beecher decided to build a home for himself commensurate with his wealth and selected the area that was rapidly becoming among the most prestigious in the city. He purchased the property at Woodward and East Ferry and commissioned the renowned local architect, H. J. Maxwell Grylls, to design a home that resembles an Italian Renaissance palace. If you look carefully at this home from the east side of Woodward early on a Sunday morning when there is no vehicle traffic, the similarity to an Italianate palace becomes clear. When buses and truck are rumbling past the Beecher Home, you need a good imagination to see this as a palace.
Grylls selected a foundation of limestone rubble. Yellow brick and limestone were used for the three stories. At the roofline, you will see an embellished pressed metal cornice. There is an asymmetrical façade with a tower on the northwest corner of the house—a bit unusual since it has a flat roof. The tower on the northeast corner is one story taller.
I have not been in this home but I have read that the interior is extensively decorated in oak, molder plaster and wainscoting. One of the key attraction that George Beecher chose for his palace-like mansion is still visible to us today—the tiffany window visible from the East Ferry side of this home. The window is an allegorical presentation emphasizing nature and music. The most prominent figure is white gowned and holds a cupid who is playing music. If you will look closely, you will see strewn roses, white doves and highly decorated wreaths.
The Beecher family lived in this home until 1914 when it was converted into a boarding house, reflecting the tremendous need for housing that arose during the World War I boom. In 1947, the home was bought by the Children's Center of Metropolitan Detroit and, 21 years later, Wayne State University purchased this magnificent structure.
Architect: H. J. Maxwell Grylls
Date of Construction: 1894
Stained glass window: Tiffany Glass and Decorating
City of Detroit Local Historic District: Not listed
State of Michigan Registry of Historic Sites: Not listed
National Register of Historic Sites: Not listed
Use in 2004: The Beecher home provides space for the Wayne State University development office.
Photo: Ren Farley; January, 2004