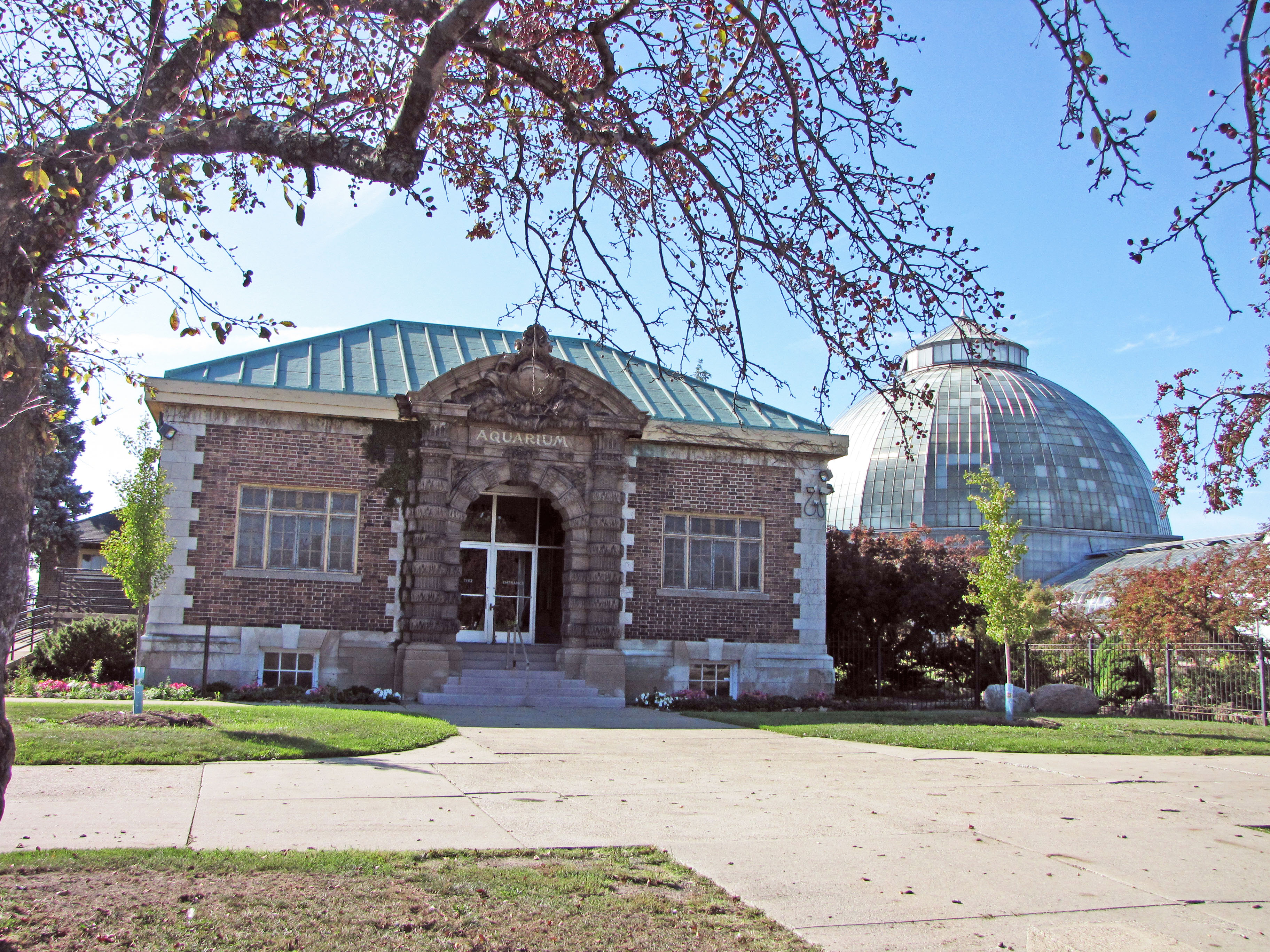 Belle Isle Aquarium
Next to the Anna Scripps Whitcomb Conservatory on Belle Isle
Around the turn of the Twentieth Century, David E. Heineman served as the Chief Assistant Attorney for the City of Detroit.  He traveled to Naples and visited the impressive Aquarium Anton Dohrn that opened in 1873, the world's first aquarium.  He devoted himself to establishing an aquarium in Detroit.  At that time, prosperous Detroit residents were investing in creating a beautiful Belle Isle.  Albert Kahn had been commissioned to design the Anna Scripps Whitcomb Conservatory using the conservatory at the 1893 Chicago World's Fair as his model.  Eventually $166,000 was raised and Albert Kahn was commissioned to design the first aquarium in the United States—the appealing  classical building pictured above.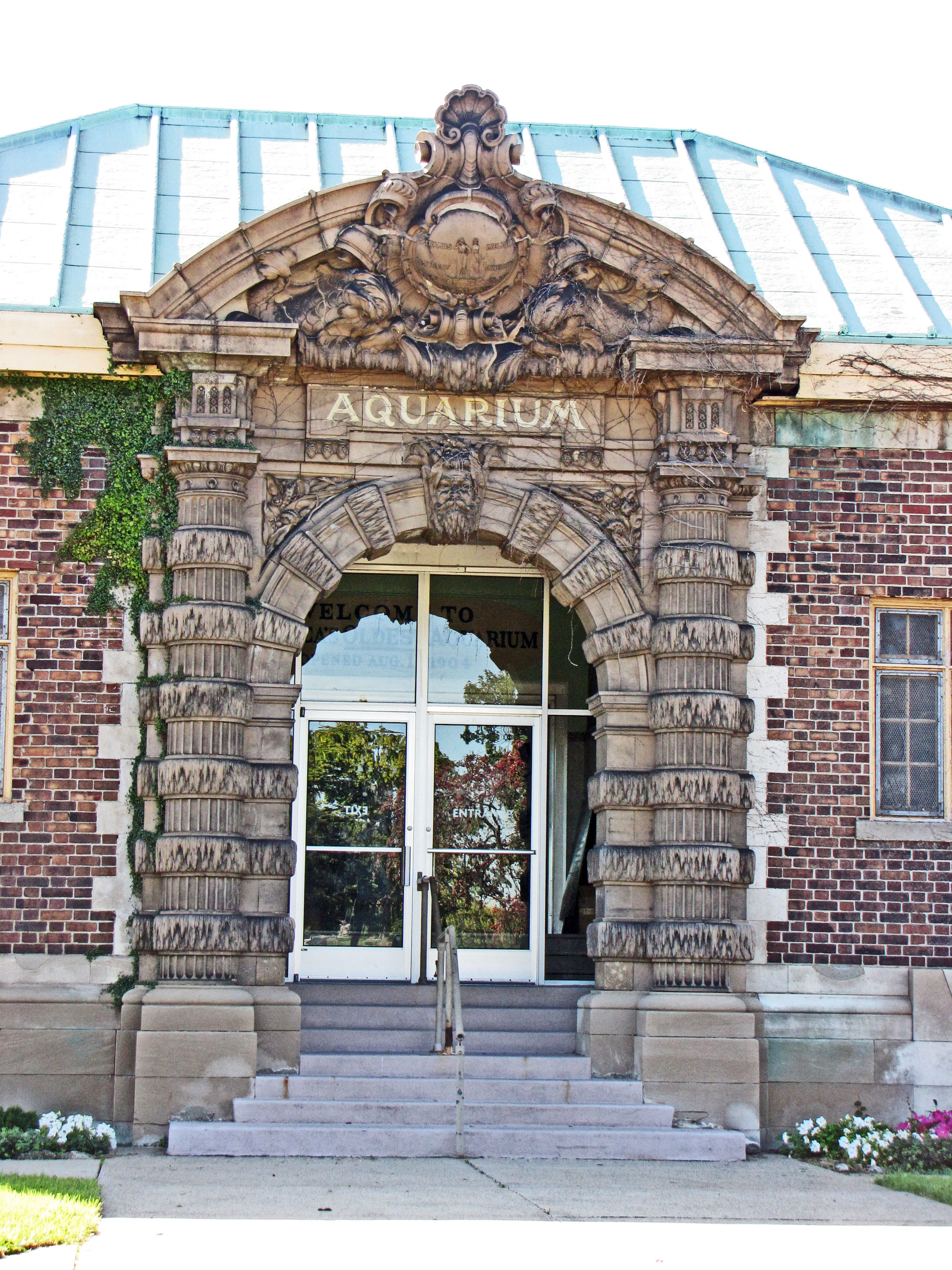 When you think about the late Nineteenth Century zoos you have visited, perhaps in Cincinnati, Philadelphia or the larger cities of northern Europe, you realize that the architectural tastes of that area called for large Gothic or Classical zoo buildings. I do not know why.  Perhaps, designers believed that rare animals should be cherished and preserved in the same manner as the classical buildings that were used to exhibit art.  Perhaps, architects felt that since most of the animals came from near the Equator, they needed to design buildings that could be easily heated in winter.  Or maybe they assumed that massive bars and cage arrangements were needed to keep beasts away from people, so zoos came to have large Gothic buildings.
Fortunately, there was a welcome revolution in zoo architecture about the time of World War I.  One of the first of the new style zoos was the one for Detroit built in the 1920s on land in Oak Park that Horace Rackham donated to the city of Detroit.  Instead of large cages and many bars, moats and other more-or-less invisible and natural barriers were designed that allowed animals to be displayed in their correct enviornmental settings.  The development of the automobile also encouraged this new zoo architecture since animal parks no longer had to be located in the cramped space of downtown.  We no longer have to look through bars to see animals at the zoo.
This Gothic Building has an attractive interior, although I have not seen it.  Albert Kahn designed a large domed ceiling with a attractive pool for fish.  Cypress wood was used extensively in the inside.  The jade green tiles used as the ceilings for the grottos in this building are an impressive and distinctive feature.  If you go to the website for this acquarium listed below, you will see that their wallpaper shows these tiles in a very attractive manner.  The artist certainly made an excellent decision about color.  I believe that these are Pewabic Tiles. 
The front of the building displays attractive carvings.  You see two spitting fish, and a symbol of the city of Detroit.  Most importantly, there is an excellent depiction of Neptune, the Greek God of the Ocean.  I do not know who carved these stones.  Ordinarily, you would assume that Albert Kahn employed Corrado Parducci as his sculptor, but in 1904, Parducci was an infant.
In 2005, the city of Detroit faced a budget deficit of $230 million.  Expenditures were cut, and after 101 of operation, the Belle Isle Aquarium was closed on April 3, 2005. Several charitable organizations supported various components of Belle Isle. In 2011, they came together to form an overarching organization - Belle Islel Conservancy.  That group enlisted support and contributions to allow the Belle Isle Aquarium to reopen on the 108th anniveresary of its original opening - August 18, 2012. The aquarium now has 17 tanks of fish. Volunteers staff the building for its openings; that is, once a week on Saturdays from 10 AM to 3 PM.
Architect: Albert Kahn
Architectural style: Gothic
Date of Opening:  August 18, 1904
Use in 2013:  Aquarium
Website for Belle Isle Conservancy: www.BelleIsleConservancy.org
Website for Stazione Zoologica Anton Dohrn, Napoli: http://www.szn.it/SZNWeb/showpage/1?_languageId_=2
Website for the Anna Scripps Whitcomb Conservatory: http://www.bibsociety.org/
Photograph:  Ren Farley; September 12, 2009
Description updated: May, 2013
Return to Parks and Recreation