Belle Isle Conservatory/Anna Scripps Whitcomb Conservatory
On Belle Isle, not far from the intersection of Loiter Way and Inselruhe Avenue

Large parks played an important role in cities in the era before the almost universal ownership of vehicles. Cities were crowded and very dirty since soft coal was used to keep factories running and to heat the workmen's homes that abutted the polluting factories. Early in the 20th century, horses were used for most local transportation helping to make cities unattractive odorous places.
To get away from the congestion and dirt of the big city, residents could repair to beautiful parks such as Belle Isle. Note only was Belle Isle a place of repose and peace, but it also included facilities that would tell the city's residents about the world outside the city. So it included a zoo and an aquarium. No major park would have been complete without a Conservatory where exotic plants from around the world were on display year round. This Conservatory includes a Palm House, a Tropical Wing, a Fernery/Cacti wing and an extensive collection of orchids. Anna Scripps Whitcomb's name was given to this building in 1953 after she donated her extensive collection of orchids along with money to modernize this class Albert Kahn building.
The City Beautiful movement developed during and after the Columbian Exposition in Chicago in 1893. It influe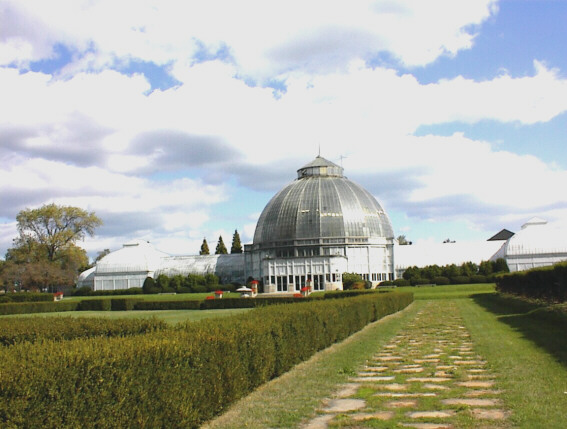 nced urban planning throughout the United States with the hope of both making cities more attractive and providing urban residents with some rural amenities such as the option of walking on grass or picnicking on a greensward. This movement helped to propel prosperous Detroiter to commission the building of a great Conservatory on Belle Isle. It design called for it to be surrounded by the gardens that you now see. Those to the southwest side of the Conservatory are particularly attractive in summer and early fall since they surround Marshall Frederick's magnificent Levi L. Barbour Memorial Fountain with this graceful leaping gazelle. With some frequency, the great park designers of the late 19th century placed beautiful park buildings in garden settings.
Not surprisingly, Albert Kahn was chosen to design the Conservatory. Note its attractively proportioned central dome and the flanking symmetrical wings with their complimentary rounded arches. The design for this conservatory was strongly inspired by the design used for the Conservatory at the Columbian Exposition that took place a decade earlier. This building is best appreciated when viewed with the warm early morning summer sun is reflected off its dome.
Architect: Albert Kahn working at this time with the Nettleton and Kahn and
Mason and Kahn firms.
Date of Completion: 1904
Date of Rebuilding: Mid-1950s
Websites: http://dir.gardenweb.com/directory/aswc
http://www.bibsociety.org/sys-temp/door
Picture: Ren Farley
Description updates: July, 2012


Return to Sports, Parks and Recreation