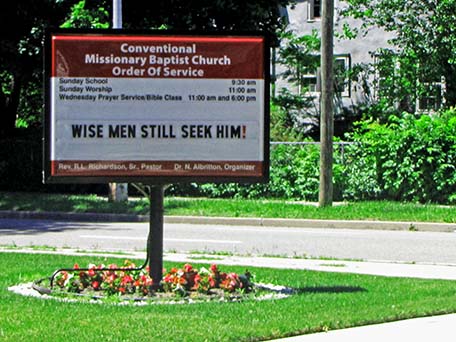 Bethany German Lutheran Church/
Conventional Missionary Baptist Church
2244 Seminole in the Indian Village Historic District
Developers began constructing homes in 1895 in this pleasant East Side area that became known as Indian Village.  Most of the residences were architect-designed structures built between about 1905 and 1929.  There are, however, quite a few in-fill residences constructed after World War II.  This National Register Historic District is bounded by East Jefferson on the South, Burns on the East, Mack on the North and Seminole on the West. 

I know very little about the history of the church shown in this picture.  I assume that there were sufficiently many German-speaking Lutherans living in this area in the first decade of the last century that they had the resources to commission the construction of this appealing structure.  I wonder if the congregation previously had a place of worship closer to the Nineteenth-century heart of Detroit's German community nearer downtown Detroit?  Many German congregation adopted English as their language at around the time of World War I.  That may have been for patriotic reasons but I suspect the increasingly large third-generation German population was much more facile in English than German.

Germans were the numerically largest immigrant group in Detroit in 1910 when this church was being designed.  The city had a total population as counted in Census 1910 of 492,000.  About 47,000 Detroit residents reported Germany or one of the Germany states as their place of birth and another 99,000 reported that one or both of their parents were born in Germany for a total of 146,000 Germans in the city.  Perhaps one-third of the city's population could speak and understand German at that time.  Canada was the origin of the second largest immigrant group to Detroit in 1910 with 48,000 Detroit residents being born in that nation and another 42,000 reporting that one or both of their parents were born in Canada.

I do not know when the Bethany German congregation sold this church or if there were other congregations preceding the current congregation.

Architects: Frederick Spier and Hans Gehrke
Date of construction: 1912
Use in 2015: Church
Website for Indian Village Historic District: http://www.historicindianvillage.org/
City of Detroit Designated Historic District: Not listed
State of Michigan Registry of Historic Sites:  This church is within the Indian Village Historic District listed October 19, 1971.
National Register of Historic Places:  This church is within the Indian Village Historic District listed March 24, 1972. http://www.parkstoneapartments.com/
Photograph:  Ren Farley; June 14, 2014
Description prepared: May, 2015


Return to Religious Sites

Return to Homepage