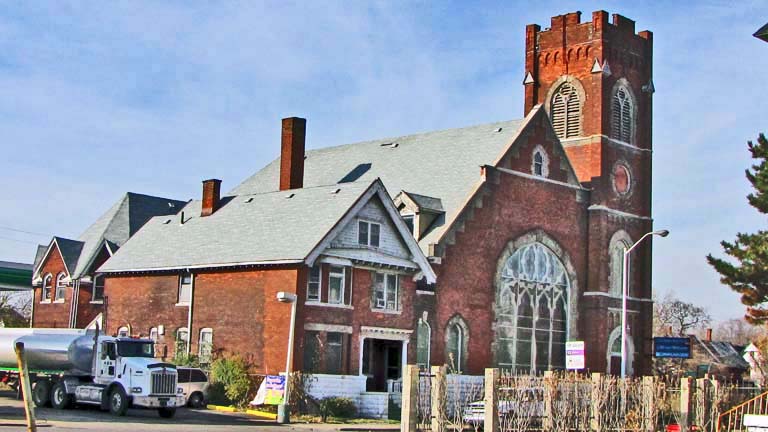 Bethel-New Harmony Church Historic District
2445 Mt. Elliott
The Reverend C. F. W. Hustedt led a group of parishioners who broke away from Zion Reformed Church, then located at the corner of Jay and Joseph Campau, and formed—on March 6, 1898 Bethel Evangelical Lutheran. This became the second Detroit congregation of the United Lutheran Church in America. In 1904, the Bethel congregation purchased three lots at the corner of Mt. Elliott and Hendricks and began construction of the brick church you see pictured above. Financial problems delayed the completion of the church. The firm that supplied the bricks, the company that made the foundation, the electrical contractor and the firm providing chandeliers all filed mechanics liens against the4 church. I infer they were eventually paid and the building was dedicated in 1906. I infer that its parishioners were primarily blue-collar workers, so it was not among the more prosperous Lutheran congregations in the area.

The composition of the neighborhood changed quickly after World War II and the number of Lutherans living in this area along Mt. Elliott declined. In 1947, this congregation merged with the Gloria Dei Lutheran church to form a new congregation called Cross of Glory Evangelical Lutheran. The next year they moved into a church in northwest Detroit at the intersection of Kelly Road and State Fair. The Cross of Glory Lutheran congregation still meets in that church.

The Lutheran congregation sold this church to New Testament Baptist shortly after they left. In the mid-1950s, the structure was purchased by its present occupant, the New Harmony Baptist Church. This congregation was organized in Detroit on February 9, 1946 by the Reverend M. L. Gooch.

There are three buildings in this historic site. They are linked in being set upon substantial rock-face cast concrete block foundations. Basically, they were built with orange brick using buff brick trim. The Neo Gothic church is a one-story building with a cross gabled roof and with impressive Gothic arch windows and Gothic door openings. Perhaps most notable component of the church is the 70-foot tower that reaches above the intersection of Hendricks and Mt. Elliott. This is a four-stage, crenelated tower that also provides the entry to the sanctuary. There are windows on the third and fourth stages of this tower. The parish house is a two-and-one-half story building also built from orange bricks. The third building was designed to serve as a school and chapel and is also Gothic in its styling.

The architect worked with the Spier and Rohns firm in Detroit and then developed his own practice. I do not believe that any other structure he designed is included in this website at present.
Architect: William H. Vollmer
Architectural style: Neo-Gothic
Date of construction: 1904
Use in 2012: Bethel New Harmony Baptist Church
For additional information, please see:
City of Detroit Designated Historic District: Listed
State of Michigan Registry of Historic Sites:
National Register of Historic Places:
Photograph: Ren Farley; November 17, 2012
Description prepared: December, 2012

Return to City of Detroit Historic Designations