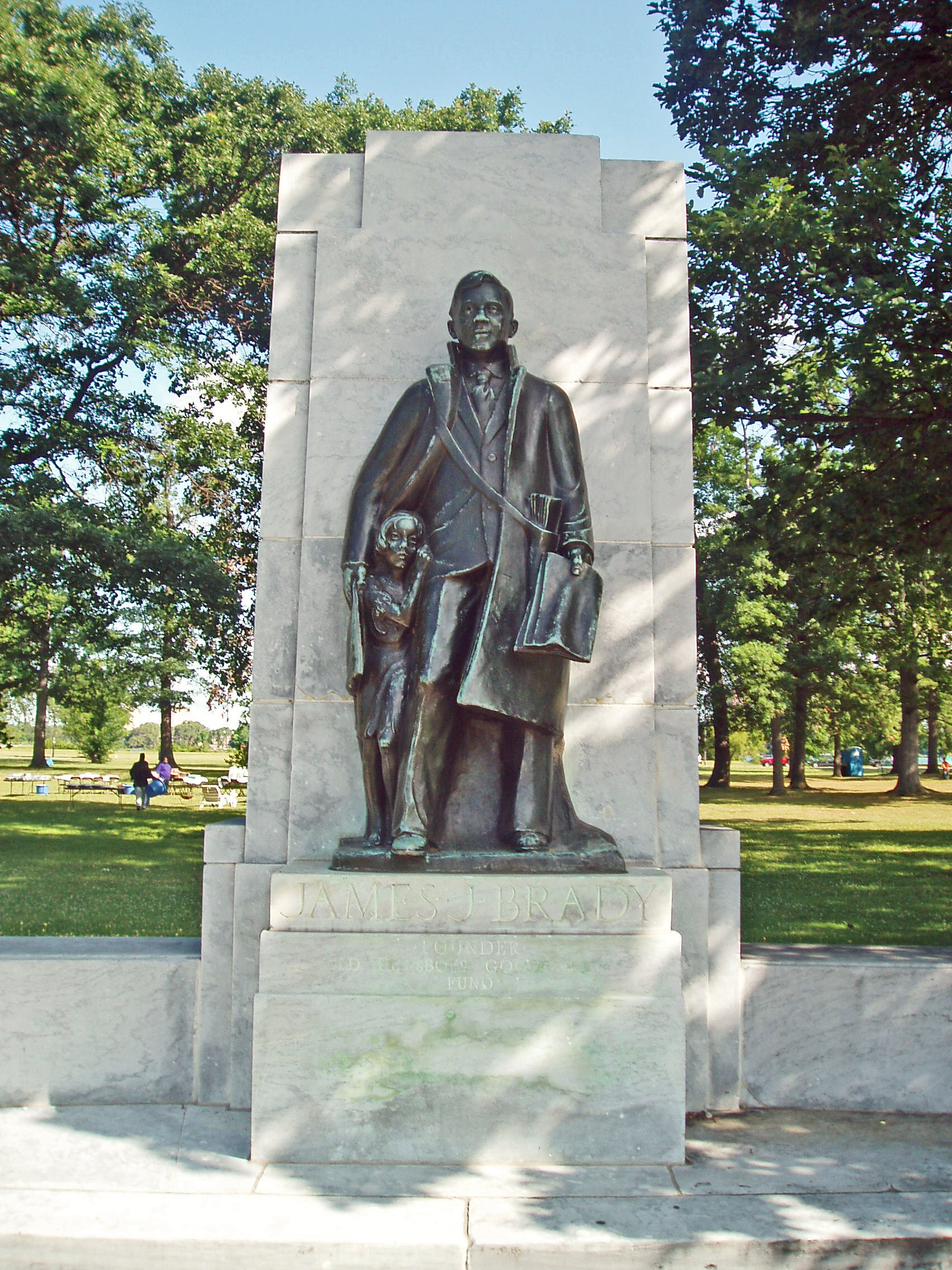 James J. Brady Memorial
Central Avenue between Picnic Way and Inselruhe on Belle Isle
This is one of the more attractive memorials in Detroit placed in an exceptionally appealing setting. It commemorates the significant work of a man who sought to improve the welfare of Detroit's young children early in the last century. In Detroit, as in other large cities, there were many orphans because death rates at the adult ages were high by today's standards. There was no highly organized welfare system to send checks to needy parents, but there was a movement to move some or many poor children into orphanages. At that time, however, there was consensus that orphanages were not ideal for young children
James J. Brady did not solve problems of childhood poverty in Detroit but he made a contribution. In 1914, he founded the Old Newsboys Goodfellows of Detroit Fund. At one time, most people got their newspapers by buying them from a vendor, perhaps a boy or young man on the corner who sold new papers throughout the day. Brady's idea was to have former newsboys sell newspapers at the holiday season with the expectation that many customers would pay more than the face value of the paper. The extra money went into the Goodfellows Fund that would then provide food, clothing and toys for needy children in Detroit.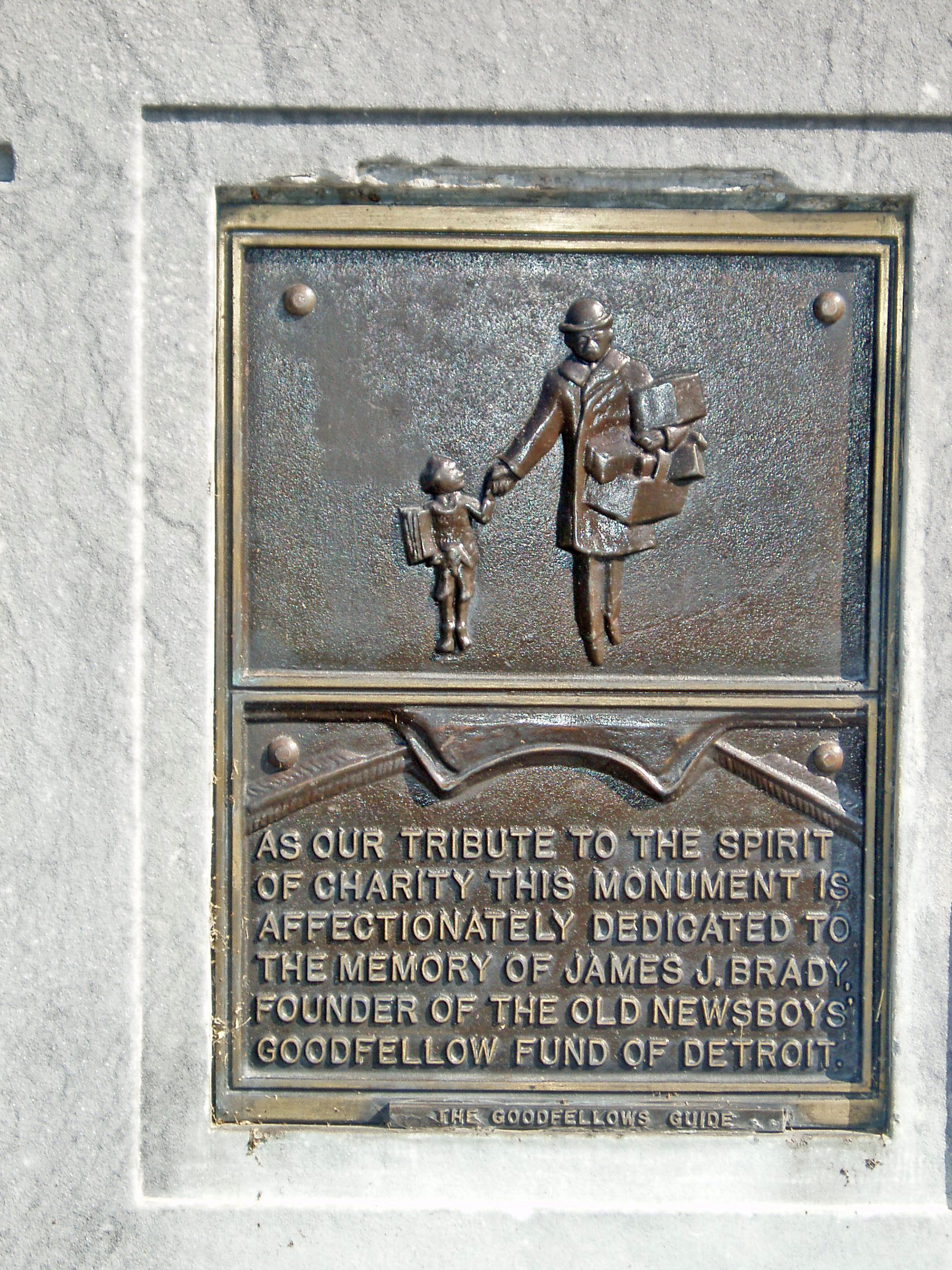 The Old Newsboys Goodfellows of Detroit Fund continues in operation. It is a group of about 300 prosperous Detroit area men and women who raise money for the purposes James Brady did. They continue to raise funds by selling newspapers. Indeed, November 30 is the date for the 2009 sale, but they have other fund raising endeavors such as celebrity events. In 2009, they had a budget of about 1.4 million dollars. Their intent is to:
provide 36,000 gifts of warm clothing, toys, candy and books for low income children in Detroit, Hamtramck and Highland Park each year.
to support the visits of about one thousand children annually to local summer camps.
to fund a Wayne State University scholarship fund for Detroit area youth.

Providing gifts for 36,000 children is impressive but it may not be enough to mitigate childhood poverty. The high poverty rate of children in the United States receives little attention. The Census Bureau 2008 American Community Survey estimated that 421,000 Michigan children under age 18 lived in impoverished households. In Detroit, Hamtramck and Highland Park, 99,000 children lived in poverty in that year. The generous gifts of the Old Newsboys Fund may reach no more than one-third of the city's poor children.
The statue of Mr. Brady is impressive. He stands with a satchel of newspapers slung from his left shoulder. His left hand holds a copy he is about to sell. With his right hand and his great coat, he shields a young and barefoot girl who clutches at this suit coat. It is a very moving depiction of Mr. Brady.
The surrounding pedestal is also impressive for its simplicity—with granite with bold vertical and horizontal lines. When you see this statue with the July green grass and leafy trees of Belle Isle surrounding it, you are quite impressed.
Samuel Cashwan was born near Kiev in 1899, but by 1906, his parents had emigrated to New York. By 1916, he was living in Detroit where he began his study of art at Central High School and Detroit City College, a predecessor of Wayne State University. After military service during World War I, he moved to New York where he studied architecture and then, from 1923 to 1926, he studied sculpture at the Ecole des Beaux Arts in Paris. He returned to Detroit in 1926 and accepted an appointment to teach at the University of Michigan. Just one year later he designed the statue of James Brady that you see. He also sculpted the angels that are on the Washington Boulevard façade of St. Aloysius Church. During the Depression decade, he was the Michigan supervisor for the Works Project Administration's programs in sculpture, ceramics and allied arts. Samuel Cashwan later accepted an appointment as a designer for General Motors. The website listed below describes many of Cashwan's commissions and accomplishments.
Sculptor: Samuel Cashwan
Date of Installation: 1928
Composition: Bronze and Granite
Designer of the pedestal: Frederick C. O'Dell
Use in 2009: Public Sculpture
Website devoted to the accomplishments of Samuel Cashwan: http://www.cashwan.com/
City of Detroit Designated Historic District: Not listed
State of Michigan Registry of Historic Site: Belle Isle is State of Michigan registered historic P25,046 listed on September 10, 1979
National Register of Historic Places; Belle Isle is National Register historic district
#74000999 listed April 25, 1974.

Photograph: Ren Farley; July, 2009
Description updated: November, 2009
Return to Public Art and Sculpture
1928 Samuel Cashwan