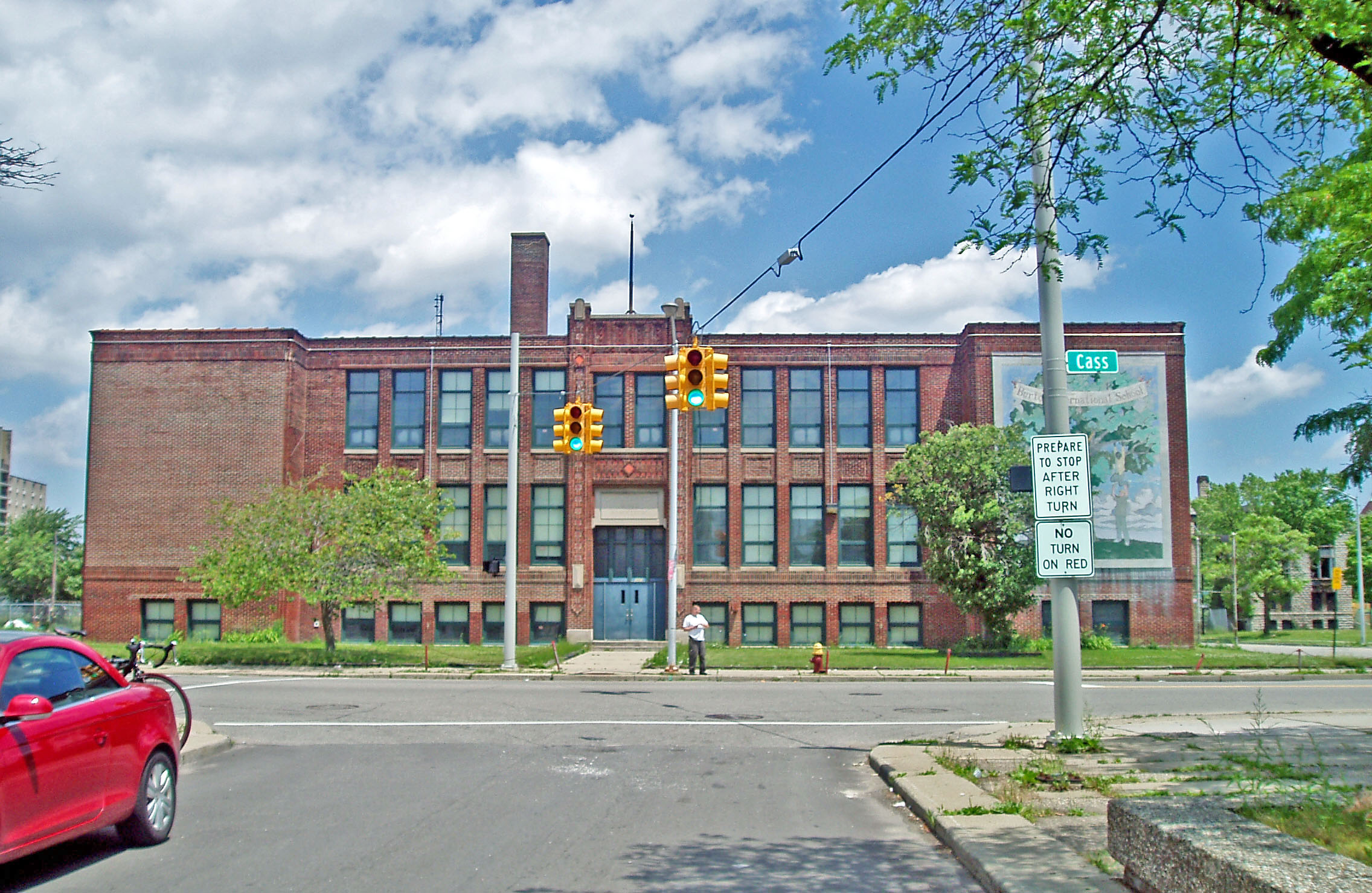 Clarence M. Burton School
Cass at Peterboro in the Cass Corridor of Detroit near Downtown

Clarence Monroe Burton was the only very well-known Detroit resident born in Whiskey Diggings California. He is an important figure for those interested in the study of the history of the city, perhaps a key figure. Burton assembled many materials about the early development of the city, materials that are now components of the Burton Historical Collection at the Detroit Public Library. He achieved a great deal in his long life span and shared his efforts with the many people who are interested in the history of this great city through his numerous publications and the materials he gathered.

In 1849, Dr. Charles Seymour Barton and his wife Annie Monroe moved from New York State to Battle Creek where Dr. Barton practiced medicine and founded a newspaper. Four years later, Dr. Barton decided to move to California where the Gold Rush attracted many easterners. It was an arduous trip from Kalamazoo since Dr. Barton and his family had to get to the east coast, sail to the Isthmus of Panama, cross to the Pacific shore and then sail north to booming California. Dr. Barton settled his family in the northern California community of Whiskey Diggings where Clarence Monroe Barton was born on November 18, 1853.

The following year, the elder Dr. Barton decided that California was not appropriate for his family and decided to return to Michigan. They sailed back on the route they took to California but their ship, the Yankee Blade, was hijacked and then it crashed. Many died but Dr. Barton's family safely arrived back in San Francisco and then sailed back to the East Coast. Eventually Dr. Barton settled in Hastings, Michigan, just north of Kalamazoo where a very prosperous manufacturing center developed in the later decades of the Nineteenth Century.

Clarence Barton grew up and attended schools in Hastings and then matriculated at the University of Michigan in 1869. He earned a law degree in 1874. At that time, law school required only four years of post-secondary school study. He was admitted to the Michigan Bar on his 21st birthday and took a job with the city of Detroit's Auditor's office checking on property deeds. By the early 1880s, Barton was working on property law with a title firm, Ward and Palmer. He spent about a decade there, but by 1891, he founded his own firm based on his previous law firm. His business became the Burton Abstract firm and prospered as Detroit became a leading industrial metropolis and then boomed in the motor vehicle age. Just before World War I, Burton founded a firm to develop property in Detroit and construct homes.

As early as 1874, Clarence Burton began collecting historical materials and books. Later, he specialized in collecting materials about Michigan and Detroit. While his legal business prospered, he devoted a great deal of effort to collecting materials about the early history of Detroit and to writing about the city's Eighteenth and Nineteenth century history. For example, he assisted in editing the journals of those involved in Pontiac's siege of Detroit in 1763. He also wrote about Antoine Cadillac, Barnabas Campau and many other early figures in the city's history. He wrote a five-volume history of the city published in 1922. His publications about the history of Detroit were numerous.

From 1915 until his death in 1932, Burton lived in the Boston Edison neighborhood at 121 West Boston. When he moved into that residence, he donated his collection of Detroit materials to the Detroit Public Library. This is reported to have included 30,000 books, 41,000 pamphlets and more than 500,000 letters and similar documents. They now comprise the Burton Memorial Collection—a rich trove about the history of Detroit in the 18th and 19th centuries.

Burton accepted civic responsibilities in Detroit and served on numerous committees. In 1903 he ran as a Republican to serve as a regent of the University of Michigan but lost that election. In 1922, he ran to serve in Congress from a Detroit district but he was defeated. From 1896 to 1913 he was an inspector in the Detroit Public School system. That role may have led to the naming of the school you see pictured here.

This building was used by the Detroit School system into the 1990s. By 2011, it had been renovated for use by the local community. There is a Burton Theater within the structure. In addition, the rest of the building has been renovated for use as offices or by artists as ateliers.

This is, it appears, a successful renovation of a school that honored one of the persons in Detroit who had an extremely great interest in the history of the city.

Whiskey Diggings is no longer populated but you may find it on maps of historic gold mining communities in Plumas County, California.

Date of Construction: 1913
Architect: William Malcolmson, I think
Biography of Clarence M. Burton: Clarence Monroe Burton: Detroit's Historian: A Biographical Sketch by Patricia Owens Burton, Detroit: Burton Abstract and Title, 1953
Website for the Burton Historical Collection at the Detroit Public Library: http://www.detroit.lib.mi.us/burton/burton_index.htm
City of Detroit Designated Historic District: Not listed
State of Michigan Registry of Historic Sites: Not listed
National Registry of Historic Places: Not listed
Use in 2012: Being used for a variety of purposes by the community
Photograph: Ren Farley; June 20, 2009
Description prepared: February, 2012