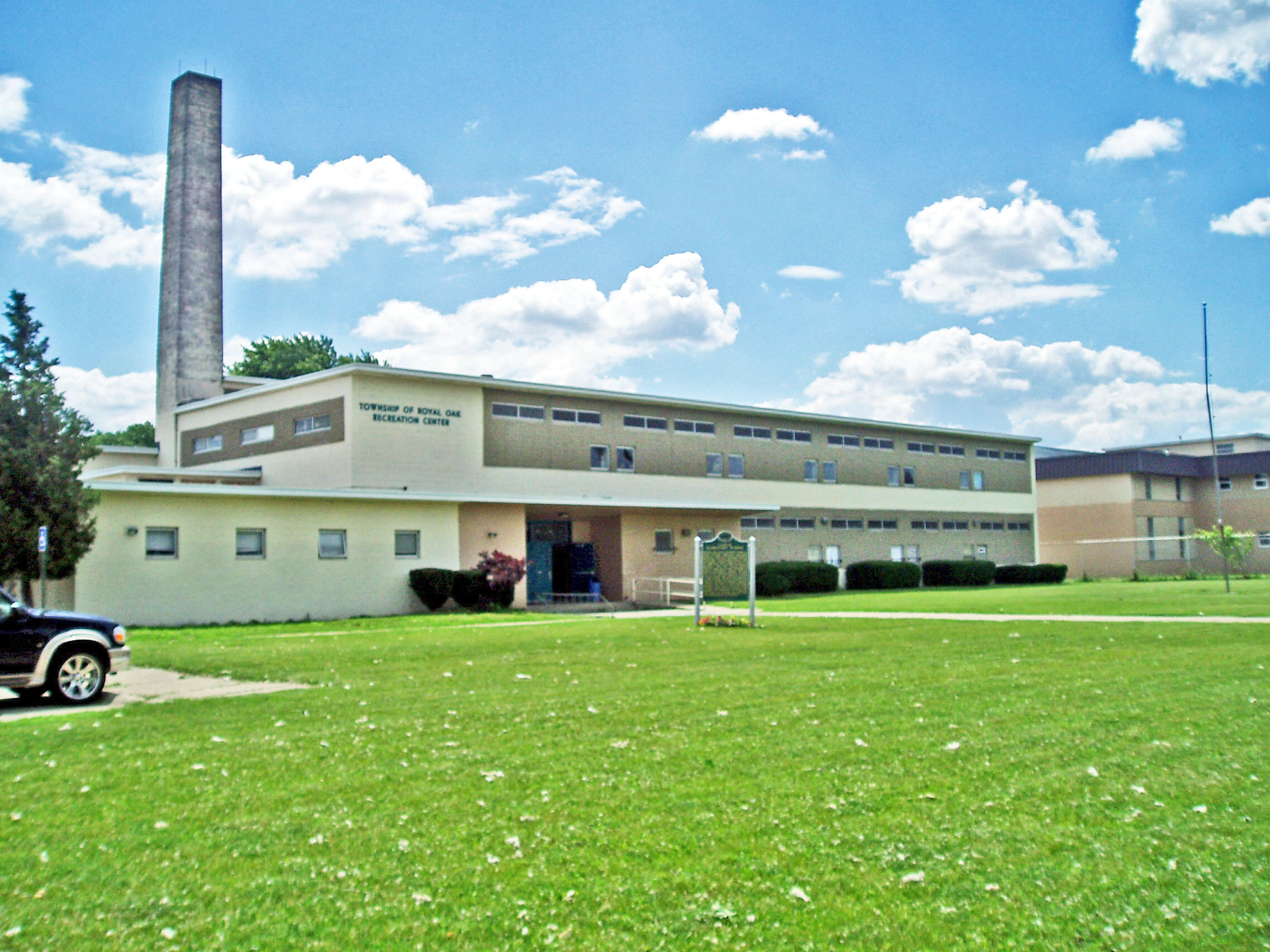 George Washington Carver Elementary School
21272 Mendota in Royal Oak Township just north of Eight Mile Road
 When Michigan became a state in 1837, the legislature established public schools, but for white students only.  Black parents challenged that and the state legislature then approved separate schools for African Americans to be paid for by taxes imposed on black property owners.  The legislature, however, did not mandate that whites and African-Americans attend separate schools but a Jim Crow system of education emerged.  I presume that few black children attended school but in Detroit there were a sufficient number for a black school.  In the Reconstruction Era—1870—black parents in Detroit challenged the separate schools of that city.  Michigan courts ruled for the racial integration of public schools.  In most locations blacks and whites attended the same public schools until migration from the South brought African Americans to Michigan in great numbers during World War I.  Many or most of the urban Michigan school districts with large numbers of black students designated some elementary schools for blacks. 

Relatively few students attended high school until after World War II so small numbers of blacks were accepted in most urban high schools.  Perhaps Detroit and Flint were the only two Michigan school districts with high schools more or less designated for black students.  The decision of numerous Michigan school boards to encourage racial segregation throughout much of the state's history reflected, presumably, the wishes of white parents and administrators.
A small enclave of blacks moved into the neighborhood of Detroit at Eight Mile Road and Wyoming at the time of World War I.  This was a remote area lacking city services when it was settled by blacks who, because of housing restrictions, had few choices about where to live.   Many of those who moved into this area built "sweat equity" homes, but after World War II they were replaced by the more substantial homes you see there now. 
Originally, this area of World War I black settlement was on both sides of Eight Mile Road near the intersection with Wyoming.  The Wayne County area south of Eight Mile was annexed by the city of Detroit in 1925 but few city services were provided.  In the late 1930s, when the federal housing programs encouraged new housing construction a racial dividing wall was built south from Eight Mile Road to distinguish the new developments designed for whites for the "shack village" where blacks had been living for about twenty years.
In World War II, just as in World War I, there was a massive migration of southern residents to Detroit.  Royal Oak Township was once a very large segment of Oakland County, but after World War I, most areas within it were incorporated into cities including Berkeley, Clawson, Ferndale, Hazel Park, Huntington Woods, Madison Heights, Pleasant Ridge and Royal Oak.  Those cities expanded and annexed component parts of Royal Oak Township.  An unincorporated component of Royal Oak Township bordering Detroit gained a black population during World War II, an area that adjoined the black neighborhood in Detroit, across Eight Mile Road.  This section of Royal Oak Township has about 10,500 residents according to Census 1950.

Before African Americans arrived, this area of Royal Oak Township was included in the Clinton School District.  With the rapid growth of a black population, administrators divided the district into two racially distinct districts.  One would serve the white residential areas of Royal Oak Township while the other would educate the black children.  The new black school district erected the large school that you see pictured above.  Lest there be any doubt about the race of students who should attend this school, it was given the name George Washington Carver.  A former slave, Carver earned a degree in botany at Iowa State and then taught at that institution.  He became one of the nation's most well-known botanists and agricultural reformers since he encouraged southern farmers to end their dependence on cotton and grow other crops including peanuts and potatoes.
Just after World War II, Oakland County suburbs annexed almost all of the unincorporated areas within Royal Oak Township.  The black area near Eight Mile Road was not included in any of these annexations, so it remained an African American residential enclave.  The school district that supported George Washington Carver elementary school considered establishing a high school after World War II but found that the tax base was insufficient.  The school district worked out an agreement with the Detroit Public Schools and high school students were bussed from this enclave to the segregated Northern High School on Woodward in Detroit.  For a picture of Royal Oak Township secondary school students boarding buses at Northern High—and more information—see:
http://www.detroittransithistory.info/Misc/DSRSchoolPhoto.html
Financial problems in the Royal Oak Township district were so great they could no longer pay the tuition charged by the Detroit Public Schools.  After about three years of non-payment, the Detroit schools refused to accept high school students who lived near Carver Elementary.  Attempts were made to enroll high school students in Oakland County schools, but they refused to accept the black students. The controversy gained national attention when a story appeared in Time Magazine in 1960.
(http://www.time.com/time/magazine/article/0,9171,826587,00.html?artId=826587?contType=article?chn=us)
To solve the problem, the school district established a one-room high school within George Washington Carver School.  Finally, Governor Milliken in the 1970s used his authority and mandated the merger of this Royal Oak Township black school district with the Oak Park Schools.  Plaintiffs in the protracted litigation to integrate the public schools of Detroit in the early 1970s presented considerable evidence about segregation in Royal Oak Township.  They argued that it showed that the city's school aided segregation in the metropolitan area and that the State of Michigan had taken steps to maximize the segregation of students.  Plaintiffs also pointed to Royal Oak Township's arrangement with Detroit Public School as an example of  government support of cross-district busing albeit cross district busing to maintain segregation.  When the Detroit school integration case went before the Supreme Courts, one of the state's strongest arguments was that cross district bussing was illegal.
Architect: Unknown to me
Date of Construction: 1945
Use in 2009: Community Center
Website for Chartered Township of Royal Oak: http://www.royaloaktwp.com/
State of Michigan Registry of Historic Sites: P574, Listed November 16, 1995
State of Michigan Historic Marker:  Put in place September 20, 1996
National Register of Historic Places: Not listed
Photograph:  Ren Farley; June 29, 2009
Description updated: January, 2012
Return to Racial History in Detroit