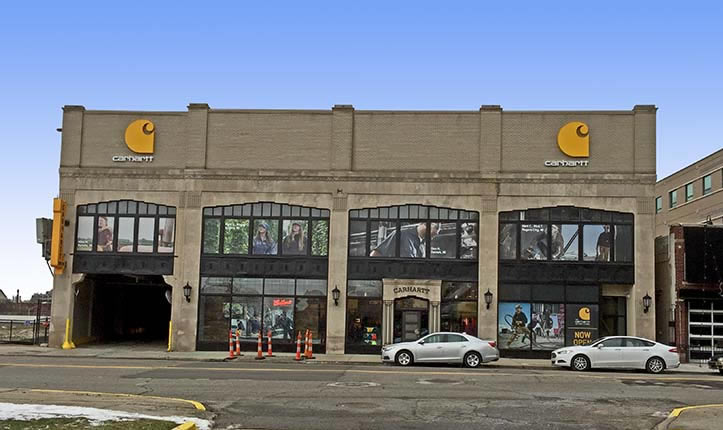 Cass Motors
5800 Cass Avenue in Detroit's New Center Area
Would any automobile dealer build a three-story sales building in an inner city neighborhood today? In the 1920s, many of Detroit's prosperous elite lived in attractive, expensive homes on both sides of Woodward. The dealer selling Marmons—an auto produced in Indianapolis—wished to build an impressive edifice, so he selected an Art Deco style for this building constructed in 1928. The striking Art Deco approach to architecture was briefly popular in the US in the 1920s. The Cass Motors building is one of the best examples of Art Deco found in Detroit. The best place in the US to see a huge array of well-preserved Art Deco building is in the South Beach neighborhood of Miami Beach.
This building needs repair. At one time, there was an appealing façade on Cass consisting of black marble and black colored plates. The well-sculptured windows are still visible. Marmon was one of many American producers to fail during the Depression. The Cass Motors building was used by Dalgleish Cadillac, a dealership still in business with their main sales facilities just north on Cass.

Style: Art Deco
Michigan Historical Register: Listed April 29, 1986
National Historical Register: Listed April 29, 1986
There is no visible historical marker on this site.
Return to University – Cultural Center Multiple Resource Area