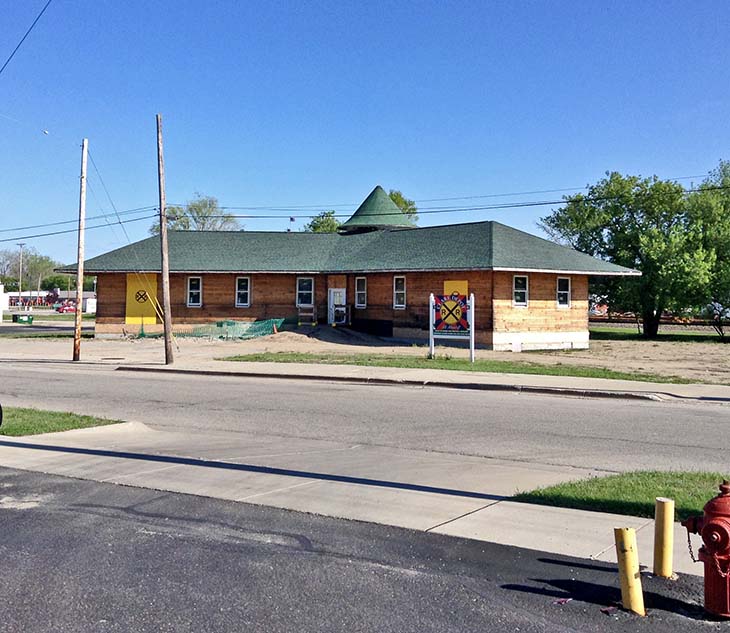 Clare Union Depot
At the intersection of the former Pere Marquette and Ann Arbor Railroads
near the intersection of West State Street and Ann Arbor Trail
north of downtown Clare


By the mid 1850s, Indians had been removed or confined, the swamps were being drained and the population was growing quite rapidly as migrants sought to establish farms.  Investors in Michigan began to think about building railroads since they were a great improvement upon the elementary roads that were often impassible for many months each year.  Almost every settlement of any size sought to build a local rail line that would allow those living in its rural hinterland to sell their products in town and shop there.  In some locations, investors sought to build a line that would link their town to a neighboring city or, even, to one of the larger population centers of the state: Ann Arbor, Detroit, Jackson, Kalamazoo and Lansing.   A few investors—but only a few—saw merit in longer railroads that would cross state lines or reach a shipping port.

Many groups of prospective investors obtained charters from the state to build a line but then never laid a foot of track since they could not locate the substantial capital they needed to buy land, grade it and then buy engines and rail cars.  In 1857, a group of mid-Michigan investors secured a charter for the Flint and Pere Marquette Railroad.  At that time, Ludington was known as Pere Marquette since that was the place of death of the great French missionary and explorer who was the first European to travel from the Great Lakes to the Mississippi River and then sail down that stream and back to the Midwest.  Unfortunately, Pere Marquette died in what is now Ludington on his way back to the Straits of Mackinac.   The investors in this rail line presumably intended to ship products and passengers through the rapidly-growing central Michigan counties that came to be known as the Irish counties because of the origin of many immigrants.  In the 1850s, water transport was very much less costly than rail transportation so the promoters of this  line presumed that Michigan products could be taken to Pere Marquette where ships would transport them—and numerous passengers—to Milwaukee, Chicago and other Great Lakes ports.

The investors lacked capital.  Michigan rate payers lost so very much money trying to build the Michigan Southern line from Monroe to Lake Michigan and on the Michigan Central that was built west from Detroit that when a new constitution was adopted in 1850, it specifically prohibited using state tax revenue to finance railroads.  Just before the Civil War, the Congress  approved a system of land grants to facilitate the construction of rail lines.  There were numerous strings attached, but basically, if a rail line qualified for a federal land grant and laid 20 miles of track, it was eligible for an allotment of federally-owned land.  Presumably, the railroad would encourage settlement on their land grant and the farm products grown there would be shipped by rail.  Every additional 20 miles of completed track made the railroad eligible for additional federal land.

In 1867, the Flint & Pere Marquette started building west from Saginaw.  By December 1, of that year they reached Midland.  In autumn of the next year, their line got to Clare and, for the first time, this city had a rail connection to the rest of the country.  Just four years later, the railroad reached their namesake Lake Michigan port.  The building was strongly supported by the federal land grants. Without that federal support, the  line would never have been constructed.   In the meantime, the line was purchasing existing rail lines and building some new ones to link it to Flint and, eventually, to Toledo without passing through Detroit.

In 1899, there was a major consolidation of several rather long Michigan railroads to form a new and extensive Pere Marquette Railroad.  This became a system that covered much of the state with lines from Toledo and Detroit across the state to Grand Rapids and several Lake Michigan ports along with another major line stretching from Petoskey to Chicago through Grand Rapids.   In addition, the Pere Marquette had rail lines spanning southern Ontario from the Michigan border to the Buffalo area.  The successful Pere Marquette was purchased by the Chesapeake and Ohio in 1929 and fully merged into that railroad in 1947.

As early as 1845, residents of Ann Arbor were upset by the very high rates charged by the Michigan Central.  They presumed that if there were a competitive rail line serving the city, freight and passenger rates would fall.  They sought another rail line for Tree City.  Several investors considered and eventually began a line that would link Ann Arbor to Toledo where connections could be made to several other lines.  Actually, very little happened rapidly.  However, a Toledo man, James Ashley who had represented that city in Congress and served as Montana territorial governor, realized in the 1870s, that great wealth would come to investors if they built a north-south line across Michigan to tap the state's seemingly endless pine forests.  There was great demand for that timber since the nation's industrial output was rising rapidly.  After many struggles, he successfully completed a line that linked Toledo and Ann Arbor in August, 1881.  He faced great challenges finding capital but continued slowly building his line north.  By 1886, what was then known as the Toledo, Ann Arbor and Northern Michigan reached Owosso.  Two years later, this railroad reached Clare on its way to Cadillac.  After purchasing an existing line, this line got to the port of Frankfort in late 1889.  In truth, the port is Elberta but it most often referred to as Frankfort, Michigan. 

As early as the 1840s, ships were designed to carry rail cars across major rivers.  Ferries did this at Port Huron, Detroit and, after 1883, they carried rail cars across the Straits of Mackinac.  However, James Ashley and his colleagues had the idea that large ships could be constructed to carry rail cars across long water distances such as Lake Michigan.  Skeptics wondered about his ideas but he had a ship constructed,and in 1892, his rail line began car ferry service from Frankfort to four ports on the western shore of Lake Michigan, Manitowoc,  Kewanee, Marinette, Wisconsin and Manistiques Michigan.  For nine decades, railroad car ferries sailed across Lake Michigan twelve months every year.

The economic depression of 1892 put an end to most rail construction in Michigan and forced many existing rail lines into bankruptcy.   In 1895, Ashley's rail line went through a financial reorganization, and the name of the line was changed to the Ann Arbor Railroad.  For the most part of its history, the Ann Arbor line was an economically unsuccessful railroad.  It was owned, from time to time, by other railroads including the Wabash and the Detroit Toledo and Ironton.

Originally, the two railroads in Clare had their own depots but they decided to build one structure.  This depot opened in 1894 but burned down shortly thereafter. I believe that it was located at the site pictured above.   Very, very many nineteenth-century depots burned since steam engines tended to disperse many hot cinders and coals.  A variety of strategies were developed to prevent steam engines from setting railroad structures on fire, but they often failed.  Nineteenth-century railroad history is a story of buildings consumed by fire.

The station that you see was constructed in 1898.  It has two bay windows.  Presumably there was one for the agent or dispatcher of each railroad.  One wing, stretching in a north-south diredtion was for the Ann Arbor Railroad and had a ticket office, a waiting room for passengers and a space for less-than-carload lot freight.  The other—and similar wing—served the Pere Marquette line with similar facilities, perhaps an early example of a separate but equal design.  At this time, several of the Michigan Central depots were built with separate waiting rooms for men and women.  That was not the situration here in Clare.  Remember that  before the 1920s, almost all  people and products arriving in Clare or leaving went through this depot.  The depot was  the equivalent of today FedEx office.

If you look at the railroad time tables for 1910, you see that people in Clare a century ago had quite a few attractive travel options.  There was a morning train on the Pere Marquette departing Clare at 6:15 and arriving in Detroit at 11 AM.  There was also an 11 AM and 4 PM train, each taking about six hours to cover the 186 miles to what become the Motor City.  Correspondingly, there were three trains from Detroit to Clare. Two of these continued to Ludington.  You could actually take the early morning train to Detroit, consult your broker or lawyer and then return on an evening train.

The Ann Arbor Railroad also offered three trains each way every day except Sunday.  For example, you could leave Clare a little after six in the morning and get to Ann Arbor at 11:30. After seeing a doctor at the University of Michigan Medical School or a dentist at the Dental School,  you could board a 4 PM northbound train in Ann Arbor and get back to Clare about 9:30.  Travel was not always all that inconvenient for Clare residents in the pre-automobile era.

Road building in the 1920s, greatly diminished the need for railroads in sparsely populated areas.  By the 1930s, the Ann Arbor was down to offering one train each day in each way—an all day trip from Frankfort to Toledo.  That service ended in 1950.  By World War II, the Pere Marquette was also down to one Saginaw to Ludington round trip every day—a service that ended later in the 1950s.

The Pere Marquette line west from Clare to Evart was abandoned in 1987 and now serves as a rail trail.  Their line east to Midland survived to April, 1989.  It was abandoned but was paved to serve as a very attractive rail trail.  I have had the pleasure of riding from Midland to Clare on that former Pere Marquette road bed several times.    And, of course, it is very flat and straight since the construction engineers who designed rail lines in the Nineteenth Century knew that they had to avoid grades and curves.

The bankruptcy of the Penn Central Railroad in June, 1970 led to major changes for many other affiliated rail lines that were failing financially, but were not able to get approval to go out of business.  That failure also led to legal changes that made it much easier for profitable lines to get rid of their much money-losing line.  Just as the span between the end of the Civil War and the Panic of 1893 witnessed a tremendous building boom for Michigan railroads, the latter three decades of the Twentieth Century witnessed the abandonment of hundreds of miles of Michigan railroad track.  After about a century of financial troubles, the Ann Arbor Railroad went bankrupt in 1976.  A short section of the Ann Arbor from Durand to Ashley was purchased by the Grand Trunk Western Railroad.  The rest of the line from Toledo to Frankfort was taken over by the state of Michigan.  In an effort to keep rail service for shippers and to preserve employment, the state government looked for firms that would operate abandoned rail lines such as the Ann Arbor.   Conrail, the firm formed by the federal government and bankruptcy courts, from the ashes of the Penn Central bankruptcy, operated the Ann Arbor line for about 18 months.  They laid off many employees and tried to improve service but were not very successful.  In 1978, state railroad officials granted the Michigan Interstate Railroad the contract to operate the Ann Arbor line from Ann Arbor north to Frankfort.  By this time the tracks from Ann Arbor to Toledo had a different ownership and were run by a new Ann Arbor Railroad that was able to operate profitably without state assistance between of business along their line.  Michigan Interstate sought to update the rail service on the former Ann Arbor line in hopes of attracting new business.  By 1982, however, they contended they were losing $20,000 each day they operated the  line and so they terminated service in spring of that year.  After a brief interruption of service, the State of Michigan awarded a contract to the Tuscola, Saginaw Bay Railroad to operate the line.  That rail line has operated the former Ann Arbor rail lines from Ann Arbor north to Thompsonville, Michigan.  Ferry service across Lake Michigan was abandonened in its ninetieth year: 1982.  The northernmost 21 miles of the Ann Arbor from Thompsonville to Frankfort were abandoned in 1994.  However, all of the remainder of James Ashley's Ann Arbor Railroad remains in use.    Freight trains, from time to time, visit Clare now just as they have done since the fall of 1868.

This depot was minimally used after the Tuscola and Saginaw Bay took over operation, but not well maintained. No scheduled passenger trains have at the depot since Eisenhower was president.  A movement developed in Clare to preserve their historic depot.  I believe that the railroad insisted that it be moved from its present location.  Plans call for some renovation of its station and then a shift to a location a mile or so south of its current location.  This will be along the rail line served by the Tuscola and Saginaw Bay.  It will be located, I believe, near the original point when the Ann Arbor crossed the Pere Marquette back in 1888.

Date of construction: 1898
Architectural style:  Elements of the Queen Anne Style
Architect: Unknown to me
Use in 2011:  Vacant building scheduled to be converted into an historical museum
Website for Clare Historic Depot Restoration Project: http://www.claredepot.com/
State of Michigan Registry of Historic Sites: Not listed
National Register of Historic Places: Not listed
Photograph: Ren Farley; June, 2010
Description prepared: June, 2011

Return to Transportation

Return to Homepage