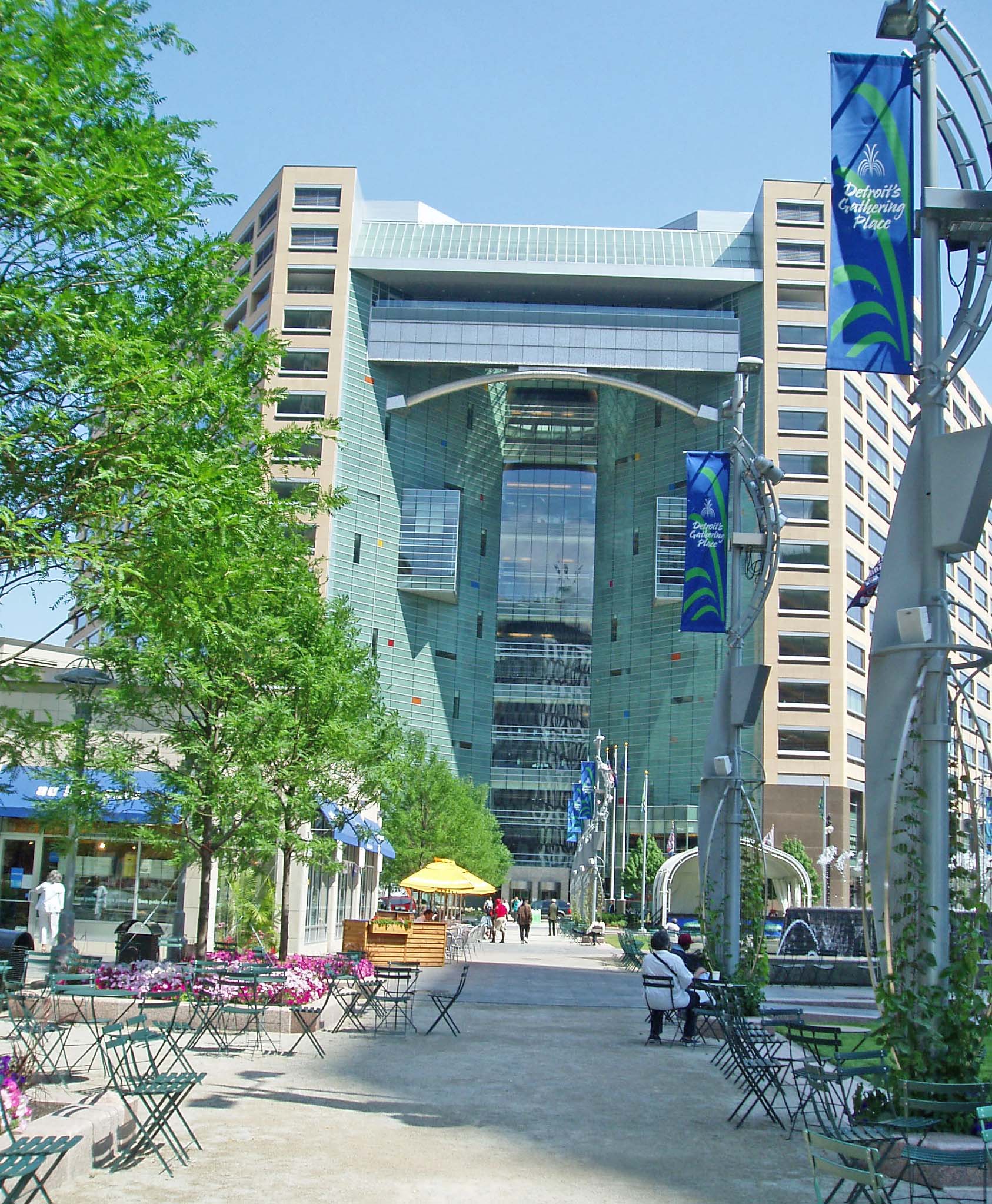 Compuware Building
One Campus Martius on Campus Martius in downtown Detroit
Peter Karmanos, a second generation Greek American, grew up in the Detroit area and attended Wayne State University. Shortly after he graduated in 1973, he and his colleagues, Allen Cutting and Thomas Thewas, founded a software company: Compuware. Over the decades, the business prospered and became a highly successful software and information technology firm.

There has been a modest revival of employment, entertainment and residents in and near downtown Detroit. You cannot point to any one signal decision that "turned the corner" for downtown Detroit. There were quite a few, including General Motors moving into the Renaissance Center, the Tillich's' renovating of the Fox Theater and their building of Comerica Park for the Tigers, the building of Ford Field by the Lions, and the location of three casinos downtown. To that list, you would also want to add the decision by Peter Karmanos to erect a striking new office building for his firm on the site of the former J. L. Hudson store and his shifting of much of his skilled Compuware workforce from offices in Farmington Hills and other suburbs to the building you see on Campus Martius. At the time of its construction, there was mention of four thousand workers coming to their jobs here. I think the actual number was somewhat less. Nevertheless, the construction of this building was an important component of stopping the decline of downtown Detroit and initiating a revival.

This is a modernistic structure featuring a glass and granite exterior. It is in a wedge shape facing the renovated Campus Martius. There is retail space on the first floor and a very large atrium that features a waterfall. I think this structure is an appealing contrast to the classical style buildings nearby such as Albert Kahn's 1922 First National Bank Building or the brutalist structures such as Coleman Young City County Building that Harley, Ellington and Day designed in the early 1950s.

Peter Karmanos retired from Compuware in early 2013. He is well known for his contributions to the cure of cancer. In 1989, he funded the Barbara Ann Karmanos Cancer Institute, an organization that occupies a large medical building located on the campus of the Detroit Medical Center and affiliated with the Wayne State University School of Medicine. Apparently he has contributed more than sixty million dollars to that center. He also has a very strong interest in hockey and has supported amateur hockey in the Detroit and throughout the nation. In 1994, he purchased the Hartford Whalers National Hockey League team. He was disappointed with their patronage and announced that if he could not sell 11,000 season tickets in Harford for the 1995-96 season, he would move the team. After the 1996-97 season, he shifted the team to Raleigh, North Carolina. His 2006 Carolina Hurricanes team won the Stanley Cup. He was elected to the United States Hockey Hall of Fame for his contributions to amateur and professional hockey in this county. So far as I know, he has not been granted any formal accolades for his important role in remaking the image of downtown Detroit.

This building abuts the Campus Martius Historic District but is not, I think, a component part of those state and federal historic districts.

Architects: Rossetti and Associates
Date of Completion: 2003
Use in 2014: Office building for the Compuware corporation with retail stores at the ground level
City of Detroit Local Historic District: Not listed
Michigan Register of Historic Sites: Not listed
National Register of Historic Sites: Not listed
Photograph: Andrew Chandler; July, 2004
Description prepared: January, 2014

Return to Commercial Buildings