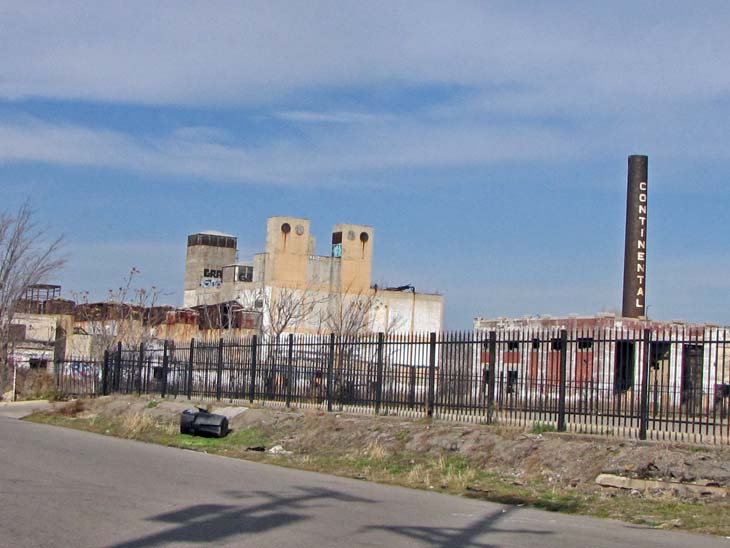 Continental Motors
Located on Gray Street just northwest of East Jefferson
and not far from the intersection of East Jefferson and Connor

This firm was founded in Chicago by Ross Judson and Arthur Tobin who built a two-cylinder engine to display at the 1903 Chicago Auto Show.  At this time, many entrepreneurs aspired to create a successful vehicle manufacturing firm but they lacked capital.  As a result, many of them bought component parts and assembled their cars that carried their nameplate.  Orders rolled in for the engine displayed at the Chicago Auto Show.  Originally the firm was called Autocar but management learned that a Pennsylvania vehicle firm was using that name so they changed to Continental to suggest European influences.  Apparently the engine that Judson and Tobin created was influenced by engineering developments at Mercedes.

In 1905, production was shifted to Muskegon, Michigan.  Studebaker had ordered 100 engines for its 1906 model.  The location of the manufacturing plant in Muskegon was not by accident.  That city was something of a lumber capital with its many mills but, by the 1890s, the city's elders realized that the Michigan lumber boom was over.  They sensibly developed strategies to attract firms that would employ those displaced workers unemployed by the demise of the lumber industry
.  Continental was recruited to Muskegon and, for a fair stretch in the Twentieth Century, was the city's largest employer.  I do not know if Studebaker was assembling its cars in South Bend at this time.  For a decade after 1909, almost all of their vehicles were assembled at the former Everett-Metzger-Flanders plant on Piquette Street in Detroit, one that lasted into the Twenty-first Century but then was consumed by fire.

In 1911, the Hudson Motor Company placed an order for 10,000 Continental engines.  Continental decided to build the plant whose smokestack you see pictured on this page.  It was a large three-story red brick factory located on 12 acres between Gary Street and Connor just northwest of East Jefferson.  Some of the plant or additions to the large plant remain but most of it has been torn down.

For almost half a century, Continental was a successful business.  Their engines were used in more than 100 makes of cars.  Eventually, their large factories in Muskegon produced engines for trucks and buses, while the plant in Detroit assembled automobile engines.  In the mid-1920s, Continental started producing engines for small aircraft and, on the cusp of the Depression, they dominated that market.  I was surprised to learn that, in 1929, they designed a seven-cylinder engine, presumably for automobiles.  I think of automobile engines as having an even number of cylinders but I know that there were some early "one lungers".

The 1930s were terrible years for auto producers and their suppliers.  Continental apparently had a financial interest in the DeVaux-Hall Automobile Company of Grand Rapids, a firm that began building cars, inauspiciously, in 1931.  I suspect that Continental supplied them with engines and never received any payment.   Not surprisingly, that firm went bankrupt after producing 4800 vehicles in 1931 and 1932. Apparently to protect their interest, Continental took over the DeVaux-Hall firm and, for the first time, built their own cars using the Continental name plate.  They produced three models for the 1934 model years: the Ace, the Beacon and the Flyer.  One of them sold for just $399 making it the least expensive vehicle on the market.  However, this line was not successful so auto production ended in 1935 after Continental assembled a total of 4200 cars, most of them in Grand Rapids.  There is a strong interest in collecting historic automobiles in this country.    I have never seen or heard of an existing DeVaux or Continental.  Later in the 1930s, the Detroit engine factory was closed.

World War II put Continental motors back into production.  They assembled very many engines for trucks, ships and planes.  Rolls Royce had great expertise in designing aircraft engines during that war.  Many of the aircraft engines assembled in Detroit were licensed by Rolls Royce.  Continental built Rolls Royce Merlin Engines for the P-51 Mustang planes.

In 1960, the Continental firm was sold to Ryan Aeronautical.  That firm was subsequently purchased by Teledyne and then it became a component of General Dynamics.  The plant on the east side of Detroit closed in 1965.  For some time after that, it was used by a distinct firm with the name Continental Aluminum.  Much, but not all, of the plant was subsequently torn down.

Date of construction: 1912
Architect: Albert Kahn
Use in 2015:  Some components and the smoke stack of the abandoned plant remain.
City of Detroit Designated Historic District: Not listed
State of Michigan Registry of Historic Sites: Not listed
National Register of Historic Places: Not listed
Photograph:  Ren Farley
Description updated:July, 2015