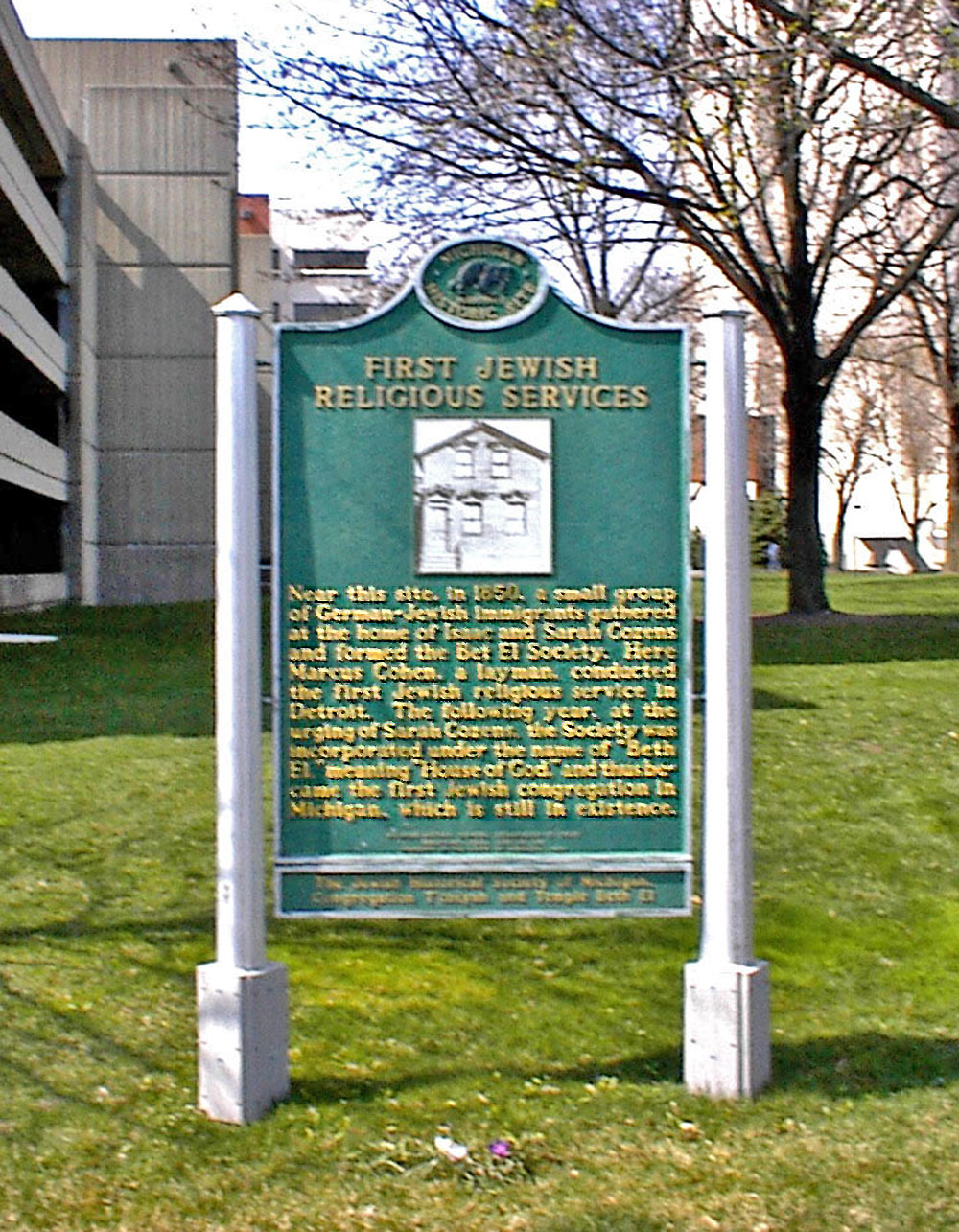 Site of First Jewish Religious Services in Detroit/
Residence of Isaac and Sarah Cozens
207 East Congress in Greektown near downtown Detroit
Apparently the first Jewish resident of Detroit was a Mr. Richmond who arrived from Montreal and established a business shortly after the British took over in 1760. The Jewish population grew slowly, if at all, for several decades. A small number of migrants from the East Coast arrived in Detroit shortly after the turn of the Nineteenth Century but, seemingly, few or no Jews. About six years after the Erie Canal was completed in 1825, a moderate number of Irish and German immigrants arrived in Detroit, but they established Catholic parishes. The flow from Germany increased and, presumably in the 1840s, a few Jewish families arrived.
Census 1850 counted 21,000 residents in Detroit but, similar to every other federal enumeration, it did not ask about religion. In that year, Marcus Cohen led the first Jewish religious service in the home of Isaac and Sarah Cozens at 207 East Congress where the historical marker you see now stands. Apparently Sarah Cozens sought to formalize the Jewish community, so she helped to organize and establish the Beth El Congregation—the first in the city. Samuel Marcus served as the first rabbi of this orthodox congregation. Just one year after the founding, the congregation established the Chaplain Street Cemetery so that Jews did not have to be interred in a Catholic or Protestant cemetery. This is now known as the Lafayette Street cemetery.
Changes occurred rapidly. In 1856, the congregation decided to adopt the by-laws and practices of Reform Judaism. I believe they recruited a new rabbi trained at Hebrew Union in Cincinnati. Sermons and instructions were given in German. In 1861, the congregation not only permitted men and women to sit together, but adopted instrumental music, a mixed choir, abolished use of the tallit (prayer shawl) and adopted a new American prayer book. This suggests a rapid assimilation of these German immigrants and something of an Americanization of their religious rites. This rapid adoption of Reform Judaism led about 17 families to leave the Beth El Congregation and form Congregation Shaarey Zedek—one that continues to thrive in Southfield and uses as its temple one of the most striking religious buildings in the state.
In 1861, the Beth El Congregation purchased a church on Rivard located between Monroe and Lafayette and converted it to a synagogue. Six years later, they purchased a new building at Washington and Clifford. The congregation also outgrew that synagogue and, in 1903, moved into the impressive Temple Beth El that George Mason and Albert Kahn designed, the building at Woodward and Eliot that is now Wayne State's Bonstelle Theater.
City of Detroit Local Historic District: Not Listed
State of Michigan Registry of Historic Sites: P25,100. Listed April 1, 1977.
State of Michigan Historical Marker: Visible since it faces East Congress.
Erected: September 14, 1977
National Register of Historic Places: Not listed
Photograph: Ren Farley, July, 2004
Return to Religious Sites

Return to Historic Residences