Croswell Depot, Pere Marquette Railroad
Near the intersection of Wells Street and Mills Street in downtown Croswell
Michigan's Thumb looked like a promising area for those who invested in railroads in the post-Civil War decades.  There was a large supply of timber and while some of it was close to waterways and Lake Huron, much of the lumber could most easily be shipped to mills and markets by rail.  Coal was mined at several spots and, I presume, some foresaw the development of agriculture in the Thumb.

In 1878, Port Huron businessmen and investors, Henry Howard, John Sanborn, Fred Wells and James Beard, chartered The Port Huron and Northwestern Railroad.   Even though Port Huron was a major lumber port, the developers apparently stressed the agricultural potential of the Thumb. They completed a 27-mile line from Port Huron to Croswell in May, 1879.  This line was gradually extended north to the tip of the Thumb, reaching Port Austin in December, 1882.  Interestingly, this was a narrow gauge railroad with a track width of three feet.   It was much cheaper to build a narrow gauge line than a regular width railroad.  You needed less space, could erect lighter bridges and could buy narrow gauge railroad equipment more cheaply than normal-sized trains.  Grades could be steeper and curves tighter on narrow gauge lines compared to standard gauge railroads.  But narrow gauge lines had to carry lighter loads than standard gauge railroads.  Presumably, the Port Huron and Northwestern foresaw their business as getting freight to and from Port Huron rather than shipping it on to eastern and western points using the standard gauge Grand Truck line.  Freight transferred from the Port Huron and Northwest to the Grand Trunk had to be shifted from one rail car to another.

Interestingly, Port Huron was something of a center for narrow gauge railroading in Michigan. The Port Huron and Northwest eventually operated three narrow gauge lines from their namesake city: one going west to Almont and another northwest to Saginaw with the third being the line to Port Austin that passed through Croswell.   The line must have included more than 200 miles of track in the mid-1880s.  Most—but not all—of that trackage survives in use as a standard gauge line into the Twentieth First century.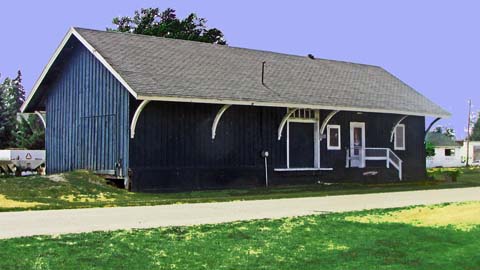 The Port Huron and Northwestern was sold to the much larger Flint and Pere Marquette Railroad in 1889.  The new owners kept the Port Huron to Port Austin line as a narrow gauge one until Sunday, July 17, 1898 when it was changed to become a standard gauge railroad.  A special gang of 200 men was employed to assist the railroad's maintenance of way employees shift of 87 miles from narrow to standard gauge, a chore that was completed on July 18.

In 1899 the Pere Marquette Railroad was formed by a merger of a variety of Michigan and Ontario lines including the Flint and Pere Marquette.  The Pere Marquette main line extended from Detroit to Grand Rapids and on to Chicago with other major lines linking Toledo to Flint, Flint to Ludington—a port city then known as Pere Marquette in honor of the location where the great explorer died—and from Grand Rapids north to Petoskey.  There were numerous Pere Marquette branch lines.  Indeed, the railroad owned two former Port Huron and Northwest lines that connected Port Huron to Saginaw.  One was a more or less direct line ninety miles in length.  The other was a circular route that passed through Croswell as it more or less followed the coast line of the Thumb and, after 133 miles, finally reached Saginaw.  Bad Axe may have been the biggest and most important intermediate city on this long rail line from Port Huron to Saginaw.

The depot here in Croswell may have been the first and only one in the city since it was built two years after the railroad arrived.  One hundred and one years ago when almost all people and goods traveled by rail unless efficient water transportation was available, the Pere Marquette ran two passenger trains per day from Port Huron to Port Austin and return.  The 27 miles trip from Croswell to Port Huron was carded for one hour.  By the 1920s, Michigan's new system of highways and the popularity of motor vehicles led to great decrease in traffic on branch line railroads.  By the start of the Depression, the Pere Marquette ran only daily mixed train from Port Huron to Port Austin and return.  The railroad terminated passenger service during the Depression decade, quite likely after the Postal Service, in an economy move, shifted the movement of mail from trains to trucks.

The Pere Marquette Railway was taken over by the Chesapeake and Ohio Railroad in 1929 and merged into that larger line in 1947.  In 1972, during the era of great railroad abandonment in Michigan, the rail line south from Croswell to Port Huron was abandoned.  The line north from Croswell that eventually reached Saginaw continued to be operated by the Chesapeake and Ohio.  In 1986, a short line railroad—the Huron and Eastern headquartered in Vassar—took over many miles of railroad track in the Thumb that had once been operated by the Pere Marquette.  They continue to offer freight service to shippers in Croswell.  They operate 384 miles of track in and near The Thumb; many of those miles were previously part of the Pere Marquette Railroad.  The Thumb has become a key location for the growing of sugar beets.  Indeed, this part of Michigan was very fortunate since once the trees were harvested by the end of the Nineteenth Century, sugar beets became an important cash crop.  Michigan Sugar built a large plant in Croswell in 1902 and continued to operate it.  The factory processes 730,000 tons of sugar beets annually to produce 200 million tons of sugar, much of it sold under the trade name Pioneer Sugar. This huge old manufacturing plant is served by the tracks laid on the road bed where a narrow gauge line was built in 1879.

This depot was once used as a local historical museum.  I believe that museum has closed.

Railroad enthusiasts are often fascinated by the narrow gauge lines that once were numerous in many states.  The Port Huron and Northwest was one of the larger narrow gauge railroads yet, so far as I know, there is no authoritative history of the line.  Extensive information about this line is including its rapid switch from narrow to standard gauge is presented in George W. Hilton encyclopedic,  American Narrow Gauge Railroads (Stanford, CA: Stanford University Press, 1990).

This community was founded in 1845 when a sawmill was opened by Ephraim Pierce.  It was named Black River after the waterway that powered the mill.  In 1857, apparently the residents on the two sides of the river could not agree about civic governance.  Those on one bank called their settlement Davisville after Randall Davis who was an owner of the saw mill.  Those on the other side called their community Falcon.  Apparently each community had their own post-office.  In 1877, the residents of Davisville changed their settlement's name to Croswell in honor of Charles M. Croswell who became governor of Michigan that year.  I presume they made this change in hopes of deriving some favors from the new Republican governor.  He was born in New York State and raised in Adrian, Michigan.  So far as I know he had no direct connections with Sanilac County.

Architect: Unknown to me
Date of Construction: 1881
Architectural style: Railroad vernacular
Use in 2012:  Apparently an unused building
Railroad track in front of depot:  Freight service provided by Huron and Eastern Railway
Michigan Register of Historic Sites:  Not listed
National Register of Historic Places: Not listed
Photograph:  Ren Farley; July 15, 2012