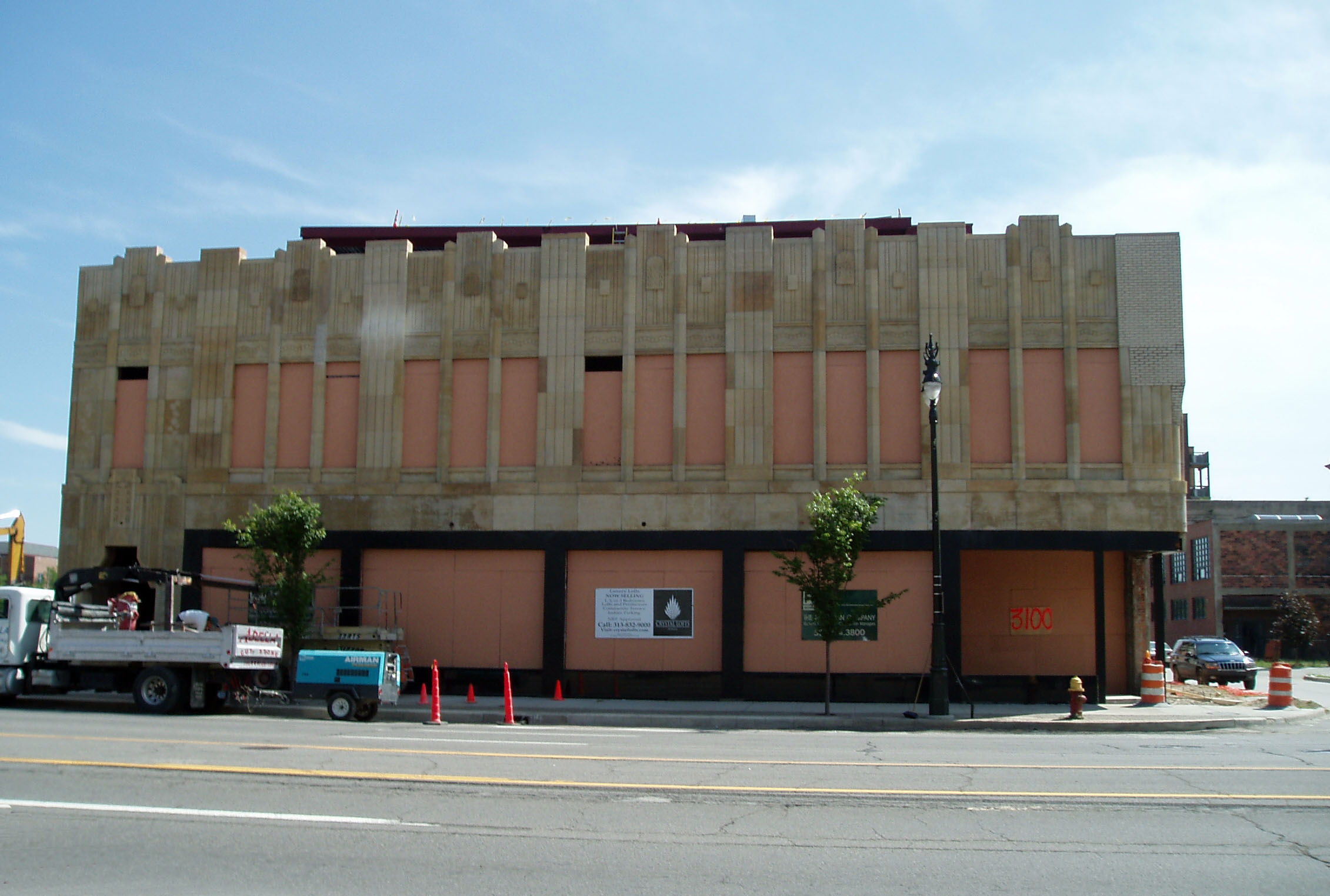 Crystal Ballroom/Crystal Lofts
3100 Woodward at the corner of Watson and Woodward in Brush Park
A new and affluent middle class developed in Detroit around 1900s, thanks to the prosperity of the city's manufacturing industries and the emergence of administrative and professional jobs. Unlike many of today's highly-paid professionals and managers, these individuals did not have to spend their evenings and weekends at work. The rapid growth of this urban middle class contributed to the popularity of new recreational activities, including professional sports. In Detroit and other cities, ballroom dancing became a popular activity in the early Twentieth Century, one that helped to make Motown a key center for the development of music. Lars Bjorn and Jim Gallert, in their definitive history of Detroit music prior to Barry Gordy—Before Motown: A History of Jazz in Detroit: 1920-1960 (Ann Arbor, University of Michigan Press, 2001)—point out that four impressive buildings were constructed as ballrooms by the end of 1919. Presumably, couples went there to enjoy the sounds of big bands or orchestras and to dance. The one you see, Crystal Ballroom, was the one located closest to downtown Detroit. Just a couple of blocks north on Woodward was Arcadia Ballroom, and on East Jefferson, in the location now occupied by Gabriel Richard Park near the MacArthur Bridge, were the other two early Detroit ballrooms—Pier Ballroom and Palais de Danse.
The building you see in the photograph open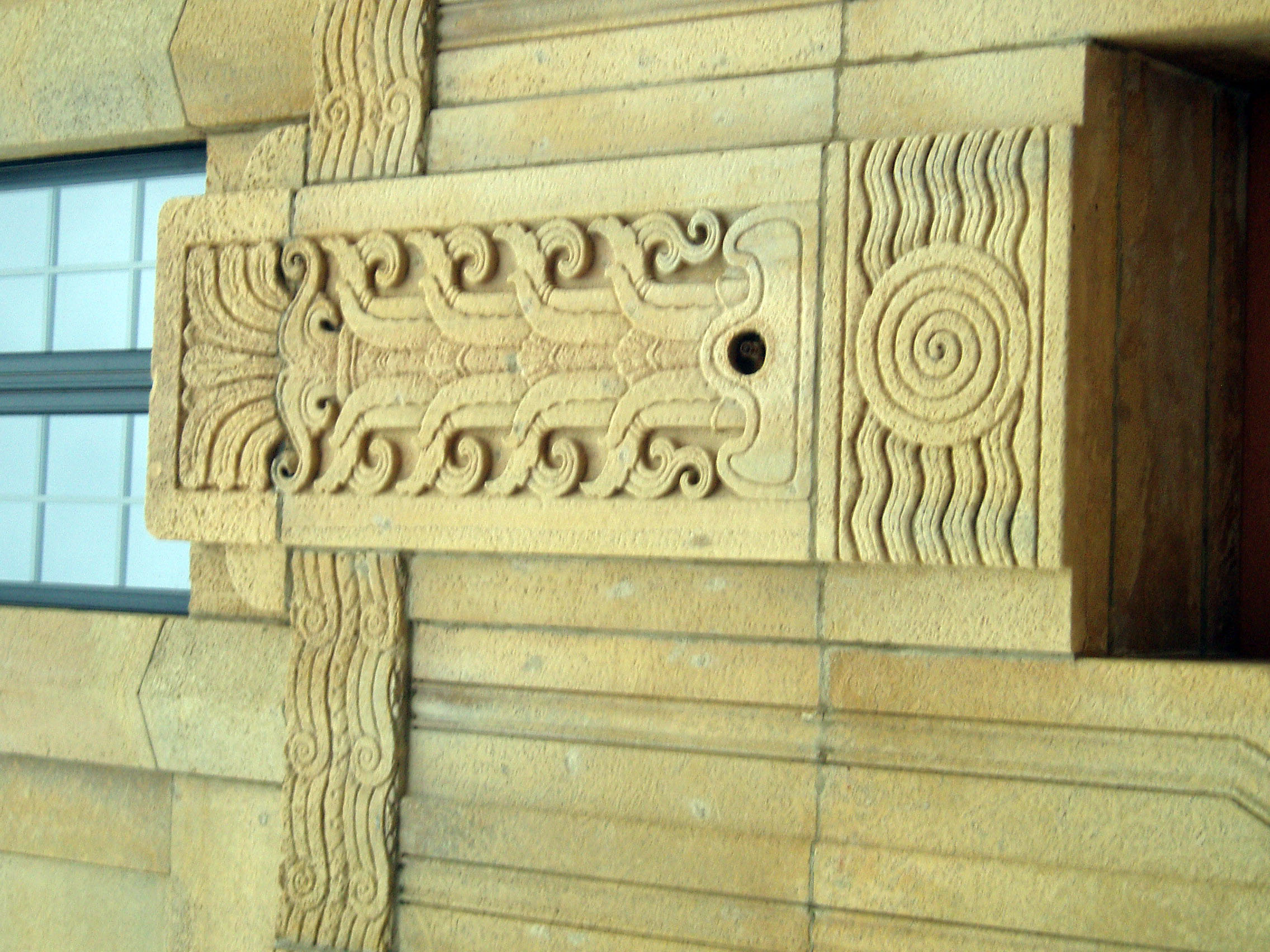 ed in 1919, but the façade was very different. At some point, the attractive Art Deco front you see was added. In 1936, Woodward was widened from six to eight lanes and that had substantial consequences for all buildings facing the thoroughfare. I think that was the time when the Art Deco styling was added to the Crystal Ballroom building. Rebecca Savage and Greg Kowalski include this structure in their book about Art Deco styling in Detroit, Art Deco in Detroit (Charleston, SC., Arcadia, 2004). Indeed they point out that the "Frozen Fountain" sculpture shown on this page was commonly used by Art Deco architects in Florida and California. Indeed, it is a distinctive feature of Art Deco styling. Apparently this is the only "Frozen Fountain" in metropolitan Detroit. I do not know who sculpted the "Frozen Fountain" that you see or when this building ceased to be a ballroom. One would guess that the pervasive and long Depression put places such as these out of business, but adding a new façade in 1936 suggests that investors saw a future for this structure in the midst of one of Detroit's most challenging decades.
There are a few other remaining ballrooms in Detroit; that is, buildings that were specifically designed for dancing to the sound of big bands. Detroit architect Charles N. Agree designed the huge Grande Ballroom that stands unused and in disrepair at 8952 Grand River. The next year, his Vanity Ballroom at the corner of Newport and East Jefferson opened in the far northeast corner of Detroit. Vanity Ballroom merits the historic designation it has but it, too, is now dilapidated and vacant. It is impressive to think that investors put their money into the elaborate buildings despite the Prohibition ban on the sale of beer, wine, and liquor.
In 2004, plans were announced for a renovation of this distinctive building. The Woodward Avenue level of the Crystal Ballroom building was, in 2007, being renovated for commercial space and the retail trade. The second floor was being converted into 13 residential loft units, each with a mezzanine. The height of the building was increased so that a third floor could provide four penthouse units with floor-to-ceiling glass on the Woodward side and a terrace for each unit. The listed selling price for the smallest second floor condominium was $170,000.
Architectural style: Art Deco influences are evident
Date of construction: 1919
Original architect: Unknown to me
Architect for the Art Deco façade: Unknown to me.
Use in 2007: Being converted into lofts
Website: www.crystallofts.com
City of Detroit Designated Historic District: Not listed
State of Michigan Register of Historic Places: Not listed
National Register of Historic Sites: Not listed
Photograph: Ren Farley: July 23, 2007
Description prepared: August, 2007
Return to Apartments, Lofts and Housing