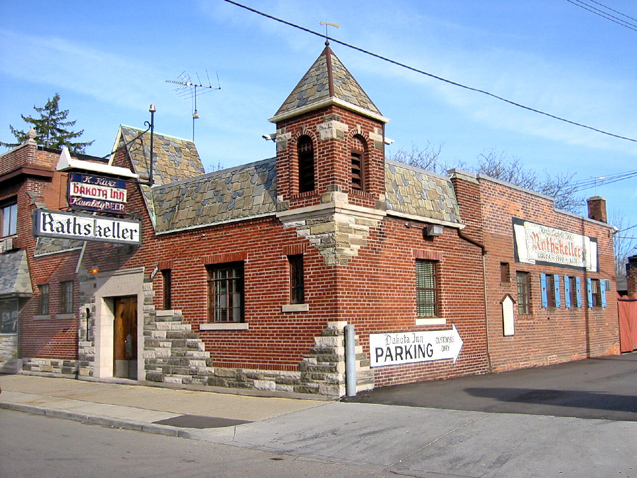 Dakota Inn Rathskeller
17324 John R in northern Detroit

In 1940, there were about 1,300 Chinese persons enumerated in Detroit in the nation's 16th enumeration that counted about 1.6 million residents of the city of Detroit. That's a pretty strange way to start an array of comments about a Bavarian beer garden that is now among the older, continuously operating restaurants within Detroit. However, many Chinese came to work in the United States before and shortly after the Civil War. Their immigration was stopped by the federal government about 1890, but by that year, there were about 115,000 Chinese residents of this country. Most of the Chinese originally worked building railroads or in mining along the west coast, but they quickly moved to cities and then spread across the United States. By 1930, there was a small Chinese population in almost every large city. In many of them, there was a small area with numerous Chinese businesses. Some supported themselves by running restaurants, but many were employed in the traditional job of running a laundry. The building you see pictured above was once a Chinese laundry. The small Chinese community in Detroit in 1940 was centered at Cass Avenue at Peterboro Street. Chung's Restaurant—closing in the 1980s or earlier—was the final Chinese restaurant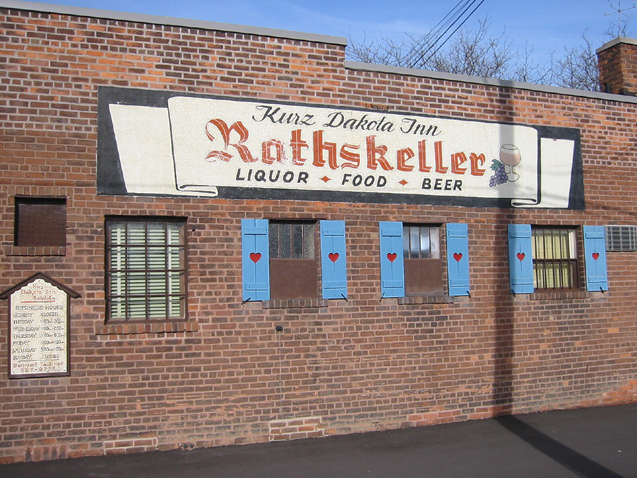 in that neighborhood.

Karl Kurz, a Bavarian, held down a job at Ford during the very economically troubled years of the early Depression. He missed the beer gardens of Bavaria. He was a native of Wiekersheim, Germany. Of course, this was during the era of prohibition so the production and sale of beer was outlawed. At some point, Kurz correctly sensed that prohibition was a failure and would end. The election of 1932 was an overwhelming one-sided victory for the "wet forces," President Franklin Roosevelt and his New Deal Democrats. Within days of taking office, Congress enacted the Cullen-Harrison law making it legal to brew and consume beer with up to 3.2 percent alcohol content. The President signed that legislation within 48 hours of being sworn into his office and, on April 8, 1933, beer became legal after a 14 year interval.

Kurz obtained access to the former Chinese laundry on this site on John R. near Six Mile Road and, primarily using sweat equity, remodeled the structure. He was ready to open for business on March 1, 1933. Perhaps, he hastened the end of prohibition since the police agencies in Detroit were not known for strictly enforcing the ban on alcohol. Apparently, some or more than some of the enforcement authorities accepted gifts to allow the free flow of spirituous beverages. After alcohol was once again legalized with an amendment to the Constitution in late 1933, Kurz expanded his business and improved his facility. By 1938, I believe that his establishment looked much as it does today.

In 2012, this rathsekller has been in the Kurz family now for some 78 years. I believe the current management is headed by the grandson of the man who founded the business, thereby creating this attractive venue that continues to serve Bavarian food. The name was selected, I presume, because of the location: the intersection of John R in the far northern reaches of the city with Dakota.
Census 2010 counted only 717,000 residents of Detroit. Only 852 of them marked themselves as Chinese by race.

Designer and builder of the remodeled structure: Karl Kurz
Architectural style: Bavarian
Dates of construction: 1933 to 1938
City of Detroit Local Historic District: Not listed
State of Michigan Register of Historic Buildings: Listed June 30, 1988
National Register of Historic Sites: Not listed
Use in 2012: Rathskeller serving food and beverages
Website: http://www.dakota-inn.com/web/pages/home/http://www.dakota-inn.com/web/pages/home/http://www.dakota-inn.com/web/pages/home/
Photo: Andrew Chandler; December, 2004
Description prepared: January, 2012

Return to Commercial Buildings