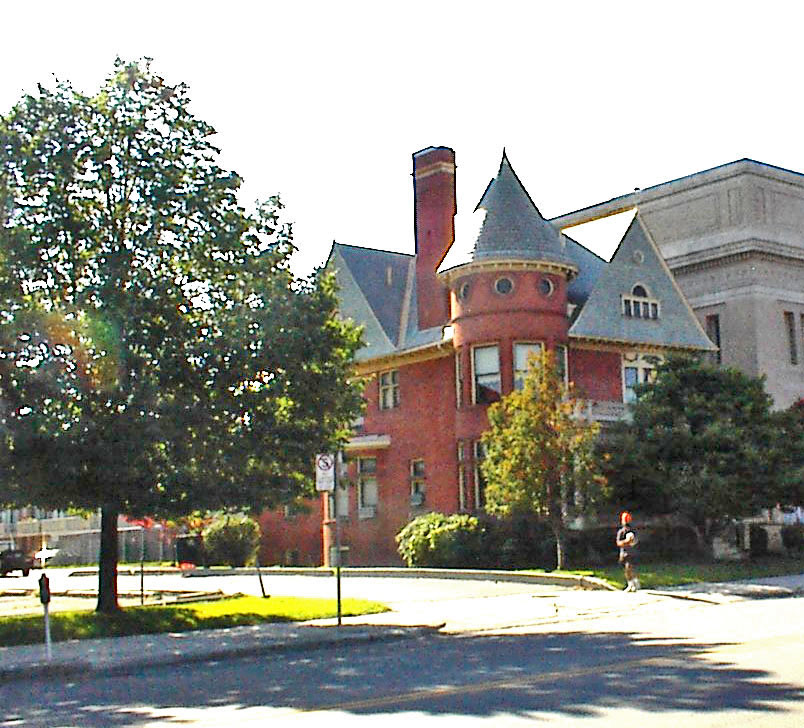 David Mackenzie Home, Wayne State University
4735 Cass Avenue on the northwest corner of the intersection with West Forest in
Detroit's Cass Corridor near the Cultural Center
David Mackenzie ranks with Father Gabriel Richard as a high profile promoter of advanced education in the city of Detroit. The city's school board recognized the importance of post-elementary scholarship and, in 1896, erected the impressive and massive secondary yellow-brick secondary school located at Cass and West Warren. A building designed by Malcomson and Higginbotham that forcefully reminds us of the importance attached to learning in the early industrial era in Detroit, it is now known as Wayne State's Old Main Building.
Mackenzie served as principal at that school. He knew that post-secondary education should be readily available for the graduates so, in 1917, he founded Detroit Junior College. It was housed in the building at Cass and West Warren. In 1923, this institution became the College of the City of Detroit and then, eleven years later, it became Wayne University. Mackenzie served as the head of Detroit Junior College and first dean of the College of the City of Detroit. Mackenzie High School located at West Chicago and Wyoming is also named for this important Detroit educator.
For his own home, David Mackenzie also turned to Malcomson and Higginbotham. They designed the Queen Anne revival style home that you see, one of a large collection of architecturally interesting buildings that line Cass Avenue from Grand Circus Park to West Grand Boulevard. This is a two-and-one-half story brick home. The revival of the Queen Anne architectural style emphasized exterior arches, monumental chimneys, and elaborate gables, along with an eclectic array of embellishments. Many of these features are apparent in the Mackenzie home. You see a variety of different decorations here, including large overhanging gables with their shingle facings. There is the substantial and symmetrical porch, but little else about this home is symmetrical. An attention captivating addition is the large tower at the corner of Cass and Forest with its distinctive cone top. Just below that cone, you see attractive circular windows. That is a nice, thoughtful touch. There is a little bit of everything to suit all tastes in this home. The Queen Anne revival style became popular in English after 1860 and influenced home design in the United States for several subsequent decades.
It is appropriate that an institution of advanced education that David Mackenzie helped to create now owns this mansion.
Architectural Style: Victorian in the architectural style of Queen Anne Revival.
Architects: William Malcomson and William Higginbotham
Date of Completion: 1895
Use in 2003: Offices for Wayne State University
City of Detroit Local Historic District: Created June 9, 1978
State of Michigan Register of Historic Sites: P4482, Listed March 5, 1979
State of Michigan Historical Marker: Erected 1979. This is visible in front of the home on Cass Avenue.
National Register of Historic Sites:
Photograph: Ren Farley, July, 2003


Return to City of Detroit Historic Designations