Detroit Edison Office Building (Northville)
200 North Center Street at Dunlap in downtown Northville
The Detroit Edison firm was founded in 1903 to provide electrical power to the Detroit area. Prior to the shift to deregulated public utilities, power companies had to petition public service commissions for approval to change their rates. Typically, hearings were held and anyone could comment about the performance of the utility firm. This gave management strong incentives to please their customers lest they attend the public hearings in large numbers and strongly protest rate increases. When I moved to Michigan in the mid-1960s, I was surprised to find that I could take burned-out light bulbs to the local Detroit Edison office and get new ones at no charge. I believe they also provided fuses for the circuit breakers found in most homes. As the pictured State of Michigan Historical Marker reports, D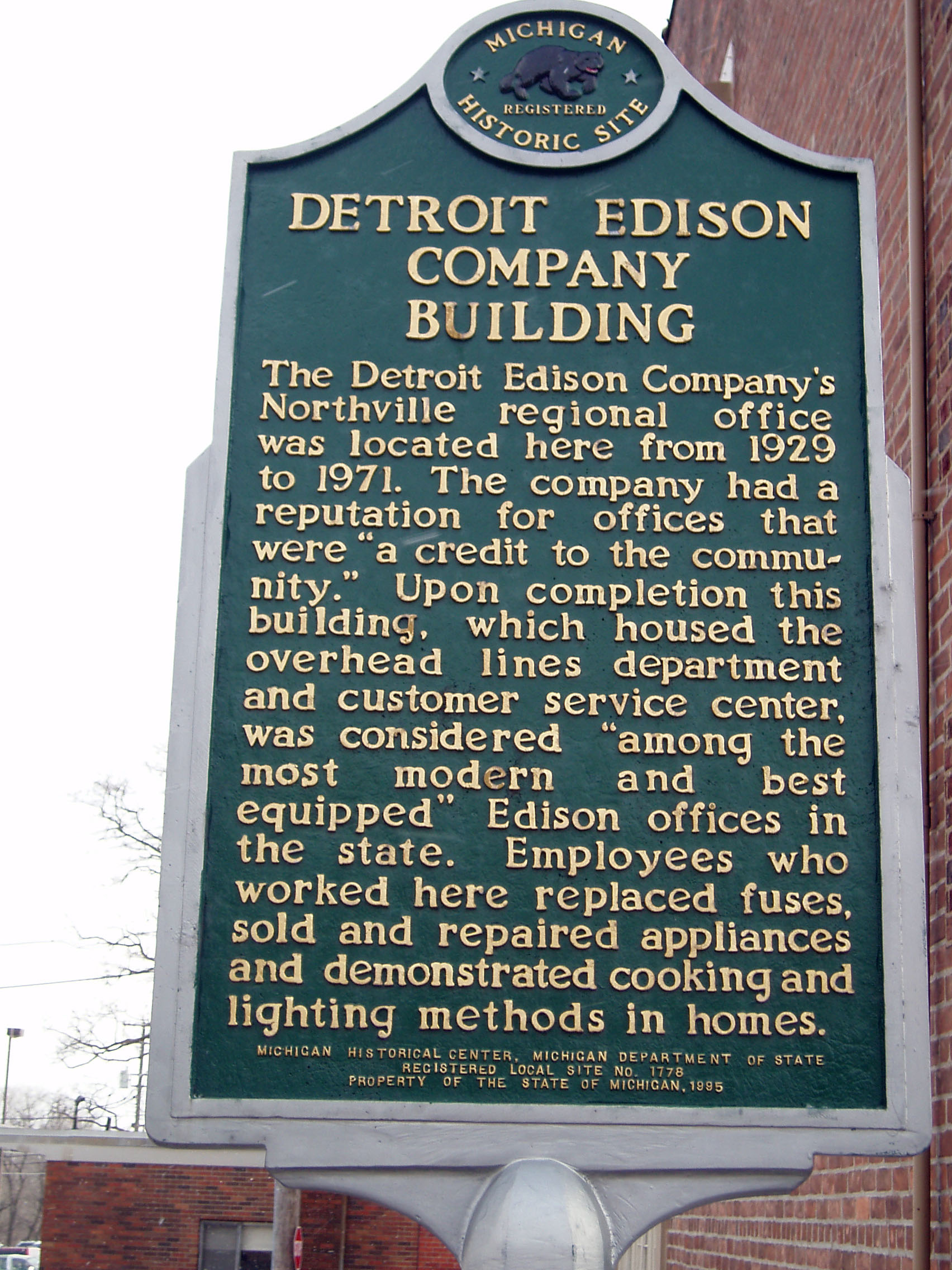 etroit Edison once provided an array of customer services from buildings such as this one in Northville.
One component of Detroit Edison's being a good corporate citizen was its construction of attractive office buildings that harmonized with the local environments. Prior to modern computers, public utilities needed huge staffs of office workers to keep track of their paperwork, especially bills and payments. Detroit Edison erected attractive office buildings throughout their southeast Michigan service area. This one merits a listing on the State of Michigan's Registry of Historic Sites.
The building that you see here was completed just before the Depression. It is a low rise, brick, two-story structure with a flat but parapeted roof. The architect, John Patterson, emphasized the horizontal but added geometric designs, suggesting that he was at least somewhat influenced by the Art Deco movement that swept through architectural design in that era. Architects can have their craftsmen lay bricks in a variety of patterns, each with its one name. A brick laid on its side exposing its larger face is known as a stretcher. A brick laid so that its short end is exposed is known as a header. And a closer is a brick cut, typically in half, in order to expose only one-half of its short end when it appears in a row of bricks. For this Detroit Edison building, the architect used, in places, the Flemish bond style of brick laying: alternative stretchers and headers with closers next to the header at the ends of the rows or the corners where one side of the building met another side. He also used the American bond style of brick laying. Here the rows are homogeneous in their composition, but there is one row or layer of headers for every three to five rows or layers of stretcher bricks.
Detroit Edison used this building until 1971. In 2006, it appeared to be in meticulous condition. It now provides offices space for a law firm. The Detroit Edison firm continues to exist, at least as a corporate entity, but it is one component of the very large DTE Energy firm that owns energy utilities in 27 states, including the former Michigan Consolidated Gas Company that provided natural gas to much of southeast Michigan.
Architect: John Patterson
Date of Construction: 1928
Architectural Style: Functional low rise office building with Art Deco elements
State of Michigan Registry of Historic Sites: P25355, Listed August 23, 1990
State of Michigan Historical Marker: Put in place April 19, 1995. This is located on North Center street just north of the intersection with
East Dunlop.
National Register of Historic Places: Not listed
Use in 2006: Office building
Photograph: Ren Farley, December 2, 2006
Description: Prepared December, 2006

Return to Commercial Buildings