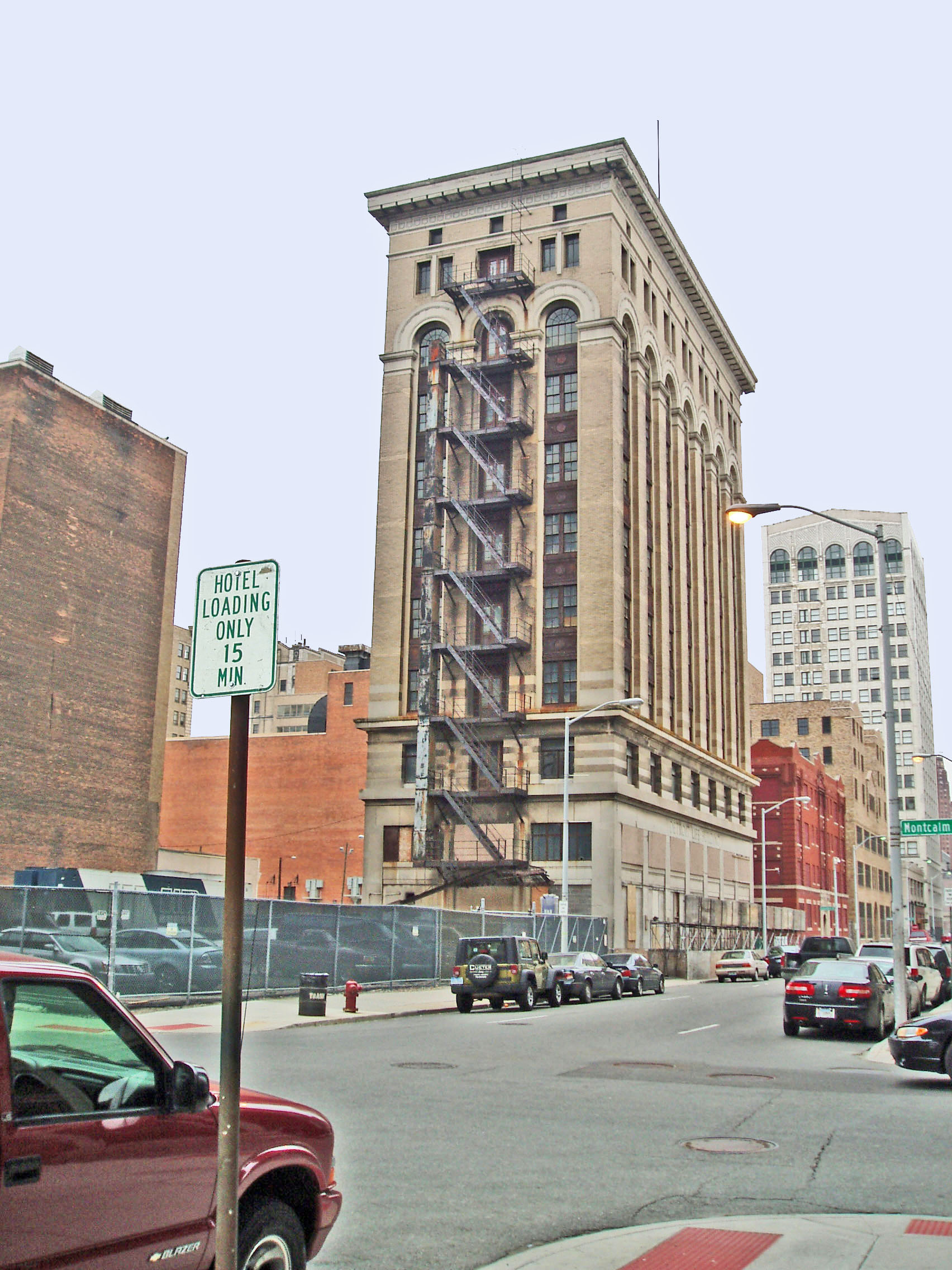 Detroit Life Building
2210 Park Avenue

This building may strengthen your faith in the eventual reinvigoration of downtown Motown. Park Avenue was one of at least three areas in downtown Detroit where developers, in the economic boom of the 1920s, sought to create upscale office, retail and, to a lesser extent, residential areas. The Book brothers were quite successful in developing what is now the Washington Avenue Historic District, while John Barlum led the Cadillac Square Improvement Association to erect buildings in that area just northwest of Campus Martius. Park Avenue, stretching northwest from Grand Circus Park, was the third such effort to establish a prestigious area in downtown. It was intended to rival Park Avenue in New York. Park Avenue in Gotham City was viewed as a great success since it was filled with steam trains until Grand Central Station was built and the rail lines both electrified and confined to the tunnel those trains continue to use today.

The Detroit Life Building, opened in 1923, was one of about a dozen structures erected along Park Avenue. It was named in honor of the firm that occupied the top four floors. The other stories provided office space for a variety of firms, while commercial shops were located on the ground level. The Depression drastically curtailed business in downtown Detroit,but during World War II and for a couple of decades thereafter, I presume that the offices in this and neighboring buildings were occupied. That began to change in the 1960s and by 1977, all tenants had moved out of the Detroit Life Building. For more than a quarter century, it stood vacant while retaining its original attractiveness.

The Illitch family refurbished the Fox Theater Building in the late 1980s for use as headquarters for the Little Caesar's firm and to serve as a key location for their entertainment empire that includes The Fox Theater, the Detroit Tigers and the Detroit Red Wings. Later, the Ilitch firm purchased several of the nearby vacant structures on Park Avenue. They have invested in rehabilitating two of the buildings in the Park Avenue Historic District; the Detroit Life Building that you see pictured here whose renovation was completed in 2009 and the Wormer and Moore/Iodent Building. Both of these now offer commercial space at the lower level and rental or condominium space on the upper floors. Gradually, downtown Detroit is being refurbished and, each year, several of the elegant pre-Depression era buildings that once graced the area are successfully converted into residential and commercial properties.

So far as I know, this is the only building in Detroit designed by these architects. I am not sure what happened to the Detroit Life Insurance firm. I think that they changed their name to Mutual of Detroit Insurance Company, moved their headquarters to Plymouth, Michigan and then, in 2008, merged with the Columbia Mutual Life Insurance Company, a corporation operating from Binghamton, New York. If that is not accurate, I would appreciate a correction.
Architects: Arnold and Shreve
Date of Completion: 1923
Architectural Style: Neo Classical
Use in 2011: Condominium building
Website for building: http://www.detroitlifebuilding.com/
City of Detroit Designated Historic District:
State of Michigan Registry of Historic Sites: This building is within the Park Avenue Historic
District: P2,965; Listed April 18, 1996
National Register of Historic Places: This building is within the Park Avenue Historic District; #97000396; Listed May 13, 1997
Photograph: Ren Farley
Description prepared: January, 2011


Return to Commercial Buildings