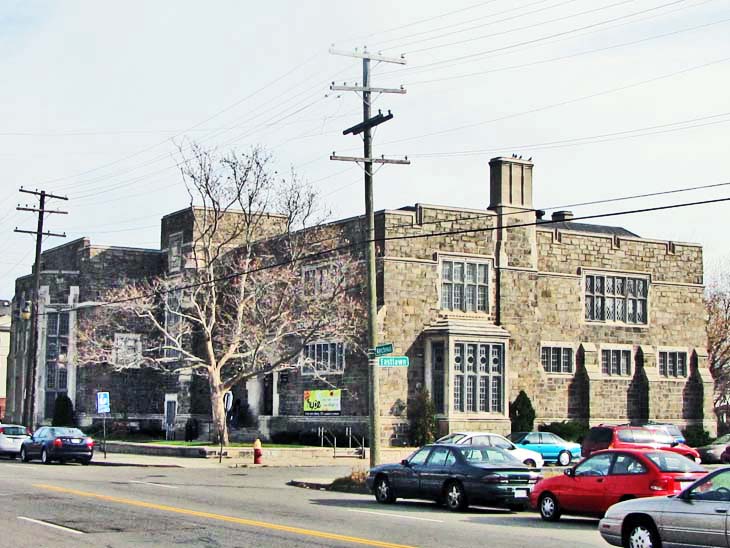 Montieth Branch of the Detroit Public Library
14100 Kercheval at Eastlawn on Detroit's East Side
This is an extremely attractive building.  Most of those of us who grew up in the United States associate impressive Gothic structures with both religion and learning.  Detroit has an abundance of such structures.  This is one of the most appealing.  As you walk around this building, you realize that it is completely Gothic and extraordinarily well designed to serve as a neighborhood library.  Unfortunately, this Far Eastside Detroit neighborhood has fallen onto very challenging tim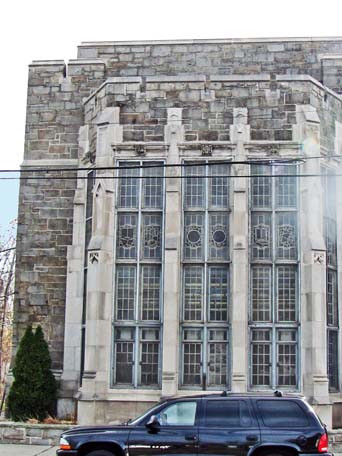 es and this corner of Detroit is now a rather forlorn and desolate location awaiting a redevelopment that may not come very soon.  Perhaps that makes this large Gothic building even more impressive.   The large factories and many homes in this area have been abandoned or fallen into dilapidation, but the library maintains the crisp beauty it had when it opened more than eighty years ago.

Very little has been written about the Reverend John Montieth who served as the first president of the Catholepistemied that eventually became the University of Michigan.  Detroit was settled by French Roman Catholics.  Indeed, when the French administered Michigan as a remote colony, the Parisian rulers mandated that all emigrants from the Motherland be Catholics.  But the French lost to the English on the Plains of Abraham in 1759 and at Montréal the following year, so Michigan became a British colony.  Very few British subjects migrated to this isolated wilderness.

Father Gabriel Richard came to Detroit just before 1800 and, along with Judge Augustus Woodward who arrived after 1800, was one of the founders of the modern American city of Detroit.  Nevertheless when Richard arrived, and for several decades thereafter, Detroit was a small Francophone village in the forests of Michigan accessible only by water.  Father Richard developed a strong reputation for his preaching to the largely Catholic population of Detroit in the early years of the Nineteenth Century.  Apparently, those speaking Anglicans in Detroit, having no church of their own, asked him to preach to them on Sunday afternoons after he gave his homilies at St. Anne du Detroit.  He agreed to do so, but after some time, grew tired of the extra preaching.  Apparently, he wrote to the Princeton Theological Seminary in Princeton, New Jersey, and asked them to send a young graduate to Detroit to meet the needs of the village's small Protestant population.  The Reverend John Montieth, born in 1788, took that opportunity and came to Detroit.

Judge Woodward foresaw the growth of a very prosperous Michigan.  Having graduated from the University of Virginia, he had strong ideas about a comprehensive educational system for the territory of Michigan with universal school from the early ages.  The capstone of the syst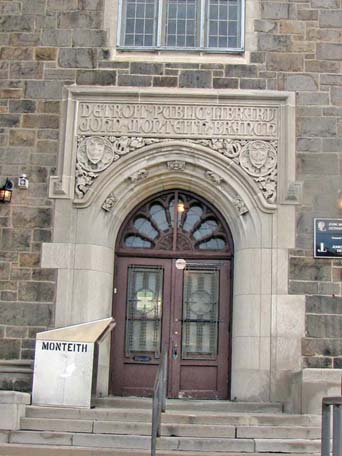 em he envisioned would be a major university, perhaps the rival of the one he attended.  Father Richard, trained as a mathematician as well as a priest, apparently supported Woodward's ideas and, together, they developed the idea for a college that would be called the Catholepistemied.  I believe the name was selected to suggest, not a religious affiliation, but rather the breadth of topics that would be taught.  Judge Woodward and Father Richard had extensive plans, but alas, little money to support their university.  When the Reverend John Montieth arrived in Detroit, he was appointed to head this institution of higher education that existed, mostly, on paper only. I believe that he and Father Richard, from time to time, taught some courses, but in its first incarnation, this institution offered no more than some educational training similar, perhaps, to today's secondary schools.

John Montieth, apparently, quickly grew tired of life in the village of Detroit.  He decided to leave and, I think that he moved to Pennsylvania in 1821 or 1822 where he became a school teacher.   Later, I think that he served as a Presbyterian minister in Elyria, Ohio and in Blissfield, Michigan.  Apparently he also taught at Hamilton College in Clinton, New York.    I believe that he had no contact with the University of Michigan after his first couple of years in Detroit.  By the time of his death in 1868, the University was on the road to becoming the institution that Judge Woodward and Father Richard imagined. The Bentley Library at the University of Michigan has some of his papers.

The Catholepistmied survived for some years in Detroit but did not develop into a college similar to those that existed in the East Coast states.  By 1840, the institution has been renamed the University of Michigan.  The City of Ann Arbor sought to become the capital of the state.  Those who framed the state's constitution specified that the capital had to be moved away from Detroit within 14 years of Michigan's admission to the Union.  Lansing won the battle to become the state's capital, but Ann Arbor got the runners up prize—state's university.  The University of Michigan began accepting students in 1840.
Architect: Unknown to me
Date of Opening: May 1, 1926
Architectural style:  Gothic
Architects: Smikth, Hinchman and Grylls
Use in 2010: Branch of the Detroit Public Library
City of Detroit Designated Historic District: Not listed
State of Michigan Registry of Historic Sites: Not listed
National Register of Historic Places: Not listed
Photograph:  Ren Farley; November 20, 2010
Description updated: November, 2011
Return to Entertainment & Culture

Return to Homepage