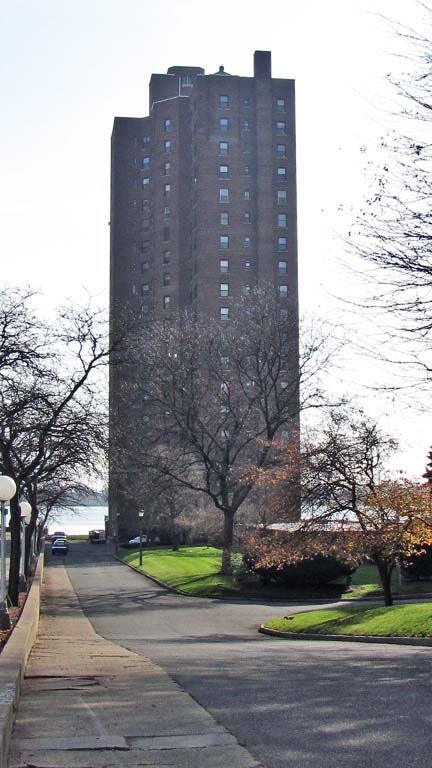 Detroit Towers
8162 East Jefferson overlooking the Detroit River and Belle Isle

This is among the most elegant residential buildings in Detroit, but it ss not well known. It is seldom cited as one of the architectural achievements found in the city.  In the booming 1920s, a large number of individuals became very wealthy thanks to the vehicle industry and its suppliers.  Demand increased for upscale housing and numerous distinguished homes were built in Indian Village, Boston-Edison, Palmer Woods and Sherwood Forest.  Almost all of them survive to this day.   Only a few very upscale apartment buildings were constructed in that decade. Detroit was primarily a city of home owner because residential land was readily available at reasonable cost.

Construction of the Detroit Towers building began in 1925.  It is an 18-story building containing 34 units.  Each unit includes 9 rooms with three bathrooms and a minimum of 2,400 square feet.  There are two units per floor.  Every one was designed with at least one wood-burning fireplace and quarters for a servant or servants.  The building overlooks the Detroit River and Belle Isle but is not easily seen or recognized from East Jefferson.  You could drive along East Jefferson dozens of time and not recognize the Detroit Towers.  My picture is a poor one since the building is best photographed from Belle Isle, but I did not have an opportunity to go there when I wanted to include this distinctive structure on this website.  In addition to the apartment itself, management provided residents with a sunken garden, tennis courts and a putting green.  At that time, it was not common to have health clubs inside residential complexes.

I believe this building has changed relatively little in its ninety-year history.  This was originally a co-op apartment building but changed to a rental building in about 1955 and then to condominiums about 1970.  A renovation was undertaken in 1980.  Detroit resident C. Howard Crane—arguably the nation's most accomplished architect of movie palaces—lived in the Detroit Towers from 1925 until about 1932 when he migrated to England.

Walter Ahlschlager was a Chicago architect who began working in his father's firm before World War II.  He also designed movie palaces in the 1920s.  One of his accomplishments—the Carew Tower and Netherlands Plaza Hotel in Cincinnati—is a National Historic Landmark.  His father's firm designed the Wagner Baking Building in Detroit that now serves as the Motor City Casino but I do not know if Walter Ahlschlager had a role in that structure.  While in Detroit, Walter Ahlschlager apparently sought other commission but obtained few.  He designed the Bonair Court Apartment building at 8620 Epworth near Linsdale on the West Side and assisted the African American architect Carl Stokes with the design of Greater Shiloh Baptist Church.

Architect:  Walter W.  Ahlschlager
Date of Construction: 1925
Use in 2013: Condominiums
City of Detroit Designated Historic District: Listed in 2006
For additional information about this structure, please see:
http://www.detroitmi.gov/CityCouncil/LegislativeAgencies/HistoricDesignationAdvisoryBoard/MapsReportsandOtherResources/HDABFinalReports.aspx State of Michigan Registry of Historic Sites: Not listed
National Register of Historic Places: Not listed
Photograph:  Ren Farley; November 17, 2012
Description Updated: February, 2013