East Kirby Historic District
Residences at 425, 433 and 443 East Kirby and an apartment building at 457 East Kirby Avenue at the corner of Beaubien Adjoining Detroit's Cultural Center
This is one of Detroit's smaller but most attractive historic districts. It faces an appealing green urban park bounded by East Kirby, Brush, Beaubien, and Frederick Douglas. In the middle to late Nineteenth Century, this area was included in the farms that the D. M. Ferry firm used to produce their seeds. It was plotted for residential use in 1886 and the street was named for George Kirby, a Detroit leather goods merchant. Presumably, he either invested in the development of this area or had a home constructed nearby.
East Kirby and the neighboring streets were prestigious locations for Detroit residents in the early Twentieth Century, but may have lost some of their status ranking after 1910 when the Boston-Edison neighborhood became one of the cities most elegant. Shortly thereafter, the East Kirby neighborhood became open to Jewish residents who moved northwest along Beaubien, Hastings and parallel streets. The n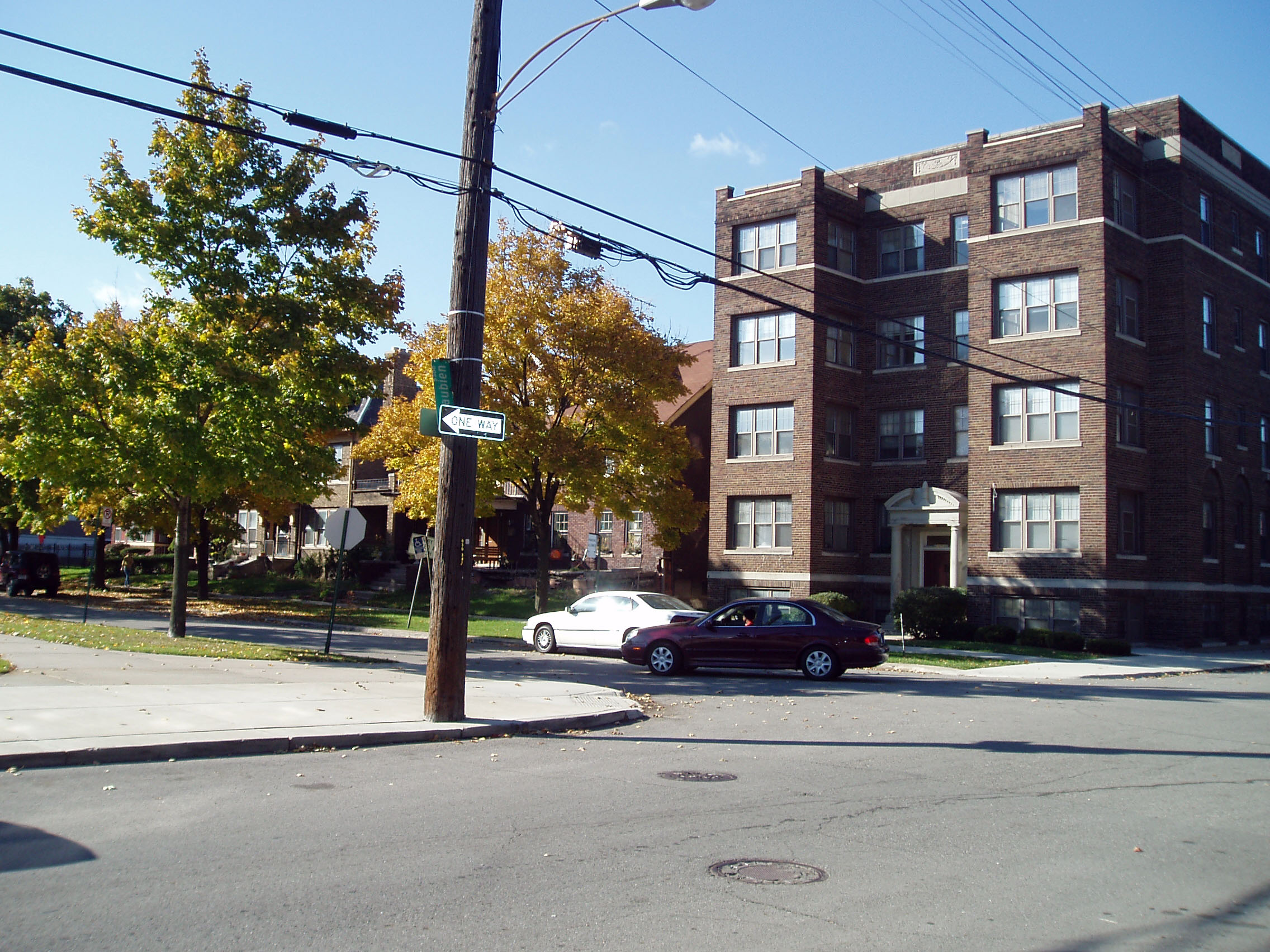 eighborhood underwent a racial change beginning in the 1930s. The growth of a large and prosperous black population in the 1920s generated considerable wealth in the African-American community and some of those families moved into the prestigious homes on and near East Kirby. Indeed, by the late 1930s, the Victorian houses in this area were home to many of the city's most financially successful black families. A leading black hospital, Dunbar Hospital, was just a block away and Lewis College—Michigan's only Historically Black College or University—was located a couple of blocks in the other direction.
The two-story, two-family flats that you see along East Kirby were built just before World War I in the prairie style. Jacob B. Laskey—a cigar maker—who eventually lived in the one at 433 East Kirby was one of the founders of the Hebrew Free Loan Association of Detroit. Free Loan societies developed in the late Nineteenth and early Twentieth centuries in cities that had large populations of impoverished Jewish immigrants. I believe that only two United States cities had Free Loan Societies prior to Detroit: Pittsburgh and New York. Prosperous Jews donated to a pool of funds that were then loaned in very small amounts to the poor, enabling them to pay their bills or to secure the tools they needed for their trades. No interest was charged, but borrowers sometimes posted collateral such as jewelry.
Two presidents of the United States served as presidents of professional baseball teams before taking up residence at 1600 Pennsylvania Avenue: George W. Bush who led the Texas Rangers and Warren Gamaliel Harding who owned the minor league team in his home town of Marion, Ohio. Harding was nominated by the Republicans in the summer of 1920 and campaigned—in that pre-radio and pre-television era—by sitting on his front porch where he met with reporters who came to see him. He made few policy statements and is most famous for his call for the nation to return to normalcy. When in office, he was a hands-off president who delegated almost all decision making to his friends whom he had appointed. By the summer of 1923, it was becoming clear that several of the cabinet officers he nominated were using their offices for private gains. Intending to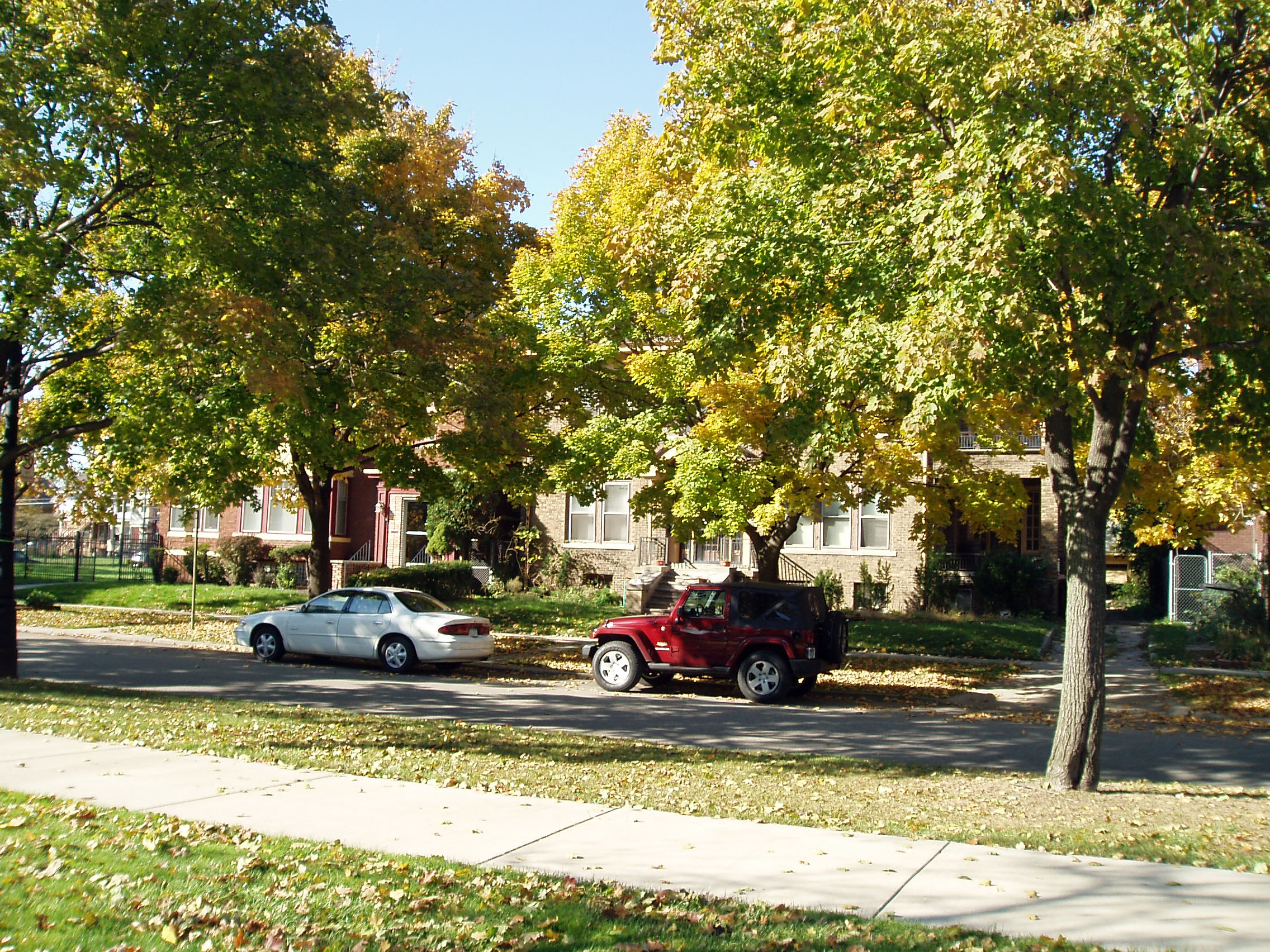 get out of the spotlight, he and his wife, Florence Kling Harding, decided to tour the western states and Alaska. Returning fromAlaska, he died of a heart attack in August, 1923. Despite the growing rumors of corruption in his administration, he still remained popular with some Republicans at the time of his sudden death. Herman W. Boers, who lived at 443 East Kirby, led the national effort to have the Postal Service issue a stamp commemorating the achievements of President Warren Harding. The Postal Service moved rapidly and issued a stamp honoring the 29th president in the year of his death. I believe this is the record for the shortest interval between a president's death and his appearance on a stamp. Shown at the bottom of this page is the most famous front porch in theUnited States; namely the Victorian style Harding residence at 380 Mount Vernon Avenue in Marion, Ohio where Warren Harding led his successful campaign and defeated Democratic candidate and Ohio Governor James Cox. This is a National Historic Landmark. You also see a picture of the graceful and pristine memorial that was erected in Marion to commemorate President Harding.
The apartment building at the corner of East Kirby and Beaubien was opened in 1927 as Great Lakes Manor, a building designed intended for Detroit's silk stocking market. By the late 1920s, a black economic elite emerged in Detroit, families whose income was derived from funeral homes, retail trade, entertainment, cab companies, preaching, professional services—especially law and medicine—and from the numbers industry. In 1935, a number of blacks from that group purchased properties on and near the East Kirby Historic District.
The Great Lakes Mutual Insurance Company was founded in 1926 by Bill Mosley and Charles Roxborough to serve black customers. Mosley owned the largest black newspaper in the city at that time, Detroit Tribune Independent, owned the controlling interest in a funeral home and one-half of the large black taxicab company. However, his major source of income may have been from numbers. In 1935, the Great Lakes Mutual firm purchased Great Lakes Manor. Charles Roxborough moved there. Members of the black financial elite had been active in the city's Republican Party for a long time. Lawyer Charles Roxborough was the firt black elected to a city office in 1905. He maintained his interest in politics and ran for the State House as early as 1918. His office was located on Chene Street in the heart of the east side Palonia. In 1932, he won election to the State Senate. Knowing that his district had a large Polish population, Roxborough learned their language and spoke it fluently. Until the late 1930s, The Republica Party: the party of Lincoln, garnered the votes of urban blaccks. Rosborough was a Republican candidate for the US Congress in 1934, 1936 and 1938. However, he lost those elections. He was a delegate to the Republican national conventions in 1936, 1940 and 1944; conventions that nominated Alf Landon, Wendell Wilkee and Thomas Dewey. Detroit did not have a black representative in Congress until Charles Diggs was elected in 1954. Charles Roxborough's brother, John, was well-know as the individual who recognized the exceptional talents of Joe Lewis when he first participated in the Golden Gloves fights in Detroit. John Roxborough served as Joe Lewis' manager or co-manager throughout his career.
"The Most Famous Front Porch in the Nation"

The Warren and Florence Harding Residence
300 Mount Vernon Avenue, Marion, Ohio
This is a National Historic Landmark




The Warren Gamaliel Harding Memorial

600 Delaware Avenue, Marion, Ohio



City of Detroit Designated Historic District: Listed July 17, 1992
State of Michigan Registry of Historic Sites: Not listed
National Register of Historic Sites: Not listed
Use in 2007: Residences
Photograph: Ren Farley, November 1, 2007
Description updated: November 9, 2009
Return to City of Detroit Historic Designations