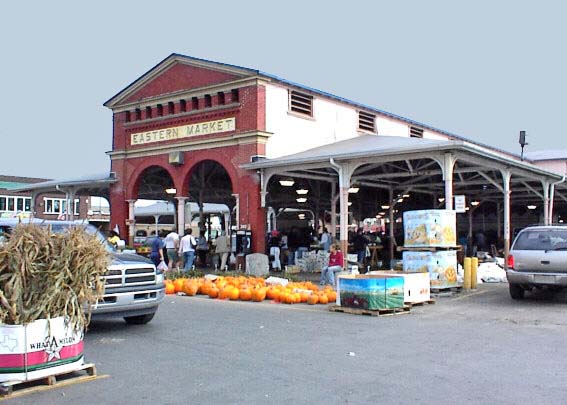 Eastern Market Historic District
Gratiot, Riopelle, Rivard and Division bound this area. It is very close to downtown Detroit.
This area was Detroit's second ethnic neighborhood. By 1850 or so, it was a largely German area. Trinity Lutheran and St. Joseph's Catholic churches elegantly testify to the German heritage of this neighborhood—and to the economic achievements of German immigrants by the 1870s.
About 1870, a hay and wood market developed near the corner of Gratiot and Riopelle. Farmers had to supply a great quantity of hay to the city every day to feed the thousands of horses that provided local transportation. Wood heated homes and factories. Close to the corner of Michigan and Trumbell, there was another major hay market. Hence, Detroit had its Eastern and its Western markets. Western market closed in 1892 to make way for professional baseball that was then played on that site for 107 years.
Eastern Market became Detroit's center for the wholesale and retail trade of food products. It retains much of the same role today. The early market buildings were wooden but, after the turn of the 20th century, they were replaced by the brick structure that you see here. Leading architects represented here include Richard Raseman, John Scott and Smith, Hinchman and Grylls.
The suburbanization of wholesale trade after World War II and the emergence of massive supermarket chains reduced the role of the Eastern Market. But even the construction of the Chrysler Freeway through the heart of the area failed to put it out of business. Similar to the situation a century ago, dozens of Michigan farmers bring their products to market on Saturday, display them attractively on the outdoor stalls regardless of the weather and then sell them to thousands of Detroit residents. Recent immigrants are well represented in the Eastern Market, both as proprietors of the many retail shops and as shoppers.
The US has a number of excellent and thriving farmers markets including the Union Square Market at 14th in Manhattan and the Westside Market on West 25th in Cleveland. Detroit's Eastern Market compares very favorable to best farmers markets in this nation.
Architectural style: The buildings were designed to be functional rather than beautiful and are mixed in style. Given their date of erection, it is no surprise to find Late Victorian influences.
Michigan Historical Registry: P25084, Listed July 26, 1974
National Register of Historic Sites: Listed November 29, 1978.
Return to Federal Register of Historic Sites
Return to Michigan Registered Historic Districts