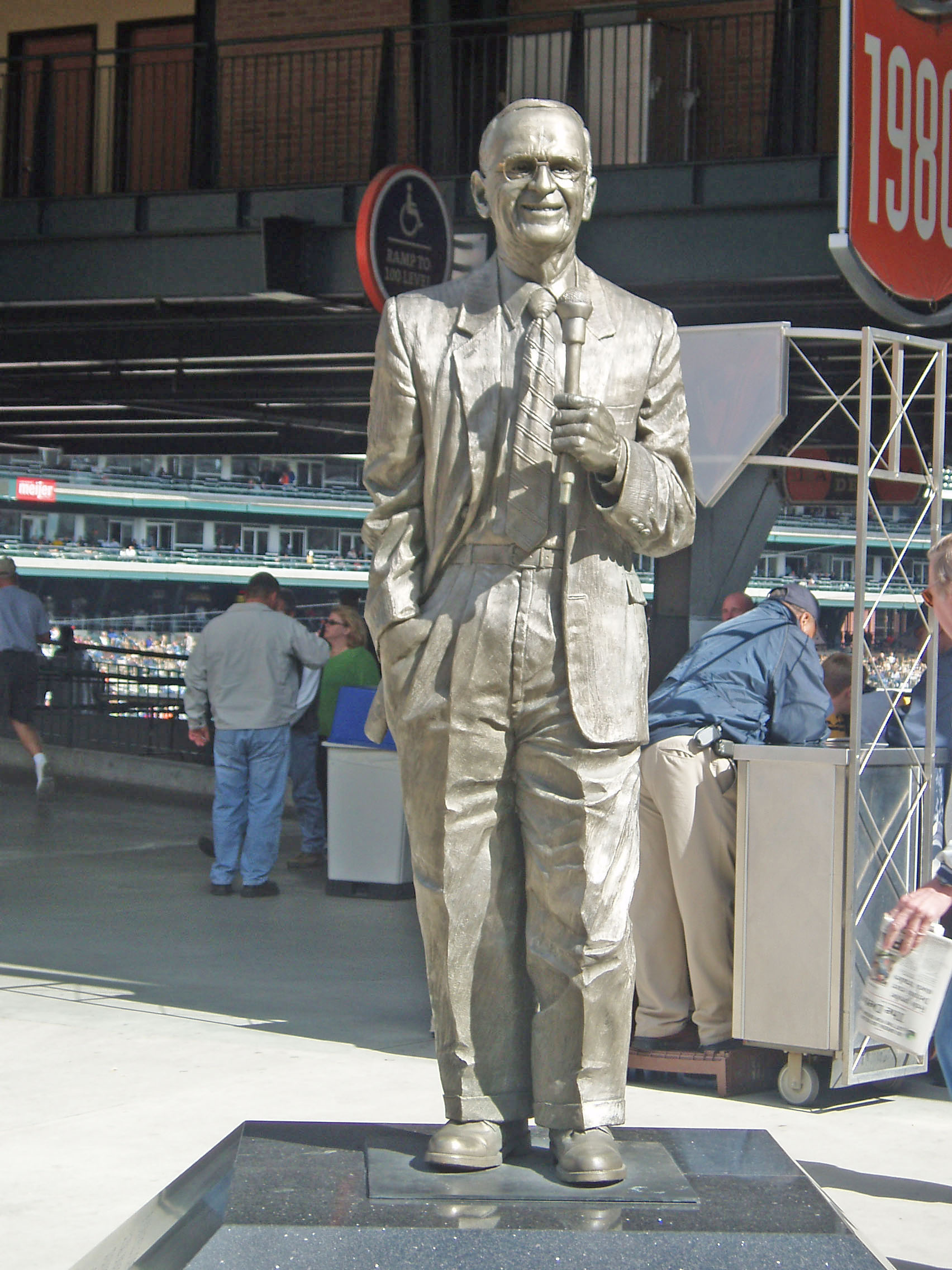 Statue of Ernie Harwell

Located at the main entrance of Comerica Park
2100 Woodward Avenue in downtown Detroit


For almost one-half a century, Ernie Harwell was the pleasant, reassuring voice of summer for of Detroit and Michigan residents. He broadcast the Detroit Tigers' baseball games from March to October. Born in the small town of Washington, Georgia in January, 1918, Harwell was raised in Atlanta. He developed a strong interest in sports early in his life and may have first served as the bat boy for the Atlanta Crackers Southern Association minor league team when he was five. By the time he was in high school, he was a stringer for The Sporting News which was then the authoritative baseball weekly. After high school, he began his career as a sports writer in Atlanta. By 1943, he was the radio announcer for the Atlanta Crackers.

He served in the Marine Corps for almost four years but then returned to broadcast the Atlanta Crackers game. In 1948, he was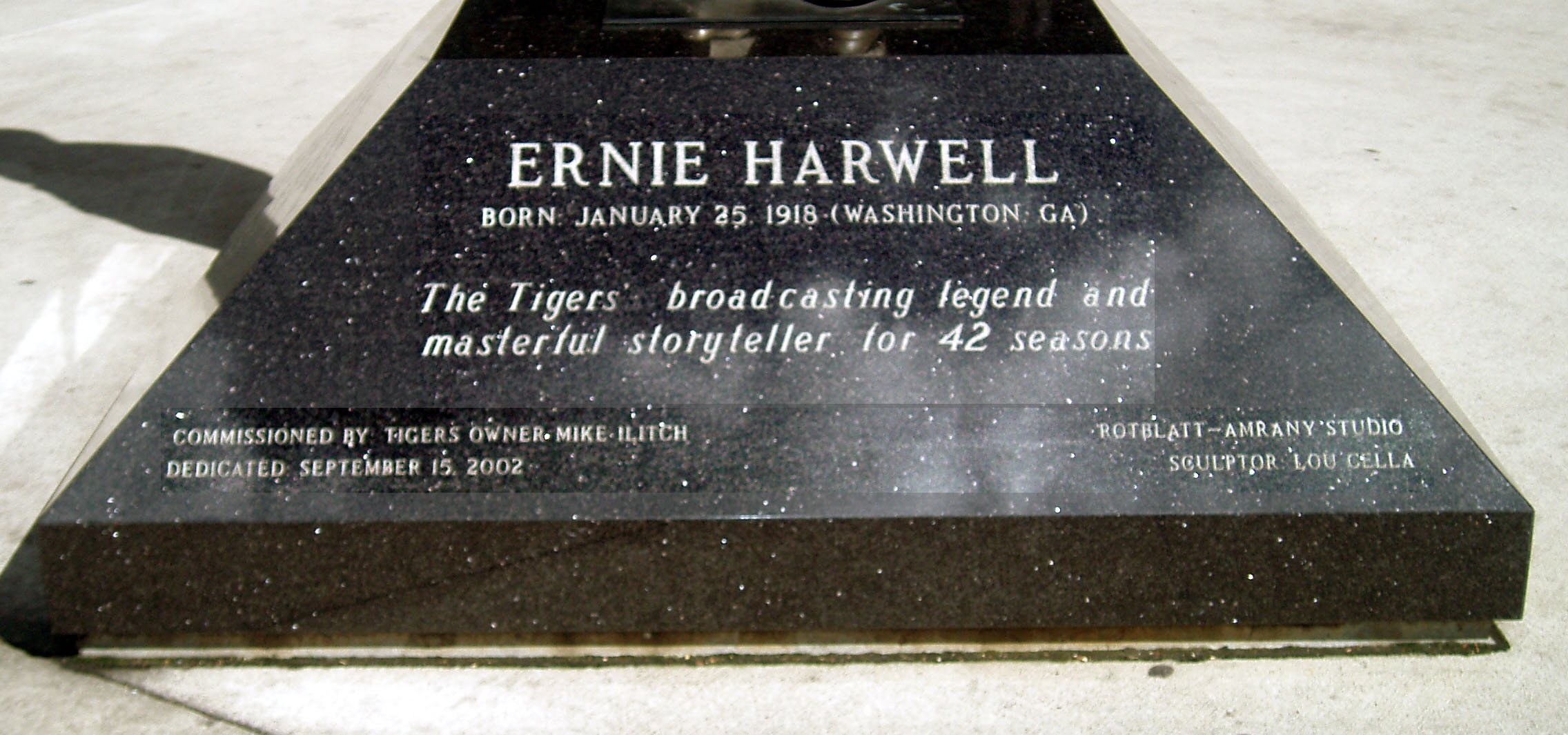 involved in one of the most unusual trades in baseball. Red Barber—with his charming southern tones—broadcast the games of the Brooklyn Dodgers National League team. Barber suffered an illness and was unable to continue his work. The Dodgers needed an announcer quickly and their management knew of the felicitous southern voice of Ernie Harwell. The Atlanta Crackers, however, needed a catcher. The Dodgers traded catcher Cliff Draper for Ernie Harwell and, for the rest of his long life Harwell broadcast major league baseball. This was, in the history of baseball, the only trade of a catcher for an announcer.

After Red Barber healed, Harwell continued with the Dodgers, but from 1950 to 1953 he was the voice of the New York Giants. In that role, he was the broadcaster who described the most famous home run in baseball history, the last inning shot of Bobby Thompson in the third and deciding game of the 1951 playoffs. Thompson's home run defeated the Brooklyn Dodgers and gave the New York Giants the National League pennant in one of the most unlikely come-backs in major league history. Baltimore returned to the major leagues in 1954 after an absence of almost five decades. Ernie Harwell was their first announcer and remained with the Baltimore Orioles for six seasons.

In 1960, Harwell accepted an appointment as announcer in Detroit and spent the rest of his career in the Motor City. He did not present a tremendous amount of detailed technical information about the mechanics of the game. He did not, for instance, describe exactly where a pitcher put each finger when he threw a four seam fast ba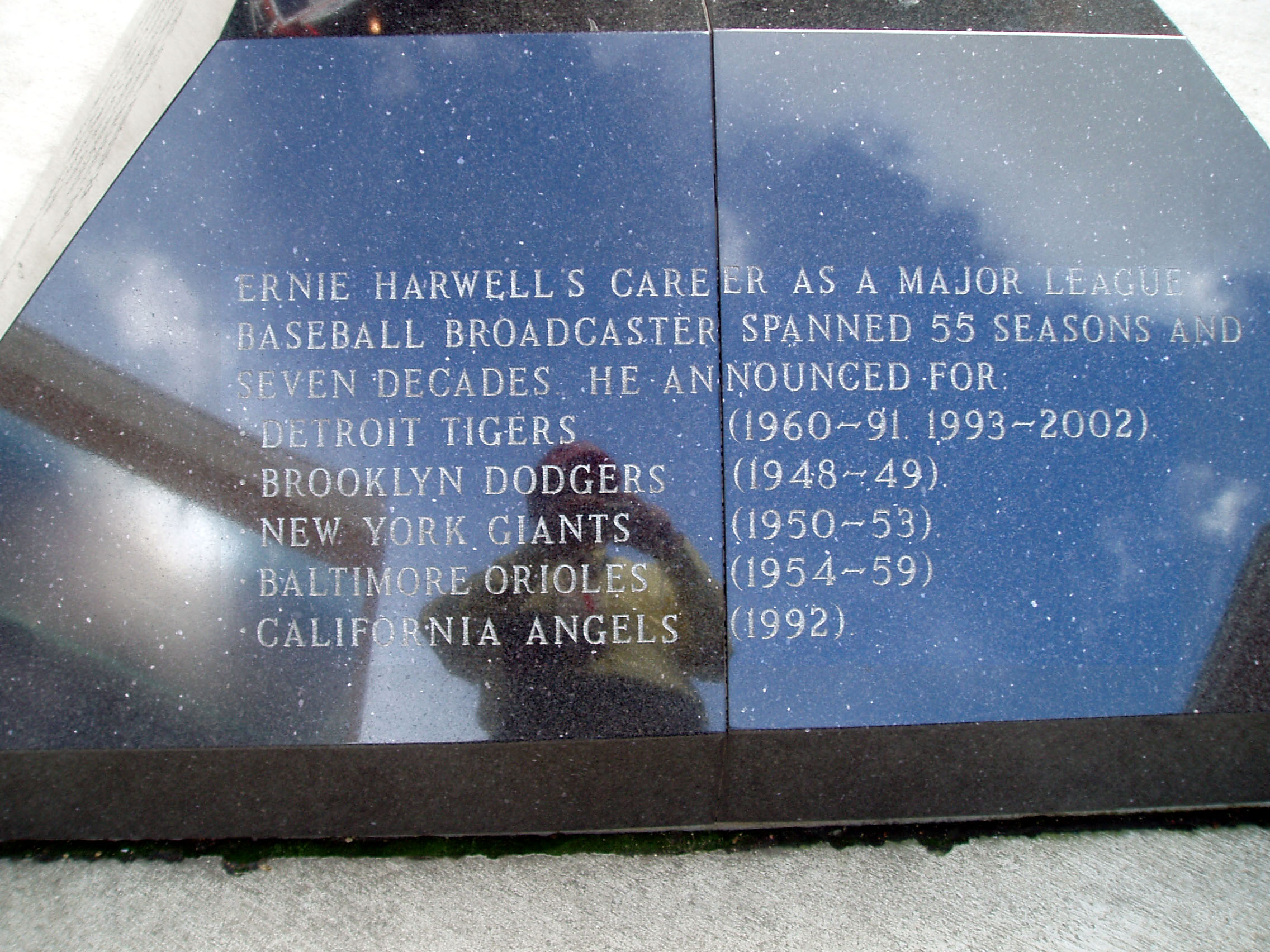 ll. But he conveyed a sense of the game, the individual players and the action that was captivating. Baseball is the one major sport that flows slowly enough so that a listener can readily appreciate most its dimensions and easily sense its dramatic and boring points. Harwell conveyed all of those dimensions extremely well in his lilting southern voice. His criticisms of baseball players such as their inabilities to hit or to get their pitches across the plate were very mild. His audience never tired of listening to his descriptions of games. A sense of history pervades baseball and is greatly appreciated by fans. You can see an unusual play in a game this year such as an outfielder making an unassisted double play and you would not be surprised at all to hear a nearby fan tell you that such a play last occurred for the Tigers in a May, 1912 game in Washington. Ernie Harwell read very extensively about the history of baseball and often linked what was happening in Tiger Stadium to what occurred many decades earlier. Indeed, it is possible that Ernie Harwell had said hello to, interviewed or described the play of the majority of men who played major league baseball in the Twentieth Century.

Mr. Harwell had a variety of interests in addition to baseball. Early in his career he was the announcer for many sports in addition to baseball. He wrote many songs intended to be popular songs but only a few of them were recorded. None are well known. Throughout his life he wrote essays about sports for a variety of publications. He was recognized as a religious man and frequently participated in Sunday morning "chapel" meetings with baseball players but he never proselyted in any way. He was also an avid collector of baseball memorabilia, especially items from the early decades of the Twentieth Century. Fortunately, shortly before his death, he gave his extensive collection to the Detroit Public Library. They have catalogued it and put some items Ernie Harwell collected on display in two rooms devoted to his collection.

After thirty one years of broadcasting the Tigers' games, the originating station in Detroit announced there were changing their format and would no longer broadcast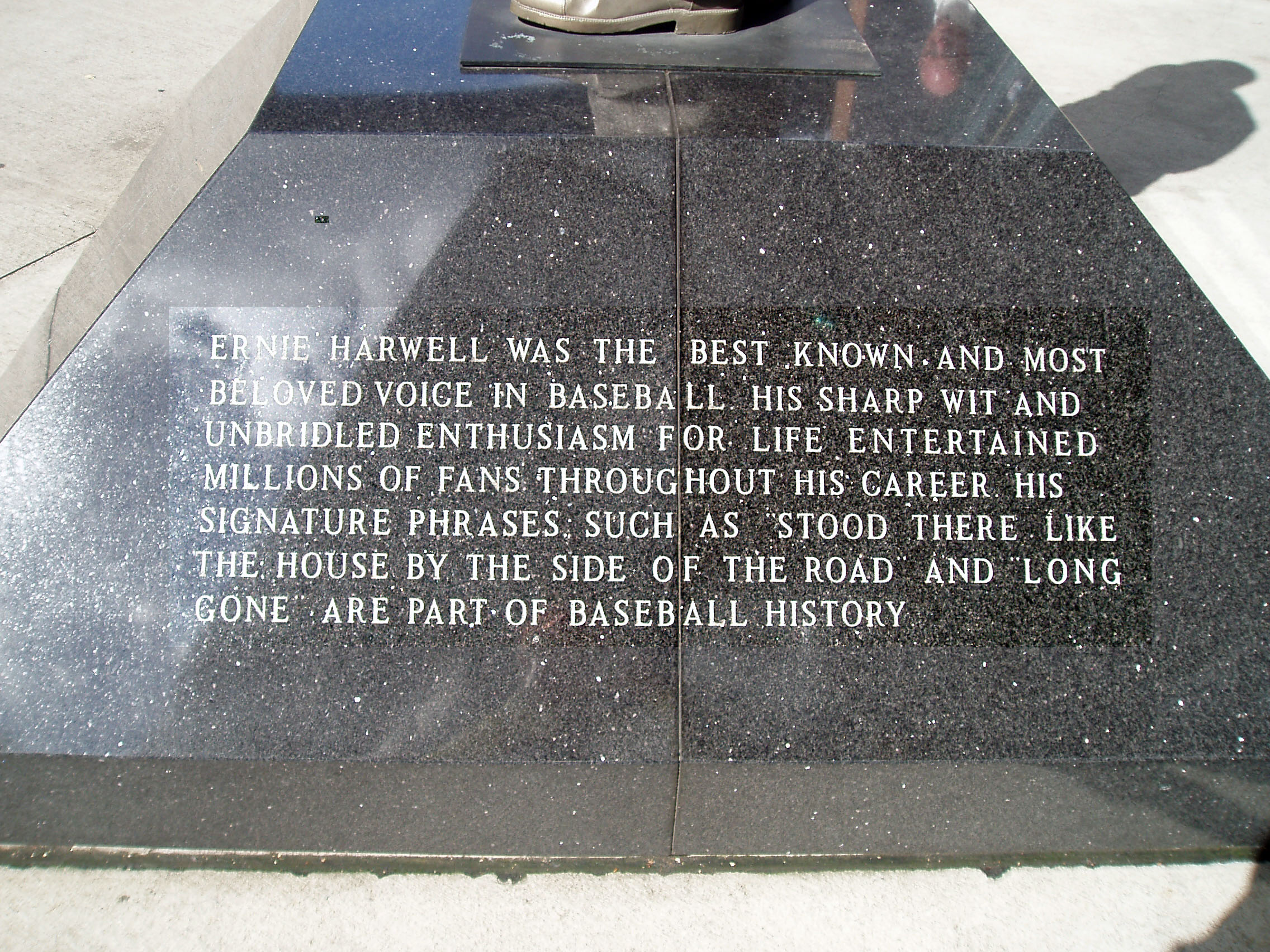 baseball. At this time, Ann Arbor pizza magnet Tom Monaghan owned the team. He brought in a former football coach, Glenn Schembechler from the University of Michigan, to serve as president of the baseball team. Schembechler announced that Harwell would be replaced after the 1991 season. Detroit Tiger fans were enraged and blamed Monaghan and Schembechler, arguing that they had little understanding of baseball and were mismanaging one of the most prosperous and successful franchises in the game. Many threatened to never again buy a ticket. Schembechler left quite quickly and Tom Monaghan sold the team in 1992 to Detroit pizza magnet Mike Illilch. Illich promptly returned Ernie Harwell to the broadcast booth for the 1993 baseball season.

Harwell retired after the 2002 season but did a great deal of free-lance announcing of baseball games for a variety of teams and national television channels. He spent much of the year in Detroit and promoted a variety of laudable causes. He died at age 92 in 2010.

Lou Cella, educated in the fine arts at Illinois State University, is a Chicago based sculptor who has specialized in the portrayal of figures -especially athletes. In addition to the seven sculptors that he designed for Comerica Park, his sculptures depict Ernie Banks and Harry Carey at Wrigley Field in Chicago and Carleton Fisk and Frank Thomas at the baseball park of the Chicago White Sox.
Sculptor: Lou Cella
Date of dedication: September 15, 2002
Use in 2011: Public Art
Website for the Sculptor: http://www.rotblattamrany.com/index.php?option=com_content&view=article&id=308&Itemid=462
Photograph: Ren Farley
Description prepared: December, 2011.


Return to Sports, Parks and Recreation
Return to Public Art and Sculpture