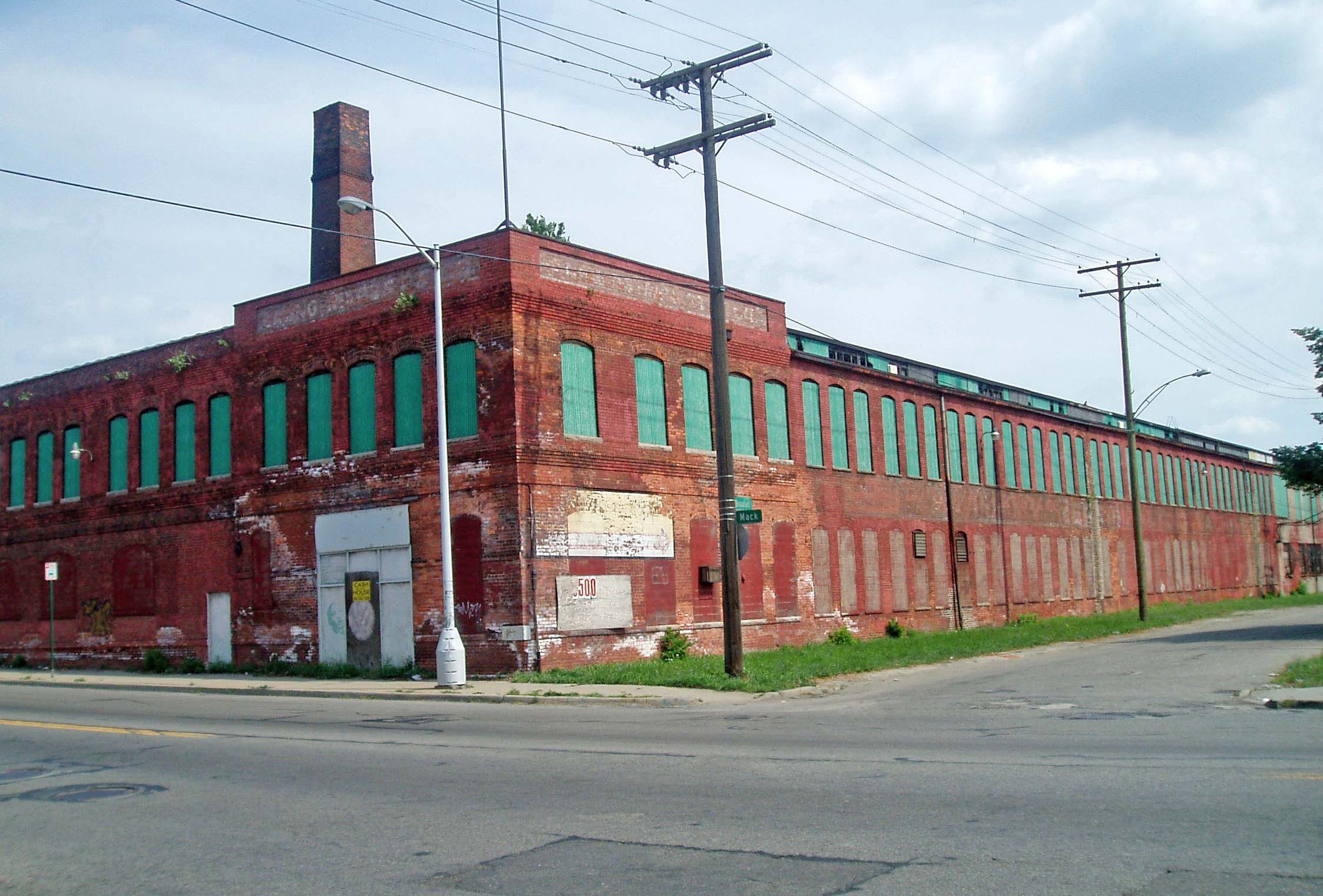 B. F. Everitt Carriage Trimming Company/
Briggs Manufacturing Company/
Columbia Motors
6500 Mack at the corner of Beaufait on the east side of Detroit

I am quite uninformed about the history of this building. I believe it was used by the three firms listed above but I am not certain. Byron F. Everitt grew up near Detroit in Chatham, Ontario. He began his career trimming carriages for the William Gray and Sons Carriage Company in Chatman. In 1899, he migrated the short distance to Detroit and established the B. F. Everitt Company. He must have had considerable capital since he rented or purchased a substantial brick factory on West Fort Street near downtown. His firm built and repaired carriages for horse drawn vehicles. Sometime about the turn of the century, Everitt produced at least a few bodies for gasoline powered cars produced by Ransom E. Olds and Henry Ford.

As the auto industry expanded in Detroit, I presume that Everitt changed his business from horse drawn carriages to bodies for gasoline powered cars. I have heard, but cannot document, that Everitt either had this building at Beaufait and Mack built for his body shop or set up shop here early in the Twentieth Century. I have seen both 1903 and 1906 as the date this building went up. It was located on the tracks of the Michigan Central Belt Line Railroad whose abandoned rail bed you can see on the north side of this plant.

Walter O. Briggs was born in Ypsilanti in 1877. His father was an engineer working for the Michigan Central. Young Walter went to work at age 14 for the Michigan Central Railroad. He began as a laborer but worked his way up to become an upholsterer in that line's car shops. In 1902, he left the railroad to work as an upholsterer in Detroit. Two years later he joined B. F. Everitt's firm supervising the upholstery shop. By 1906, Briggs had moved up to become Vice-President of Everitt Carriage. Perhaps this was the time when the carriage firm moved to Mack at Beaufait and switched to the production of vehicle bodies.

Very many entrepreneurs in Detroit—and other cities with a history of industry—tried to capitalize upon the new popularity of motor vehicles. In 1908, Walter E. Flanders, who had been a production manager for Henry Ford; William F. Metzger who had been sales manager for Cadillac, and B. F. Everitt established a new car company; the Everitt-Metzger-Flanders Automobile Company, better known as E-M-F. They raised the capital to build a large factory on Piquette Avenue. I was fortunate to take a picture of that substantial and attractive E-M-F building before it was consumed by fire in June, 2005. Needing income, the E-M-F firm more or less "rented' the building to Studebaker for the assembly of their popular cars. Studebaker was a wagon maker in South Bend with a nationwide distribution network—something none of the new auto companies had. Studebaker began contracting with other firms to assemble cars that would bear their name. They were quite successful at this but did not have any factories in South Bend for the production of vehicles. Hence, they more or less took over the E-M-F plant on Piquette Avenue. After World War I, Studebaker built many factories in South Bend, Indiana but they continued to assemble cars on Piquette Avenue in the 1930s when their Rockne models was made there for a brief span.

The E-M-F firm was not a success, perhaps because the principal figures could not agree. By 1912, after protracted litigation, the firm went out of business. At that point, I infer that B. F. Everitt needed funds so he sold his former carriage company to Walter Briggs for $50,000. Briggs reorganized the business as Briggs Manufacturing Company. This would explain the use of the structure you see by both the Everitt and the Briggs firms. Everitt, Flanders and Metzger attempted to establish other auto firms in the pre-World War I era. After that war, they got back together and were key figures in the founding of the Rickenbacker firm that had some limited success in producing innovative and attractive automobiles from a large and attractive plant on Cabot Street in southwest Detroit. Both the Piquette Avenue plant and Cabot Street plants were modern well-designed facilities capable of producing many cars. Fortunately the Rickenbacker factory in southwest Detroit still stands. The Rickenbacker firm was not very successful primarily because it lacked capital and the ability to effectively compete with Ford and General Motors. World War I aviation hero Capitan Eddie Rickenbacker who had been involved with its management pulled out in 1926 and, early in 1917, the firm closed its doors. Walter Briggs, on the other hand, was very successful with his Briggs firm since he turned out bodies for many makes. He was prosperous enough to erect a marvelous home (shown on this website) in the Boston-Edison neighborhood and purchased the Detroit Tigers in 1935.

I read that Columbia Automobiles were produced at this plant but I have not seen convincing evidence of this. The Columbia Motors firm was established in Detroit in 1916 with William F. Metzger as Vice-President. John George Bayerline was the president. He had previously founded, in Detroit, the King Motor Car Company and the Warren Motor Car Company. Neither of those endeavors was very successful. Perhaps Walter Briggs needed a much large plant for his body firm and moved away from the factory pictured here. The Columbia firm survived for eight years. Similar to many other start-ups, their cars were primarily assembled from parts purchased from various suppliers. Columbia produced two models powered by six cylinder engines purchased from the Continental company. In the year of their founding, the Columbia firm purchased the Argo Electric Vehicle Company of Saginaw. That firm turned out electric cars. I don't know if Columbia purchased them with an eye toward selling electrics or for some other reason. However, Columbia, so far as I know, never produced an electric model. Many new auto firms had short life spans. Columbia apparently lacked capital and struggled. In 1923, they purchased the Liberty Motor Car company of Detroit. That firm has the distinction of having one of the most impressive office building ever designed for a small producer. A picture of the Liberty Car administration building is included in this website. The purchase of Liberty did not save Columbia and they were defunct by 1924.

When reading about the history of car companies, it is easy to be confused when you come to Columbia. Apparently, several manufacturers used this name or some variant for their models. For example, from 1899 to 1910, the Pope manufacturing in Hartford turned out electric vehicles bearing the Columbia name.

Perhaps the Columbia Motor Company used this building until 1924. I do not know what uses were made of this building after that date. In 2015, I saw this structure on a real estate web site listing as 49,000 square feet with a price of $130,000.

Architect: Unknown to me
Date of construction: About 1903
Architectural style: Mill style industrial building
Use in 2015: Abandoned manufacturing building awaiting conversion to other use of removal.
City of Detroit Local Historic District: Not listed
State of Michigan Registry of Historic Places: Not listed
National Register of Historic Places: Not listed
Photograph: Ren Farley; August 6, 2005
Description prepared: February, 2015
Return to Industrial Buildings