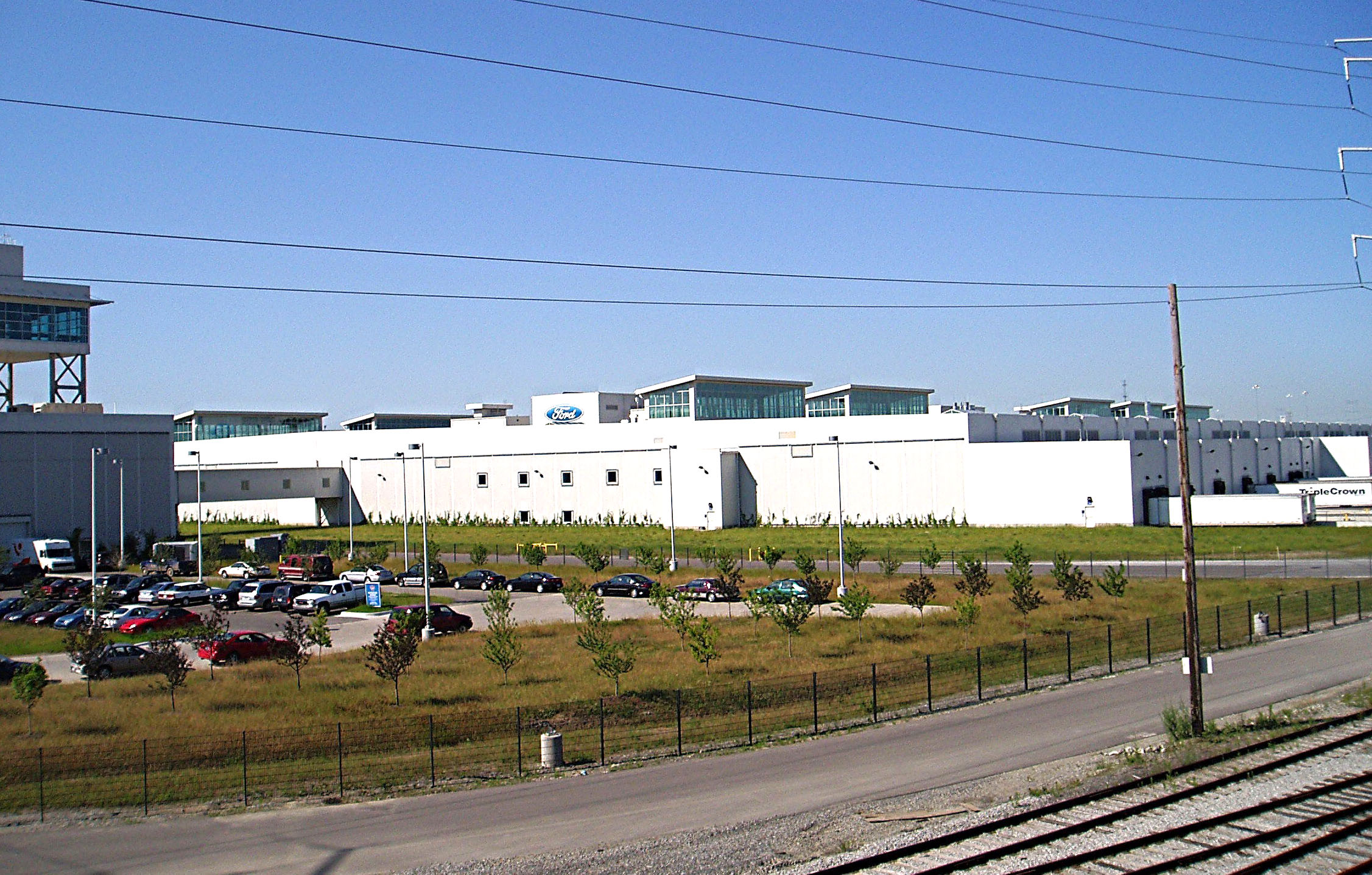 Ford Dearborn Truck Assembly Plant/Ford F-150 Plant
3001 Miller Road Dearborn
When the United States began to prepare for entry into World War I, Henry Ford stated that he was a pacifist and that his firm would not produce armaments. As the nation's involvement in the war grew, people realized the reputation Henry Ford had for industrial productivity. At some point, official in the Navy realized that the nation needed to quickly build many ships. They turned to Henry Ford and he agreed to start constructing such ships. At this time, almost all of Ford's Detroit area production was accomplished at the Piquette Avenue plant and the Highland Park plant. Ford decided to build ships on the River Rouge in his hometown of Dearborn. Actually, at this time it was officially Springwells Township. This was the origin of the huge Ford River Rouge Complex that is now a National Historic Landmark.

Henry Ford was not nearly as successful with ships as with cars. At one point, he claimed that he could build 1,000 small submarines a day. In January, 1918 Henry Ford got a Navy contract to build 100 ships. These were to be 200-foot-long steel subchasers. He had a hard time fulfilling that order as he learned that building ships differed greatly from manufacturing cars. And his boats proved to be less than seaworthy, apparently because his engineers and staff had not mastered the requisite welding techniques. Recognizing problems, the Navy cut the order to 60 ships. World War I was over or nearly over when Ford completed most of these boats. I believe the Navy refused to accept the ships leading to litigation about what, if anything, Ford would be paid.

The great popularity of the Model T meant that Ford needed more production facilities. Dearborn was the location he selected. In 1918, he began building the Dearborn Assembly for the assembly of Model T's which were also built in the Highland Park plant. Dearborn Assembly continued in operation until May 10, 2004 when the final product— a red Ford Mustang GT convertible—came off the production line. In the intervening 86 years, the Ford Company had built one of the largest manufacturing campuses in the world on this site.

The United States auto firms faced great challenges in the 1990s. To raise capital, many of them sold their assets. Ford, for example, sold the huge River Rouge steel mill to the Russian conglomerate, Servastal. There were many discussions and rumors about the Ford Company giving up on the River Rouge facility. Many of the plants were outdated, meaning it would be very costly to update them. And, the union, UAW Local 600, was often seen as highly combative so few would have been surprised if Ford had moved vehicle production to other states where they might get tax breaks to build new factories and might find more agreeable unions or, perhaps, no unions at all.

To retain jobs, Ford and the United Auto Workers, in 1997, signed a Rouge Viability Agreement. Two years later, Ford decided to erect a new factory to produce their most successful single product, the Ford F-150 pickup. I believe the original price of the plant that you see pictured on this page was about 1.5 billion dollars. It is a 1.1-million-square-foot plant designed to permit the simultaneous production of nine different models on three different platforms. However, most or all of the production has been the very popular F-150. The architect, William McDonough, incorporated ecological concerns. The ten acre roof of this plant was planted with sedum as a ground cover. For quite a few years, empty spaces surrounding the plant were home to fields of sunflowers.

Ford began offering tours of its assembly lines in 1924. Later in the last century, they terminated that program even though many wanted to see their vehicles go down the production line. After 2004, Ford resumed offering tours of this new F-150 plant. The origin point is the Henry Ford Museum at 20,900 Oakwood Boulevard in Dearborn. Buses take tourists from that site to this factory.

This is, presumably, a major profit center for the Ford Company. In November, 2013; 31,100 Ford F-150s were assembled at this plant that runs, I believe, two ten hour shifts every day. At an average retail price of about $39,000 these trucks, when sold, generate above 1.2 billion dollars in revenue for the Ford Company and its dealers.

Architect: William McDonough
Date of completion: 2004
Use in 2014: Truck plant
History of the Rouge Complex: http://www.thehenryford.org/rouge/historyofrouge.aspx
State of Michigan Registry of Historic Sites: The River Rouge Complex was listed as Site #P620 on December 14, 1976.
State of Michigan Historical Marker: Put in place September 1, 1977.
National Register of Historic Places: The River Rouge Complex is a National Historic Landmark. Listed June 2, 1978
Photograph: Ren Farley
Description prepared: February, 2014

Return to Industrial Buildings
Return to Michigan National Historic Landmarks