Film Exchange Building
Cass at Macomb near downtown Detroit

I find this building appealing in its new white paint.  Originally, it was, I believe, a brownish-red but it was repainted in 2009.  I have read critical comments about that decision.

This was, I think, the first film exchange building erected in the country.  Between the end of World War I and the start of the Depression, hundreds of movie theaters were built in the Detroit area and every other metropolis.  By the mid 1920s, a substantial fraction of Americans went to view a motion picture each week.  At that time, movies were recorded on many reels of heavy celluloid film.  Typically, a highly promoted movie displaying the talents of that era's stars would open in major downtown theaters such as the Fox Theater or the Michigan Theater or the United Artists Theater.  After playing for several weeks, the same film would be shown in major neighborhood theaters and then, later still, it would appear of the screens of smaller neighborhood theaters.  This meant that many, many reels of film had to be stored and moved around the metropolis on a regular basis.  Eventually, the film would be shown in outlying villages and hamlets.

This impressive building was put up to serve as a warehouse for storing those thousands of reels and for offices for those in the distribution and theater businesses.  Needless to say, with all those millions of ticket buyers, fortunes were made here in Detroit and elsewhere in the movie business in the 1920s.  The films themselves could be damaged by too much heat or humidity so this building contained vaults to ensure the reels safety.

C. Howard Crane, born in Hartford in 1885, established an architectural practice in Detroit early in the Twentieth Century and became one of the nation's greatest theater architects.  He designed about 250 movie picture palaces, a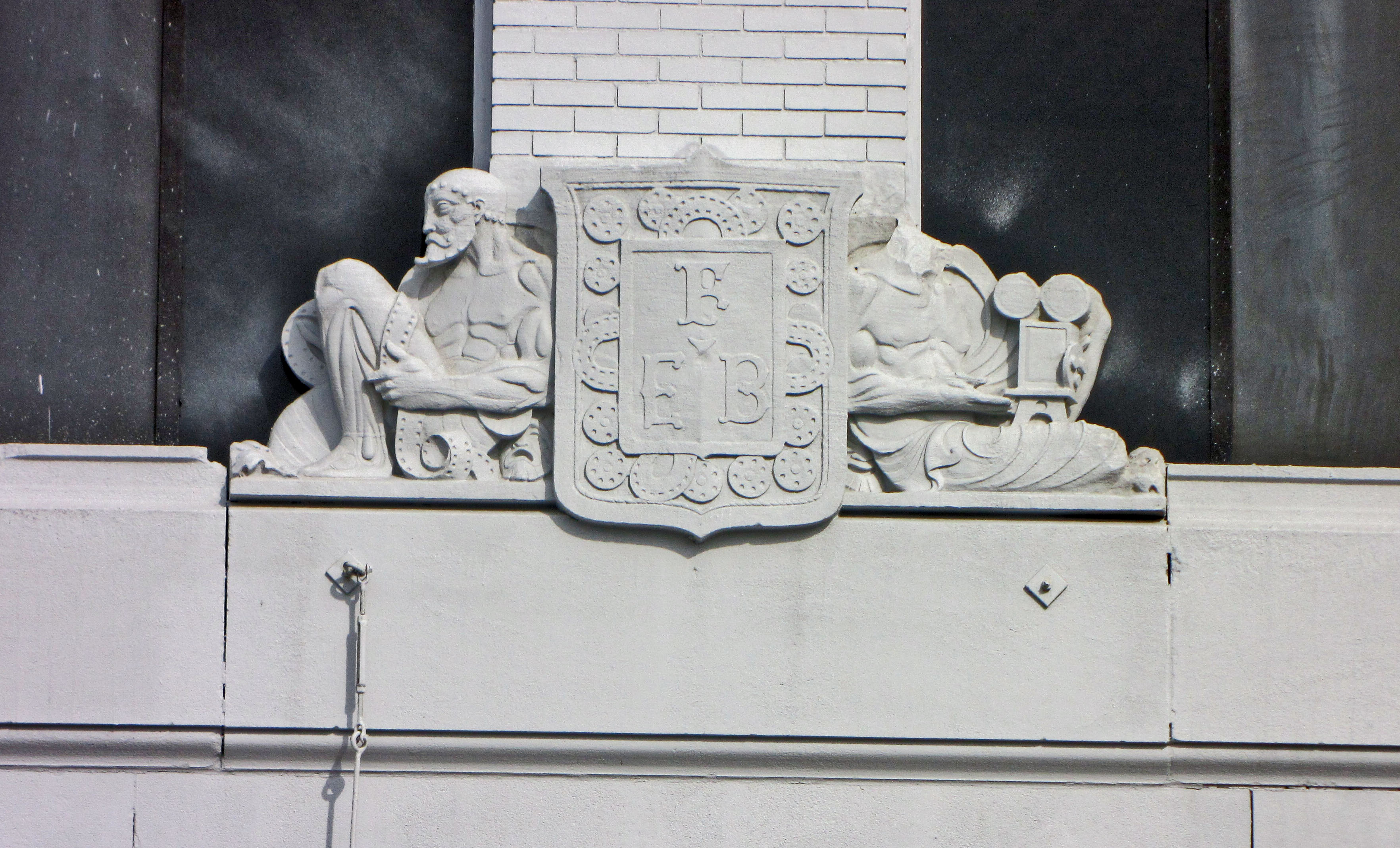 bout 50 of them in Michigan.  Here in Detroit his Opera House,  Orchestra Hall, Fox Theater—declared a National Historic Landmark—and Palms Theater are still in use.  His biggest structure in Detroit—Olympia Stadium on Grand River—served as the home of the very successful Detroit Red Wings for more than four decades, but that mammoth structure is no longer in existence.  He designed this seven-story building in the Art Moderne style and had the budget to add numerous stone carvings on the outside.   C. Howard Crane, during the Depression, realized that no investors were willing to build movie theaters so this very creative designer was out of work.  Great Britain was somewhat less severely impacted by the Depression and, more so than the United States, seemingly benefitted from the good counsel of that era's leading economist, John Maynard Keynes.  C. Howard Crane migrated to England in the 1930s and began designing factories.  So far as I know, there is no biography of C. Howard Crane.

Technological development made this Film Exchange Building unnecessary in the 1950s.  I believe that the structure was converted into offices and may have been quite occupied in the early 1960s.  However, the tenants moved away and the building closed in 1970.  It has not been used since then.

Many of the vacant buildings in Detroit are not secure, so scavengers take whatever is of value.  This building has been maintained.  In spring of 2005 it was securely sealed.  I believe that the owner hoped to derive revenue by placing large signs on the roof; signs that would be seen by those who drove along the Lodge Freeway.  That plan did not come to fruition. but in 2009, the owner had the structure painted.

Architect: C. Howard Crane
Date of Opening: November 15, 1926
Architectural Style: Art Moderne
Use in 2010: Inactive but reasonably well maintained building awaiting a new use
Listing of Movie Theaters in Michigan: http://www.waterwinterwonderland.com/moviehouse.aspx
City of Detroit Designated Historic District: Not listed
State of Michigan Historic Site: Not listed
National Register of Historic Places: Not listed
Photograph: Ren Farley; March 11, 2010
Description prepared: December, 2010