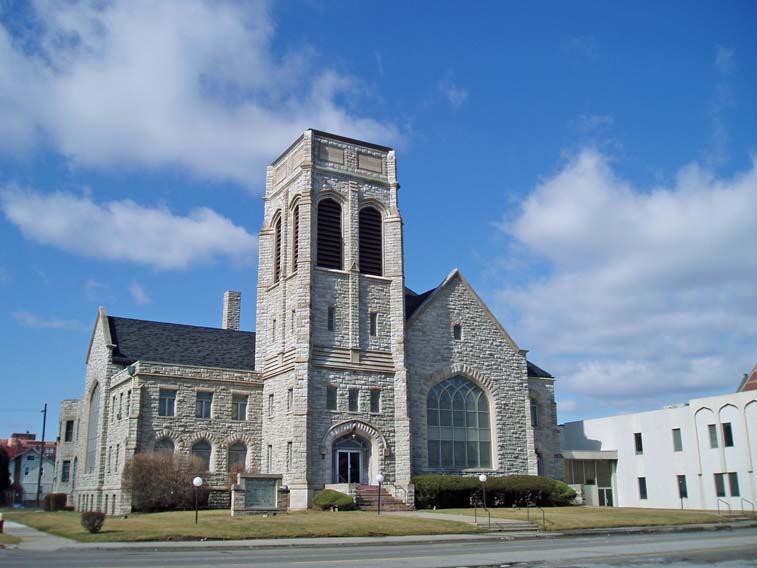 First Baptist Church of Detroit/North Baptist Church/
Peoples Community Church
8601 Woodward at Blaine
Baptists from New York and New England living in Detroit organized the First Baptist congregation with the Reverend Henry Davis as their minister on October 20, 1827. This congregation was among the first Protestant churches organized in Detroit. First Presbyterian had been established in either 1821 or 1825. The original First Baptist church was a frame structure at the corner of Fort and Griswold erected in 1831. Four years later the congregation had a brick meeting house. Larger churches were built for First Baptist in 1863 and in 1875.
As Detroit's population grew in the early 1900s, larger numbers of Baptists lived along the Woodward Corridor north of Grand Boulevard. In 1908, some of this Baptists formed a congregation, purchased land at Blaine and Woodward and commissioned Guy Vinton to design the church you see. It opened in 1910 but, just two years later, that congregation merged with First Baptist and the church took on that name.
This is a gray rough-cut limestone church that resembles other Gothic church erected at this time. You see, facing Woodward, a Gothic arched traceried stained glass window. There is also a tower to the left with a louvered belfry, a tower that contains the entryway. Adjacent to the church on its south side is an educational building, also in rock faced limestone. It too has a gable with a stained glass window as does the north face of this surprisingly elaborated church. In many ways, this church is distinctive for its simplicity or clarity. Quite a few Gothic churches have a great deal of ornamentation at the front or elaborated stone work. This church is appealing for its direct and unambiguous Gothic style.
The interior of the church was designed according to the Akron plan. That is, it resembles an auditorium or theater in that pews are arrayed in a semi-circle around the altar. Most distinctively, there are many classroom with large doors opening to the auditorium-like church. Prior to the start of the Sunday service, children or adults could meet fore Bibile study in these radiating classrooms. And then, when the service began, they could enter the auditorium or, if there were a huge crowd, they could remain in the rooms and participate in the worship service. This design maximized the effective use of space while reduce construction costs. It is called the Akron plan because it was first used in the construction of First Methodist Episcopal Church in Akron, Ohio. This church was designed by architect Jacob Snyder and funded by Akron philantropist Lewis Miller. Mr. Miller gained his wealth through the invention of the farm equipment that would both harvest and reap, now know as the harvester. He was very interested in religious education. The Akron plan for a church maximized the classroom space availble to a congregation. The style was quickly added to architectural textbooks and proved to be very popular with Protestant congregations in the Midwest in the late Nineteenth and early Twentieth Centuries. I do not believe that it was often used by architects designing Catholic church or synagogues although I may be mistaken.
By 1957, Baptists were moving away from this area of Detroit so membership was dwindling. The church was sold that year, to Peoples Community Church. First Baptist then relocated to Southfield and constructed a beautiful modern church that was dedicated in 1965.
First Baptist Church of Detroit is well-known, but sometimes it receives less attention than Second Baptist which was found in the late 1830s and became the first black congregation in the city. It is well known for the role its members played in Michigan's abolitionist movement and for the help they provided to travelers on the Underground Railroad who emancipated themselves by crossing the Detroit River.
Peoples Community Church was founded in Detroit in May, 1954 and began holding services in a Baptist church on Joy Road near Clairmount. Membership grew rapidly and by October of that year, they were renting a building at Fourteenth and Marquette. The congregation prospered by raising $85,000 as a down payment for the First Baptist Church that you see pictured here. On April 7, 1957, Peoples Community Church established their home there
The State of Michigan Historic Registry reports that Detroit architect Guy Vinton designed the church you see. However, the authors of Detroit's Historic Places of Worship, suggest that Buffalo architect John Coxhead may have designed the church, perhaps in conjuction with Guy Vinton. The ceiling of the sanctuary is an oculus stained glass dome. I believe that dome may be what suggested to those authors - whose book is cited below - that John Coxhead played a role in the design of this church. However, the website devoted to his numerous architectural achievements does not like North Baptist Church. A great picture of that oculus dome is presented in this book. I know of no other such dome in any Detroit area church
Architect: Guy Vinton
Style: Late Gothic Revival
Date of Dedication: May 8, 1910
Use in 2013: Church
For addtional information: Marla O. Collum; Barbara E. Krueger and Dorothy Kostuch, Detroit's Historic Places of Worship. Detroit: Wayne State University Press, 2012
Website for First Baptist Church of Detroit: http://www.fbc-detroit.org/
Website for Peoples Community Church: http://www.pcc8601.org/
City of Detroit Designated Historic District: Not listed
State of Michigan Registry of Historic Sites: P25,096
State of Michigan Historic Marker: None apparent
National Register of Historic Places: Listed August 3, 1982.
This church is included in the National Histrorical Register's Woodward Avenue Religious Structure's Thematic Resources.
Photograph: March 11, 2009
Description updated: February, 2013
Return to Woodward Religious Structures