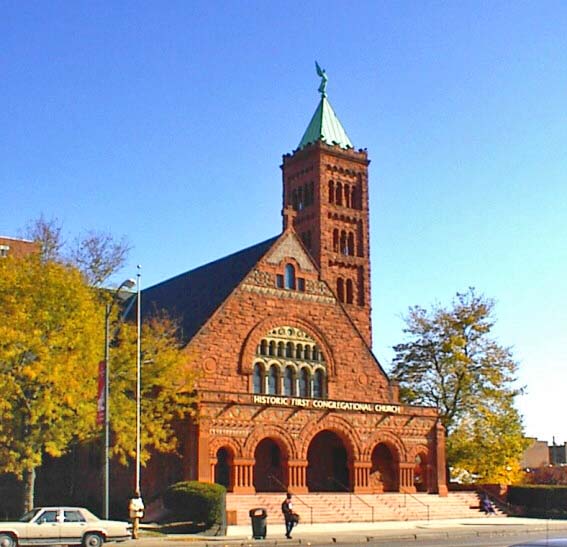 First Congregational Church
31 East Forest Street at the corner of Forest and Woodward near
Detroit's Cultural Center in the Lower Piety District
Henry Hobson Richardson graduated from Harvard in 1859 and then went to Paris to study architecture at the Ecole des Beaux-Arts. He returned to the United States in 1865 and quickly became the most prominent architect of this era. His first distinctive and memorable creations were several Boston-area churches. Rather than imitating the Second Empire style of architecture that was then emerging in Paris, he found inspiration in the Romanesque architecture of southern France and Italy. He gradually moved toward his own style of architecture for churches and other large buildings. He made use of rough hewn surfaces such as the stones that make up Detroit's First Congregational Church. Indeed, the use of rough hewn stone in large buildings constructed in this age gives them a Richardsonesque style. He also used geographic compositions extensively and favored rounded arches, including rounded windows. Note the many arches at the front of this church along with the linear supporting columns.
Henry Hobson Richardson did not design this church. Indeed, the only structure in Detroit that can be confirmed as designed by him is the Bagley Memorial Fountain. John Layman Faxon, a Boston contemporary of Henry Hobson Richardson, designed First Congregational. Although Faxon traveled in Europe to study architecture before executing his Detroit commission, he apparently borrowed heavily from one of the churches that gave Richardson his reputation, Trinity Church in Boston. Faxon used warm red limestone from the Houghton area of the Upper Penninsula for this church and, in the Richardson style, it is rough hewn. The Woodward façade features a raised five-bay loggia. Above the entry way, you see a parapeted front gable. Above that is a two tiered arcade of rounded windows with much flowery tracery framed by a very substantial rounded arch. Faxon also added a 120-foot campanile, with its Richardsonesque arrangement of geometric patterns and many narrow arcades. This is topped by an 8-foot copper figure of the Archangel Uriel. I suspect there are very few statues of the Archangel Uriel anywhere in the world. The church was designed in the Greek Cross style. W. Hawkins Ferry, Detroit's leading architectural historian, saw both Romanesque and Byzantine elements in the design of this church. Attached to First Congregation, is an activities center known as the Angel's Wing Community House. Albert Kahn designed this building which opened in 1925. Albert Kahn designed factories, office towers, homes, a lighthouse, synagagues, libraries and a flag pole on Belle Isle. However, I have never seen any reference to a church Albert Kahn designed. He did collaborate with Alexander Nettleton and George Trowbridge on the design of Bethany Memorial which stands on East Lafayette in the West Village neighborhood. I believe that the elder of the St. Mary's of Redford on Grand River asked Albert Kahn to design a church for their parish but he recommended Ralph Adam Cram who got the commission. Perhaps this parish house for First Congregational is as close as he came to designing a church.
The Congregational church developed in the late 1500s when efforts were developing in England to reform the state church; that is, at the time of the Puritan Reformation. A British theologian, Robert Browne, apparently established the first Congregational parish in Norwich, England around 1580. Congregationalism was widely adopted by the early English settlers of New England. Throughout those states, you find very many attractive Congregational churches dating from the pre-Revolutionary era. No other part of the United States has as high a density of Congregationalists as New England.
In 1801, a group of Congregationalists in Connecticut sent David and Alice Bacon to establish a Congregational church in the small French-speaking village of Detroit that had been under US rule for less than half a decade. This missionary effort failed. Indeed, I think the first establishment of a Protestant church awaited Father Gabriel Richard's and Lewis Cass's recruitment of the Reverend Montieth from Princeton Seminary in about 1817. The Congregationalists organized their first Detroit church on Christmas day in 1844. They occupied two wooden churches near the riverfront before moving into the massive structure that you see. The basement of their second church, located at the corner of Fort and Wayne, was a hiding place for fugitive slaves before they crossed the Detroit River to freedom in Canada.
The Congregational community in Detroit grew and, in 1886, purchased land at Woodward and Forest in Detroit's emerging Woodward Avenue Piety Row for their church. Apparently some member of that congregation were familiar with architectural issues and the First Baptist Church in Newton, Massachusetts that John Lyman Faxon had designed. That probably explains why he was selected to design the interesting church you see. So far as I know, he designed no other buildings in Michigan.
An array of impressive pictures of this church may be viewed in the book cited below. The very attractive interior is shown along with a close-up of the status of the Angel Uriel. At this point, I should explain the significance of this angel but I can hardly do so. I infer that there is some debate about whether he (or she) is actually mentioned in the sacred texts of the Abrahamic religions. There are references to Uriel in the apocryphal, kabbalistic and occult texts. Apparently, there are also references to Ureil in the Book of Enoch but that book is typically omitted from what Jewish and Christian tradation defines as Sacred Scripture. Some of the interpretations of text in the Book of Revelations contend that at the end of time seven angels will come to earth. Presumably Uriel will be one of those angels. I do not know what motivated this congregation to top their church with this statue.
Architect: John L. Faxon
Architectural Style: Richardson Romanesque
Date of Completion: 1891
Architect for the additional building constructed in the early 1920s: Albert Kahn
City of Detroit Designated Historic District: Not listed.
Website for this church: http://www.friendsoffirst.com/home/
For additional information, see: Marla O. Collum, Barbara E. Krueger and Dorothy Kostuch, Detroit's Historic Places of Worship, Detroit: Wayne State University Press, 2012.
State of Michigan Registry of Historic Sites: P25,098 Listed July 26, 1974
State of Michigan Historical Marker: Put in place: October 20, 1976
National Register of Historical Places: Listed June 4, 1979. This church is included in the National Register Multi parcel site known as the Historic Religious Structures of Woodward Avenue.
Use in 2015: Congregational Church
Website: http://friendsoffirst.com/home/about.asp
Photo: Ren Farley
Description updated: December 2015
Return to Woodward Religious Structures
Return to Commemorative Designations in Wayne County