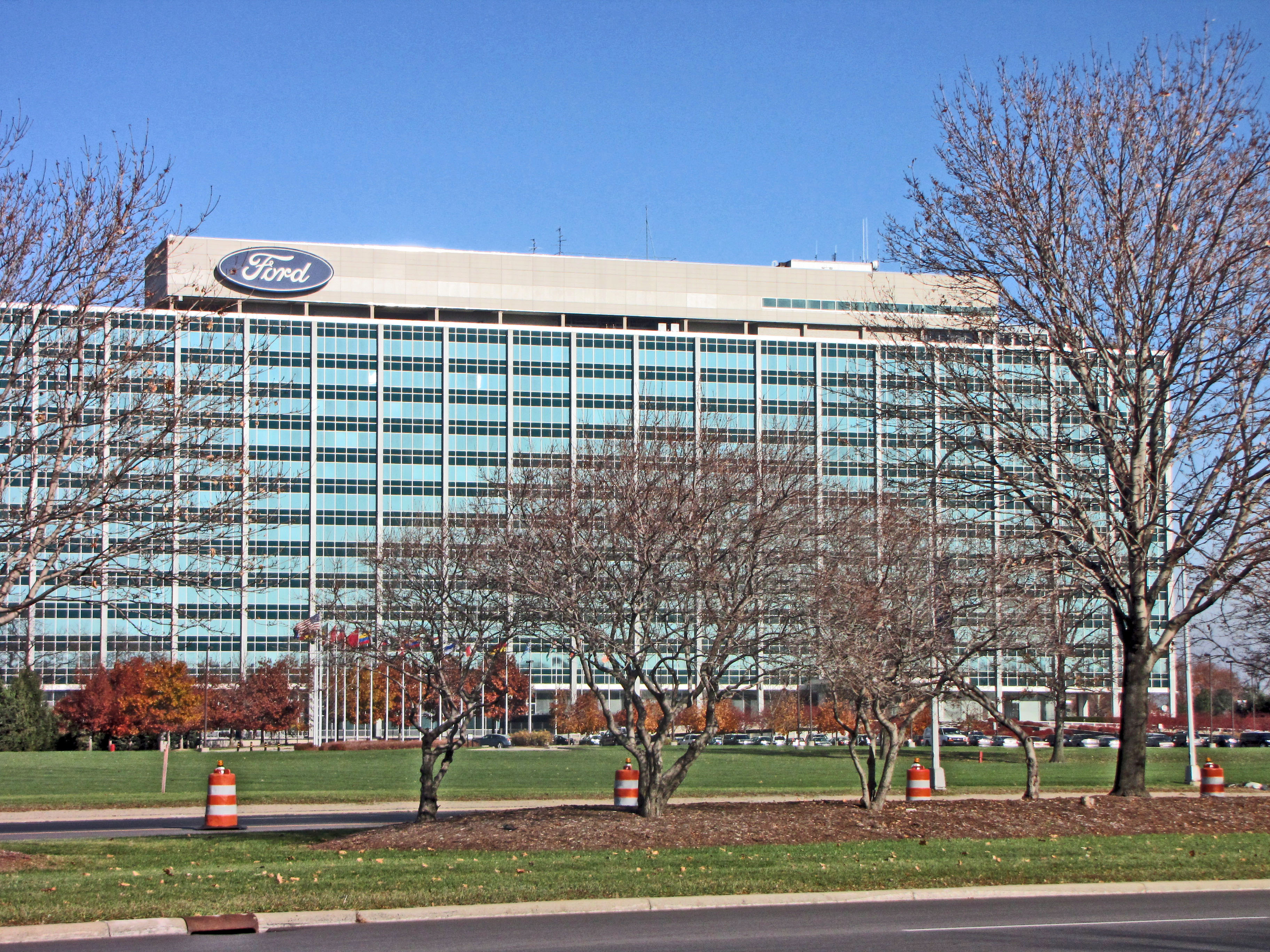 Ford Motor Company Administrative Center/
Henry Ford II World Center
One American Road near Michigan Avenue in Dearborn
In 1928, the Ford Motor Company occupied a new office building at the corner of Schaffer Road and what is now Rotunda Drive in Dearborn.  This was popularly known as the 3000 Shaffer Building.  It served as Ford's headquarters until 1956 when the building pictured above opened.
This eleven-story tower illustrates an architectural style popular for some decades after World War II.  Presumably, the architects wished to convey a sense of the modern as well as a sense of great efficiency.  Glass curtain walls, such as those you see in this building, were quite popular and are still used in many buildings erected in suburban office parks.  The landscaping is also provoking in a way.  That is, there is much green space about the structure so that you can see it from quite far away.  It is interesting to contrast this headquarters building with the classically influenced Durant Building—now the Cadillac Square Building—that Albert Kahn designed for General Motors about 35 years earlier.  Frankly, I prefer Albert Kahn's achievement—now a National Historic Landmark—but this is a matter of taste.  The Ford firm originally gave the name New Central Office Building to the structure pictured, but in 1996, it was rechristened for Henry Ford II.  It has also been called the Glass House.
The former headquarters building at 3000 Shaffer was used by the Lincoln Mercury division after 1956 and later by the Parts Department.  It was razed in 1997.
The Skidmore, Owning and Merrill firm not only designed the building you see, but served as the lead architects for General Motors when they reconfigured the Renaissance Center to serve as their headquarters in the mid-1990s.
Architects: Natalie de Blois and Gordon Bunshaft of Skidmore, Owings and Merrill
Date of Construction: 1956
Use in 2009: Administration headquarters for the Ford Motor Company
State of Michigan Registry of Historic Sites: Not listed
National Register of Historic Places: Not listed
Photograph: Ren Farley; November 12, 2009
Description prepared: November, 2009
Return to Commercial Buildings