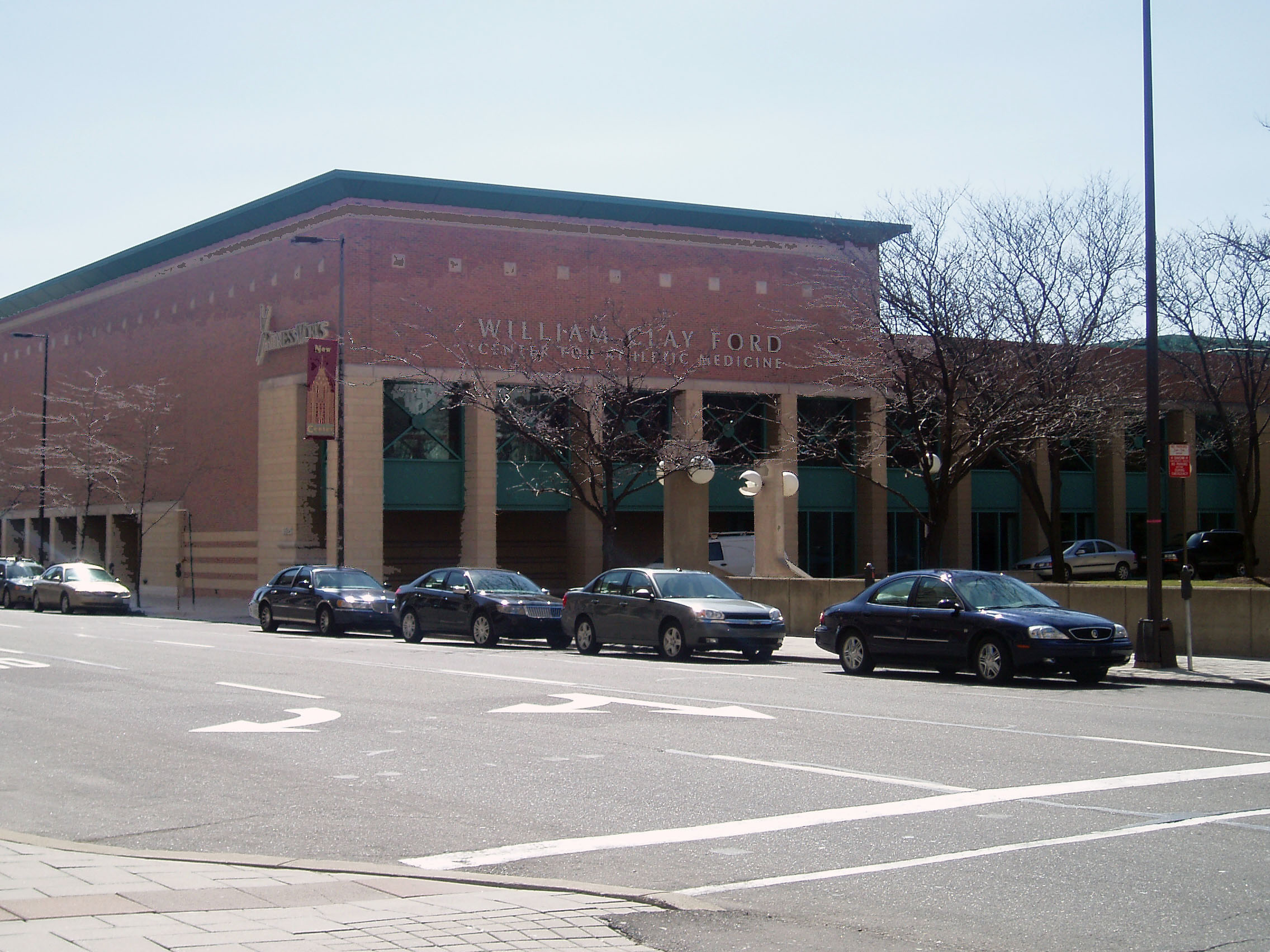 William Clay Ford II Center for Athletic Medicine of the
Henry Ford Health Care System
6525 Second Avenue at West Grand Boulevard in Detroit's New Center Area

Thanks to low interest rates and an economic revival of some areas of Detroit, a substantial number of new buildings have been built in the city since the mid 1990s. This one appeals to me both for its own style and the way it incorporates a small park at the corner of Second and West Grand Boulevard. Small parks in densely-used sections of large cities are attractive. The season for eating your lunch or taking your coffee break outside is not long in Detroit, but it is ideal to have attractive outside places to sit for a few minutes on those days when the sun heats the Motor City. The huge Fisher Tower, GM Building and the Argonaut Building make you think that the New Center neighborhood is full of tall, even overpowering, office buildings. But those employed in these buildings, from time to time, probably enjoy sitting outside to enjoy the occasionally warm weather. The modest park is attractive and contiguous to the pleasant building that the Smith architectural firm designed. These parks, when utilized, also convey a sense of safety that is missing in some Detroit neighborhoods. Throughout the city, there is the gradual emergence of pocket parks. It would be marvelous if a philanthropist could speed this process along. Increasingly, there is an amazing variety of pocket parks in the city of Detroit. They differ greatly in their purpose and what they commemorate. This one at Second and West Grand might be compared to the one at West Grand and 12th, aka Rosa Parks Boulevard, with its impressive bust of Martin Luther King cast by Oscar Graves or the small park at 12th and Clairmount commemorating the starting point of the devastating 1967 riot.
This building also reflects a new trend in booming American medical industry. Twenty-five years ago, only a few major hospitals had multi-million dollar advertising budgets or large staffs of professionally credentialed publicists. That changed and in most major markets, two, three or four hospitals advertise widely in hopes of attracting more and more of the patients who will generate millions of dollars in revenues. Sports medicine is a relatively new specialty. Henry Ford Hospital has invested in trying to get an edge in this, presumably, growing money making endeavor.
William Clay Ford is the son of Edsel Ford and the youngest grandson of Henry Ford. That is the same Henry Ford who is credited with helping to found this hospital in 1908. After serving in the Navy Air Corp in World War II, William Clay Ford graduated from Yale, married Martha Firestone of the Akron rubber family and worked, briefly, for the Ford Motor Company. He is best known in Detroit for his purchase of the city's professional football team in 1963. Unfortunately, that franchise has not had much success on the field, so his stewardship is often severely criticized. However, the link between Henry Ford Hospital and the Detroit Lion's may be an excellent one for the hospital's recruitment of customers. The building that you see pictured above has facilities for athletic medicine and the treatment of athletic injuries. It includes a clinical department for cardiac rehabilitation and a large exercise center fronting on Milwaukee.
Architects: Smith and Associates
Architectural Style: Some classical elements may be visible
Date of completion: 1996
Use in 2006: A component of the Henry Ford Hospital complex
Photograph: Ren Farley; March 18, 2006
Website: www.henryfordhealth.org/1258.cfm
City of Detroit Local Historic District: Not listed
State of Michigan Registry of Historic Sites: Not listed
National Register of Historic Places: Not listed
Description prepared: March, 2006