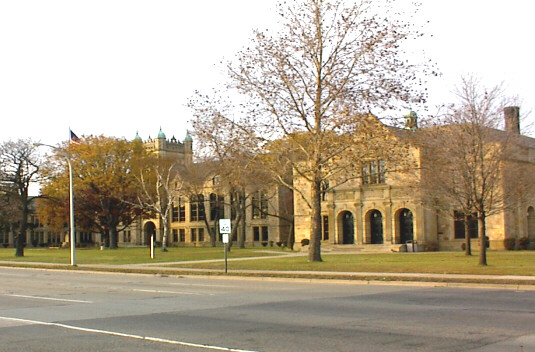 Fordson High School
13800 Ford Road, just west of Schaffer Highway in Dearborn
Because of Dearborn's tremendous flow of tax revenues, it is not surprising to find that one of the most architecturally significant public schools built in the prosperous 1920s was constructed in Dearborn. This is a massive Neo-Tudor building similar to what you would expect to find on the campus of an extremely well-endowed university. The inspiration for this Dearborn secondary school came from the Law School of the University of Michigan—endowed by Mr. Hutchins who helped found the Ford Motor Company—and the most elegant English Renaissance mansions of the 16th Century. The impressive castellated tower with four corner turrets and an octagonal cone is modeled after the Memorial Quadrangle of Yale University. I wonder if there has ever been another public high school built with such an impressive medieval style tower? At the front of the building, you will see a large, two-story bay window protruding over an arched three-door entrance. As you walk around this building, you may appreciate the extensive detailing throughout the exterior. You will also notice the attractive landscaping with extensive athletic facilities located behind the beautiful building.
The interior was crafted with as much care as the exterior. Pewabic tiles were used extensively. There are also mosaics, statuary and murals drawn by the Hungarian artist, Zoltan Sepeshy.
Architect: Everett Lane Williams of the Detroit firm of Van Leyen, Schilling and Keogh.
Date of Completion: 1928. The building was extensively renovated in 1970 while preserving its original integrity.
Material. Sean faced granite trimmed in Briar Hill sandstone
Michigan Registry of Historic sites: P22380. Listed April 9, 1998
Michigan Historical Marker: Erected: May 14, 1998. This marker is clearly visible on Ford Road near the entrance to this strikingly attractive high school.