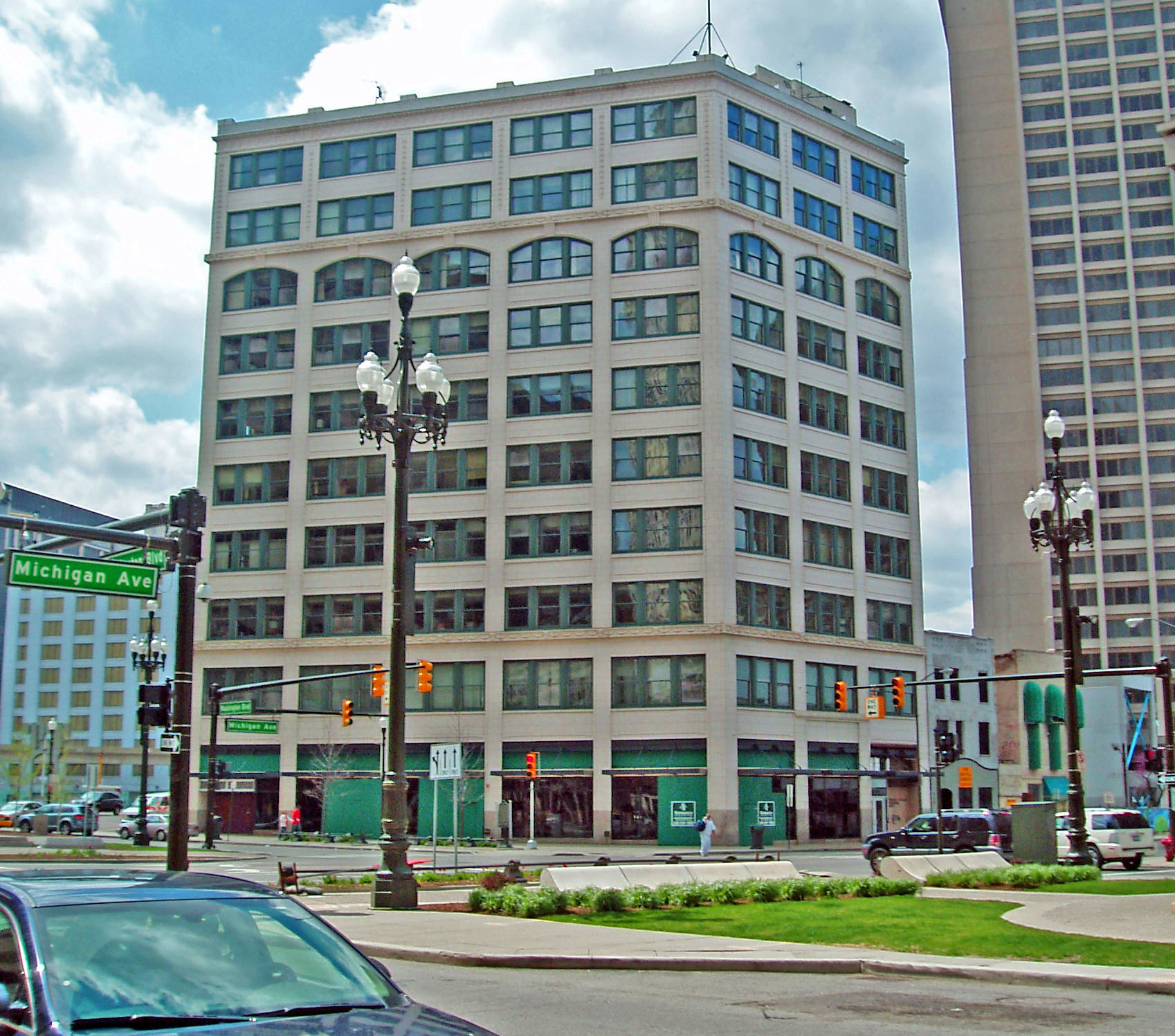 Gabriel Richard Building/
Weil and Company Furniture Building
305 Michigan Avenue at Washington Boulevard in Downtown Detroit
This structure was added to the Natrional Register of Historic Sites in 2017 because of the significant way it illustrates the Chicago style of architecture as applied to high rise commercial building. Constructed in 1914, it was used for 28 years by a local furniture company and then for sixty years as offices for the local parish and then the Catholic archdiocese of Detroit. Now, in 2017, it is about to become a residential building with commercial space along Michigan and Washington Boulevard.
This is a ten and one-half story building with an exterior in terra cotta and white brick. There is a two and one-half story base and, above that a six story shaft. The building concludes with a two story top. Note the arched windows toward the top of ther six story shaf. There are classical revival features with garlands and egg and dart moldings. It is located on an usually shaped plot but that gave the architects the opportunity to provide the building with a face on both Michigan Avenue and Washington Boulevard. Typically of the Chicago skyscraper style, it is a clean looking orderly building, thanks in part to the terra cotta.
Moe C. Weill, a son of German-Jewish immigrants, was born in Monmouth, Illinois in 1867. By the early 1890s, he had moved to Cincinnati where he became a liquor distributor. Following the financial crisis of 1892, he apparently decided to move to Detroit and enter the retail furniture business. I do not know why he selected Detroit but he probably understood the rapid growth and increasing prosperity of the city's residents. His first store was in rented space on Woodward.
I assume his firm prospered and by 1902 or so, he and his wife owned a home at 49 Virginia Park, one that is a contibuting structure in the Virginia Park Historic District. Detroit developer, David Stott, had rights to the land where the pictured building stands. About 1911 or so, he apparently wished to build a hotel on the site but, I infer, did not located the requisite financing. He 1912, he contacted with Mr. Weill to erect the structure you see. The architects, Marshall and Fox, were well known for the skyscrapers and other buildings they designed in Chicago but this is their only Detroit creation.
Moe Weill died in 1920 but his descendents took over the furniture business and kept it alive during the Depression decade. His offspring, Victor Weill apparently was the key person. In World War II, he joined the U. S. Air Corp and, unfortunately, was killed in an accident in California in 1943. Shortly thereafter the firm went out of business.
In 1945, the Stott real estate firm sold the building to nearby St. Aloysius Roman Catholic Church for, I believe, office space. In 1948, that parish turned the structure over to the archdiocese of Detroit and it became their major office building. The census does not asked a question about religion so it is challenging to get accurate counts by religious affiliation. However, the Catholic population of greater Detroit grew very rapidly after World War II so there was need for a large office building.
When St, Aloysius purchased the building, it was renamed to honor Father Gabriel Richard. Richard, along with President Thomas Jefferson's appointee: Judge Augustus Woodward, was responsible for the development of Detroit in the early 1800s.  Born in La Ville de Saintes in southern France in 1767, Gabriel Richard was ordained a Sulpucian priest in 1791 and began a career as a professor of mathematics in France.  However, anti-clericalism was growing in France and so he and several colleagues departed in 1792 for Baltimore.  He then went to the Cahokia area of southern Illinois to minister to Indians.  In 1798, he moved to the small Francophone village of Detroit where he served as assistant pastor of St. Anne's church.  He was a man of the Enlightenment and, while in Detroit, founded six educational institutions, including the one that became the University of Michigan.  He also established the first press in Michigan in 1809 with the publication of a French language periodical, Essais du Michigan, and an English language periodical, The Impartial Observer.  He strongly supported the United States in the War of 1812 and was briefly held as a prisoner by the British.  He served as the Michigan territory's representative in Congress from 1823 to 1825 where he sought federal funds to pave the Indian trail that then connected Detroit with Chicago. That Sauk Trail is now known as U. S. 12.   Father Richard ministered to the sick during the Detroit cholera outbreak of 1832 and then died of that disease in September of that year
The period of very rapid growth of the Catholic population ended in the 1970 and, gradually, there was less need for such a large office building. In 2015, the building was sold for $3.2 million to a developer: Barbat Holding. They then announced plans to spend about $27 million to renovate the building. Presumably, it will provide more than one hundred market rate apartments along with commercial space facing Washington Boulevard and Michigan Avenue.
Architects: Benjamin Henry Marshall and Charles Eli Fox from Chicago
Date of Construction: 1912 to 1914
Use in 2017: Undergoing renovation for use as a residential and commercial structure
City of Detroit Designated Historic District:  Not listed
State of Michigan Registry of Historic Sites: Not listed
National Register of Historic Places: Listed January 31, 2017
Photograph:  Ren Farley, May 2, 2009
Description updated: February, 2017.