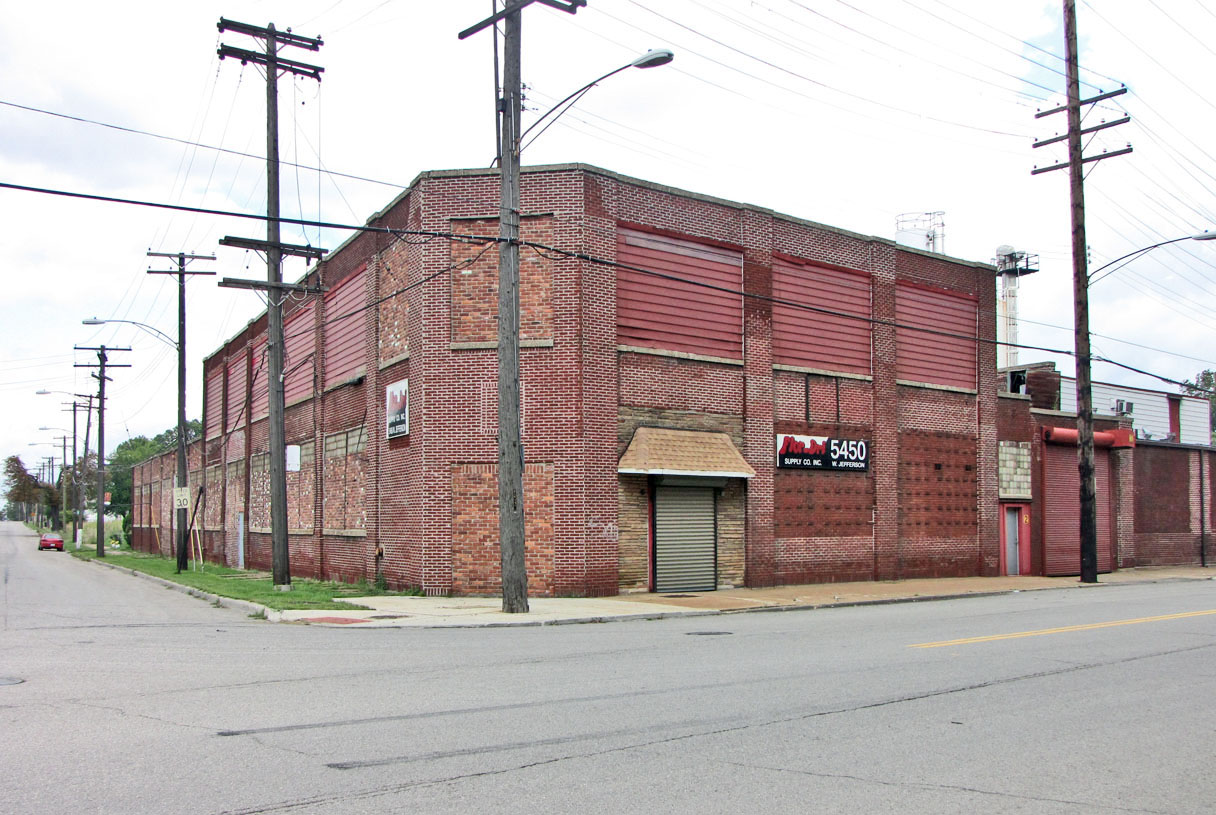 The Gabriel Richard Press Informational Designation
5450 West Jefferson
This marks the site of the first printing press in what is now Michigan.  Why was it located here, far away from the center of the village of Detroit?  I will explain later.
Father Gabriel Richard, a Sulpician priest, was sent away from France on April 9, 1792 because his superiors feared that raging anti-clericalism might cost him his life.  He lived and prospered in the United States but the anti-clerical French government, in 1797, imposed a fine of 2650 francs on his mother because of his escape. He sailed to Baltimore and then was dispatched to the St. Louis area to minister to Indians.  Father Richard traveled throughout the Midwest and apparently found himself at home in the small French village, Detroit.  He arrived for the first time in 1798, and shortly thereafter, Catholic administrators in Baltimore assigned him to that location, although he was required to travel extensively toward what is now the Upper Penninsula during the summers to minister to Indians and the French living there.
Father Gabriel Richard thrived in Detroit.  He, along with his friend, Judge Augustus Woodward, are the two key figures in the early development of Detroit as a United States city.  Tuesday, June 11, 1805 was scheduled to be a holiday in Detroit since the first territorial governor, Governor Hall, appointed by President Jefferson, was supposed to arrive, along with several other appointed officials.  However, it goes down in the city's history for a very different reason,  Local baker, John Harvey, was working in his stables and apparently left the fires in his adjoining bakeshop unattended too long.  In just a few moments, the bakery was burning.  Soon the fire spread to the other wooden buildings in the village, and in three hours, the entire city was razed by fire.  Looking at the destruction around him, Father Richard uttered the words which continue to serve as the city's motto: Speramus meliora; resurget cineribus.  (We hope for better things.  They will rise from ashes).
Gabriel Richard took the lead in providing food and shelter for the residents of the village.  Augustus Woodward, who had been appointed by President Jefferson as chief judge of the Michigan territory, did not arrive in Detroit until June 30.  He was astounded by the destruction and joined with Father Richard in trying to provide shelter and food.  In addition to Governor Hall, Judge Woodward and Father Richard, another key leader of the efforts to maintain a population in Detroit was Frederick Bates, a Detroit businessman whom President Jefferson had appointed as a territorial judge. 
By 1808 or so, Detroit was on its way to being reconstructed.  At this time, all building were constructed of wood, although they might have a brick chimney.  This meant that they were at great risk of burning down but they could also be rebuilt using timbers from the nearby woods.  St. Anne du Detroit church burned in the June, 1805 conflageration, so a new structure had to be built.  The prosperous owners of the ribbon farms north of the present downtown wanted a church built in their neighborhood.  Father Richard apparently did not object, but he favored the construction of a large complex that would include a school or schools.  Eventually, he founded six different schools in Detroit, including the institution that became the University of Michigan.  A collector of revenues owned a well equipped farm just northeast of the Fort Wayne military complex in the early 1800s.  He failed to pay his taxes and lost the property in foreclosure.  Father Richard recognized that this would be an ideal location for a residential school for Indians; that is, the students would farm the land to provide their own food.  Richard rented the farm from the federal government and sought to build a school there.  The site had historical significance for Indians since there were many burial mounds nearby.  It was also at a point on the Detroit River where Indians often crossed into Canada.
Father Richard had a difficult time raising funds for a school and new church to be located on the Spring Hill Farm.  I infer that many of the prosperous families who lived north of present-day Woodward were unwilling to contribute funds to build a church that would be located in what we know as southwest Detroit today.  August Woodward encouraged Gabriel Richard to travel to the large cities of the east to seek financial support from private individuals and governmental agencies.  He not only took Woodward's suggestion, but planned to travel to France to seek support from friends and relatives for his schools in the American wilderness.   He was, apparently, not very successful in raising funds in the east and canceled his trip to France, but I do not know the reason.
His trip, however, brought favorable results for the city.  He purchased an organ and then either a piano or harpsichord and had them shipped to Detroit, the first two such musical instruments in the city.  He also purchased a printing press, apparently from G. G. Phinney of Herkimer, New York.  He also recruited a printer, James Miller of Utica, who agreed to migrate to Detroit to manage the press.
On August 31, 1809, Detroit's first newspaper appeared: The Michigan Essay; or Impartial Observer.  The first book to be published on this press, The Child's Spelling Book appeared on August 1, 1809.  The press continued to operate until 1816 and published 52 books, most of them in French.  One of the last publications, Cass Code, appeared in 1816 and was a compilation of territorial laws.
Father Richard was unsuccessful in locating the church for St. Anne's parish on the Spring Hill Farms property on West Jefferson.  In 1818, a large St. Anne's Church was built close to downtown.  However, the press that Richard brought to Detroit was installed at the location pictured above on West Jefferson.
State of Michigan Registry of Historic Sites: P25,212, Listed September 25, 1956
State of Michigan Historical Marker:  None erected
National Registry of Historic Sites: Not listed
Photograph:  Ren Farley; August, 2009
Description prepared: October, 2009