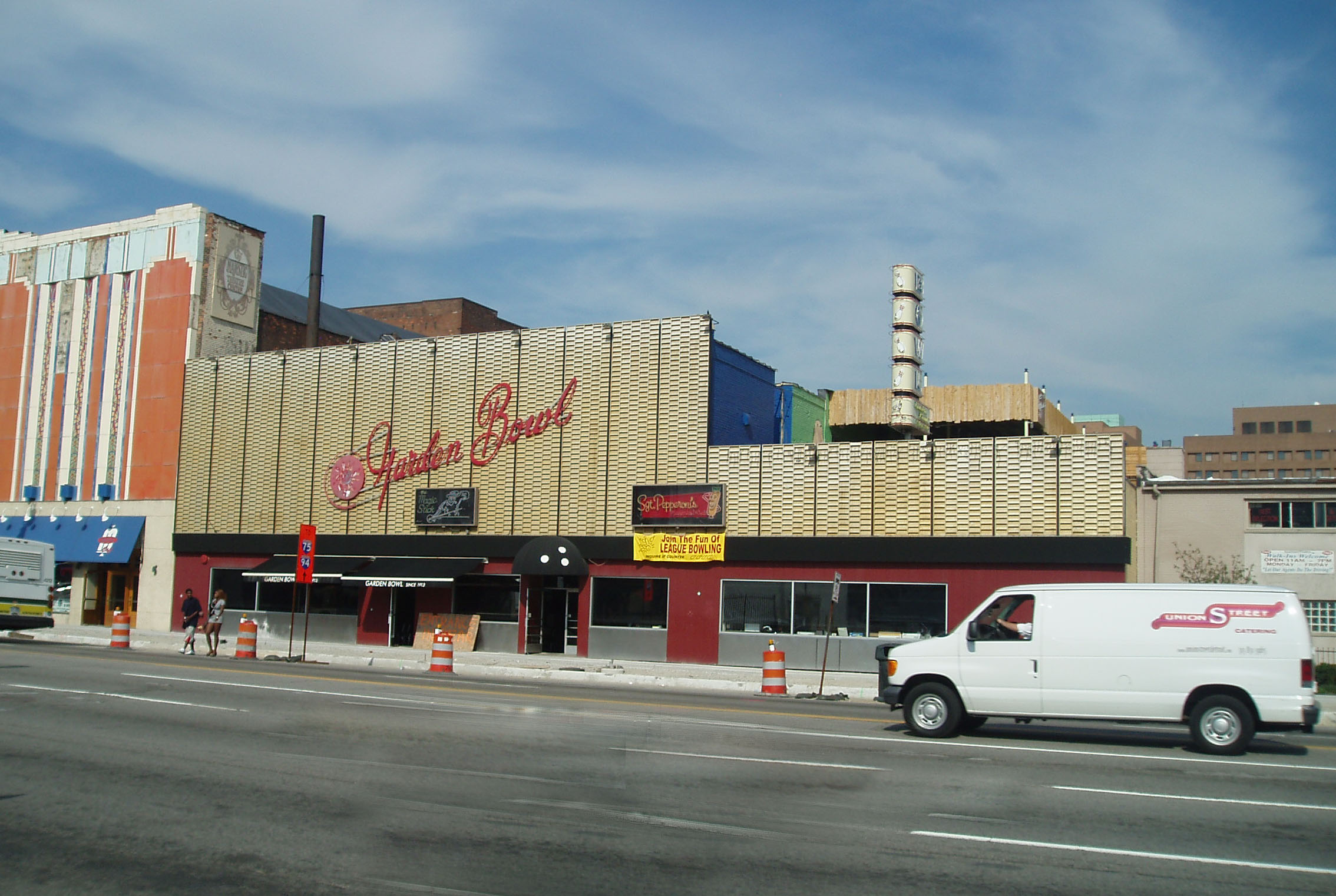 Garden Bowl Lanes
4120 Woodward
This building is listed on the National Register of Historic Sites because it is the oldest bowling alley operating in the city of Detroit. The development of recreational activities in the United States depended upon the emergence of a middle class that had time and financial resources needed. The American middle class began to slowly develop after manufacturing industries located in cities, hired thousands of workers and gradually increased their pay, often after bitter labor-management confrontations. Baseball became the first commercially successful spectator sport in the early years of the Twentieth Century. Movies became a popular entertainment, especially after sound and color were successfully added in the later 1920s.
Bowling was another popular sport, especially in the era when few households owned cars. After working all day—or on weekends—people could walk or take public transportation to a bowling emporium, bowl a few games and socialize with their friends. The proprietors organized leagues to encourage patrons to return again and again. In the years just after World War II, thousands of large bowling facilities were built in suburban rings, along with their bars, restaurants and play areas for young children. I have read that bowling was more popular in metropolitan Detroit in the 1940s and 1950s than in other metropolises, but I know of no convincing evidence on that point.
Garden Bowl Lanes was one of the first large bowling centers built in Detroit. It opened in 1914. To capitalize upon the space available, the lanes were located in the basement. The façade of the building you see was substantially changed once in 1936 when Woodward was widened. Indeed, the forward 35 feet of the 1913 building facing Woodward was removed for the widening of the artery. The façade was changed again in 1966 to make it look more modern and appealing. In 2008, this building continues to serve Detroit area bowlers. It is part of an entertainment complex that includes the Majestic Café, the Magic Stick show room and billiards parlor and Sgt. Pepperoni's pizza restaurant. I believe that the Zainea Family purchased the Garden Bowl Lanes and continue to operate the complex that is now listed on the National Register of Historic Sites.
Architect: Unknown to me
Date of Construction: 1913
City of Detroit Designated Historic District: Not listed
State of Michigan Registry of Historic Places: Not listed
National Registry of Historic Sites: Listed August 7, 2008
Use in 2008: Bowling lanes
Website: www.majesticdetroit.com/garden.asp
Photograph: Ren Farley; September 20, 2008
Description prepared: September, 2008
Return to Entertainment and Recreations Venues