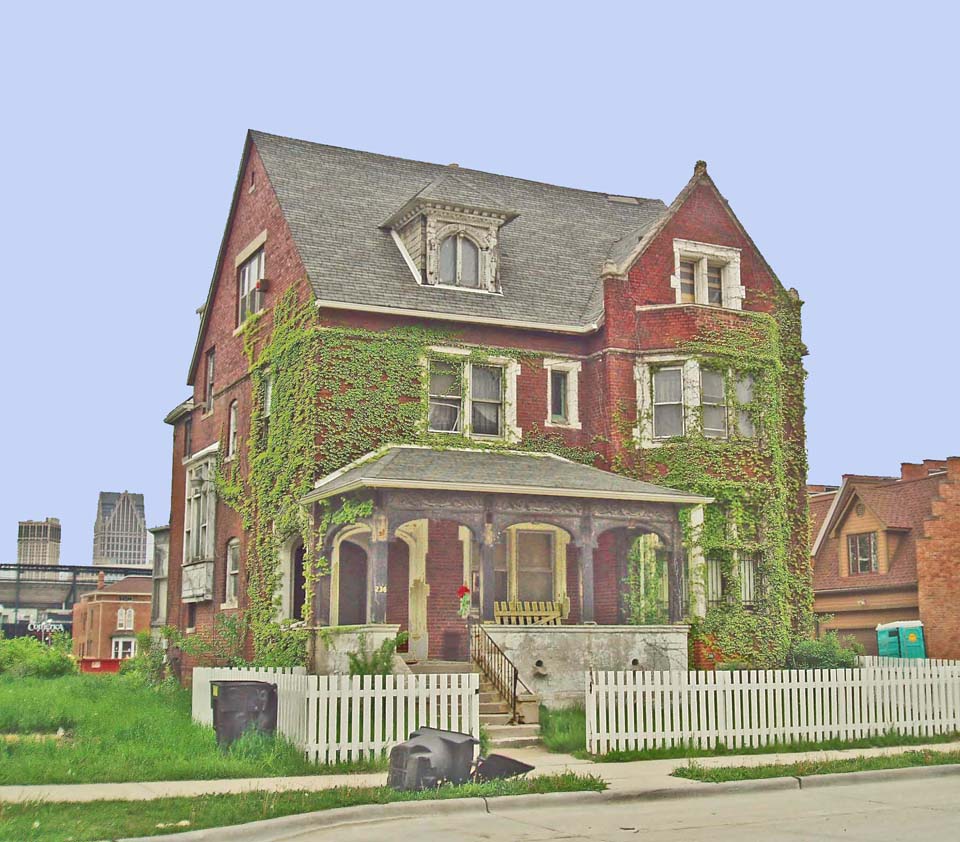 Bernard Ginsburg Home
236 Adelaide in Brush Park near downtown Detroit

Bernard Ginsburg was born in 1864 in Columbus, Indiana, but by 1881, his father had established a business in Detroit dealing in iron, steel and other heavy metals. Bernard Ginsburg graduated from Detroit High School and went into his father's prosperous business. By 1900, he was a very well-to-do businessman who sat on the boards of various firms. He became active in Republican Party politics and served as Detroit's Commissioner of Public Lighting from 1902 to 1905. Perhaps, he was best known for his very active role in Jewish charitable organizations both in Detroit and nationally. At that time there were many Eastern European Jews migrating into American cities who needed a great deal of help, and few governmental programs existed to aid the poor. Consequently, religious organizations provided assistance to many. Shortly after the turn of the 10th century, Ginsburg served as president of United Jewish Charities of Detroit and as vice-president of the National Conference of Jewish Charities.

Detroit architect George Mason recognized the exceptional talents of Albert Kahn and encouraged him to spend 1891 in Europe studying that continent's magnificent buildings. When Kahn returned to Detroit, he worked with George Mason, but in 1896, decided to enter a partnership with two other Detroit architects: Alexander Trowbridge and George W. Nettleton. The next year, Trowbridge left the partnership to accept an appointment as dean of Cornell University's School of Architecture in rural New York State. Then, in 1900, George Nettleton died.

The home that you see pictured here was designed by George Nettleton and Albert Kahn and completed in 1898. It represents the early work of Kahn. It is a two-and-one-half-story, single-family residence built with red brick and stone. The most unusual feature of this home is the carved wood arcade porch extending across much of the width and resting upon stone walls. You have to approach the home closely to appreciate the unique carvings of statues that are attached to the supports for this impressive porch's hip roof. The windows and door have frames and quoins of stones. This apparently, helps to mark this home as constructed in the English Renaissance tradition.

Detroit once had a reputation for residentially segregatind blacks and for keeping Jews out of many residential neighborhoods. Indeed, many of the developments constructed beyond Grand Boulevard were plotted with restrictive covenants to prohibit the residence of blacks or Jews. And restrictive covenants were upheld by both the state's Supreme Court and the federal Supreme Court until Orsel McGhee from Seebaldt Street on the West Side successfully challenged them in the later 1940s. The segregation of blacks dates from World War I in Detroit. I presume that the residential segregation of Jews dates from the time when restrictive covenants became popular—the 1920s. Clearly Bernard Ginsburg built his home in what was one of the city's most prestigious neighborhoods in the 1890s. There were some Detroit neighborhoods, including Boston-Edison, that did not exclude Jewish residents.
Architects: George W. Nettleton and Albert Kahn
Architectural Style: English Renaissance
Date of Construction: 1898
Use in 2007: Undergoing rehabilitation
City of Detroit Designated Local Historic District: This home is located with the Brush Park Historic District as designated by the City of Detroit.
State of Michigan Register of Historic Sites: P25126
National Register of Historic Places: #91001015 Listed August 19, 1991
Photograph: Ren Farley (January 11, 2007)



Return to Historic Residences

Return to Homepage