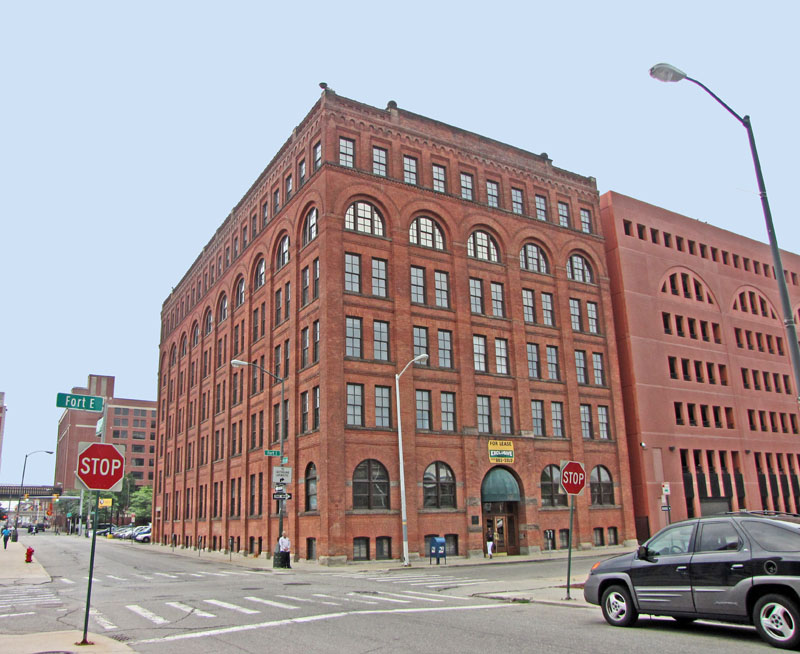 Globe Tobacco Building
407 East Fort Street in Greektown near the Renaissance Center
From the viewpoint of the Twentieth-first Century, it is difficult to believe that Detroit was once one of the nation's leading centers for the manufacturing of tobacco products, or that the largest manufacturing employer in Detroit was the tobacco industry. 
The tobacco industry got its start in Detroit in 1841 when George Miller produced chewing tobacco using Canadian leaves.  In the 1850s, numerous German immigrants arrived in Detroit, newcomers who enjoyed cigars and knew how to  produce excellent ones.  Their skills and their demand for high quality cigars helped to put Detroit on the nation's tobacco map.  In 1856, Daniel Scotten founded the firm that became Hiawatha Tobacco.  About the same time, James Bagley who went on to serve as governor of Michigan, founded Mayflower Tobacco.  In the 1850s, Rothchild and Brothers also established a tobacco firm that would prosper.  These firms primarily produced cigars, chewing tobacco and cut plug tobacco, a type of tobacco that few people recognize.  Most people are familiar with the loose chewing tobacco that you buy in a package.  They may be less familiar with cut plug.  To make cut plug, sheets of tobacco leaves were laid on top of each other.  Then the sheets were pressed together to produce a dense tobacco substance.  Originally, the pressing was done by hand, but as Detroit became a national center for the tobacco industry, machines did that pressing.  The firm would then cut the sheets into plugs and users would bite off a hank of tobacco to keep their mouth moist when they worked.  When I worked in the B. F. Goodrich tire factory in Akron in the 1950s, almost all of the men chewed; some chewed loose leaf and other cut plug.  That is where I learned of the benefits of chewing tobacco. I preferred cut plug.
Detroit emergence as a tobacco center is a consequence of geography—its location near the the fertile tobacco fields of southern Ontario—and its demography.  By the end of the Nineteenth Century, Detroit firms, including Rothchild and Brothers, imported tobacco from Cuba.
In 1871, Globe Tobacco was founded by prosperous Detroit residents, O. P. Hazard, Thomas McGraw, William Moore and Hiram Walker, to produce chewing and cut plug tobacco.  Hiram Walker is best known for the whiskey he produced across the Detroit River in elegant buildings designed by the most accomplished architects of his day.  Globe Tobacco may have been the largest of the Detroit tobacco firms and, at one time, imported more than four million pounds of tobacco annually.  The firm, in the mid 1880s, commissioned Alexander Chapoton, to erect the very appealing building that you see at 407 East Fort.
It is a six-story Romanesque Revival mill style structure designed to provide the space needed for the production of several million pounds of tobacco products every year.  The masonry walls bear weight.  Consistent with the materials of the 1880s, heavy timbers make up the floors—a desirable element when the building was converted into office space.  Note the elegant brick work at all levels of this red brick structure  The sculptured brick is very impressive.  There is an imposing one-story and one-half archway entrance on East Fort Street.  There are two sculpted hemisphere suggesting the world wide sales of Globe Tobacco.  Notice how the archway of the entrance matches the arches of the first floor windows.  This building opened in 1888.  Apparently it was the first major tobacco producing facility in the Untied States to use electricity to power its machines.  Alexander Chopoton also wished to maximize light and ventilation; thus you see numerous large windows.
The Civil War was a great boon to the nation's tobacco industry since many young men were introduced to this product during the conflict.  Indeed, tobacco was apparently traded among military men in the Civil War as if it were currency.  Cigarettes became popular after the turn of the Twentieth Century.  Detroit tobacco firms, especially the five largest producers: Banner Tobacco, Globe Tobacco, Mayflower Tobacco, Rothchild and Brothers and Scotten and Dillon produced cigarettes, but they major products were cigars, chewing tobacco and cut plug tobacco.
After J. B. Duke invented a machine to produce cigarettes at low cost, the center of the tobacco industry shifted toward North Carolina and the South.  A number of other demographic and economic factors changed tastes in tobacco consumption.  World War I helped to popularize cigarettes because many men who served in the military learned to smoke.  After World War I, norms shifted and women were allowed to smoke cigarettes but not cigars and, certainly not, chew tobacco.  Gradually, the typically place of employment shifted from the field or the factory floor to the office.  Chewing tobacco was replaced by cigarettes.
Globe Tobacco came to the end of its life in 1925—a run of just 59 years, but its legacy is the attractive red brick Greektown building that you see.  Only four Detroit cigar producers survived into the 1950s and just one into the 1960s.  The popularity of cigarettes reduced the demand for Detroit's cigars and chewing tobacco and, after Fidel Castro became Cuba's leader, many cigar makers migrated to the Ybor City neighborhood in Tampa, making that location the nation's cigar production center.
Detroit's tobacco industry also played a role in the city's gender history.  In the late 1800s, there were very few paying jobs women could find outside domestic service.  I don't know if it was a German tradition or a Jewish tradition, or some very different set of values, but Detroit's cigar producers hired large numbers of women.  In New York City at this time, women were welcome to assemble shirtwaists and other garments.  In Detroit, the wives of immigrant men could earn a paycheck rolling cigars or processing cut plug in the tobacco plants.  In 1890, Daniel Scotten apparently employed 1,200 workers at his Clark Street tobacco plant, perhaps making him the city's leading employer .  Presumably, women were the majority of those on his payroll.
Alexander Chopoton built this structure.  I believe that he was a builder rather than a formally trained architect.  He is the contractor who built the Michigan State Capitol in Lansing.  His own home is a grand late Nineteenth Century structure nearby at 511 Beaubien.
This building was remodeled in 1984 to serve as an upsclae office structure. In 2014, Dan Gilbert this 58,000 square foot building for $3.3 million, added it to his weath of downtown Detroit real estate parcels and remodeled it again.
In 2016, there were at least six major tobacco building standing in Detroit. There may be more. The ones I know about are, in order of birthdate:
Brown Brothers Cigar - 119 State Street in Capitol Park. Designed by Gordon W. LLoyd and opened in 1887. In 2015,the building was purchased by the Lear Corporation and will become a center for design.
Globe Tobacco - 407 East Fort Street. Designed and built by Alexander Chapton and opened in 1888. This building was renovated for use as offices and then purchased by Dan Gilbert's Bedrock financial and real estate firm.
San Telmo Cigar - 5716 Michigan Avenue in southwest Detroit. Designed by Albert Kahn and opened in 1910. This structure now is the home of the Southwest Solutions organization.
John P. Hemmerter Building - 230-242 East Grand River near Capitol Park. Designed by Richard Raseman. This building was also purchased in 2015 by the Lear Corporation.
Banner Cigar - 2941 West Warren. Designed by Louis Kamper and opened in 1914. Plans were announced in 2015 ro convert this structure into a gallary for art and artists.
Mazer Cigar - 5031 Grandy. Designed by Albert Kahn and opened in 1924. In 2016, this structure provided office space for the city of Detroit.

Architect or building: Alexander Chapoton
Date of Construction: 1888
Architectural style: Romanesque Revival
Architects for the 1984 renovations:  Redstone Architects
Use in 2009:  Office Building
City of Detroit Designated Historic District:  Listed June 10, 1985
State of Michigan Registry of Historic Places: P4514
National Register of Historic Sites: Listed November 13, 1984
Photograph:  Ren Farley;  August 18, 2009
Description updated: November, 2016

Return to Commercial Buildings