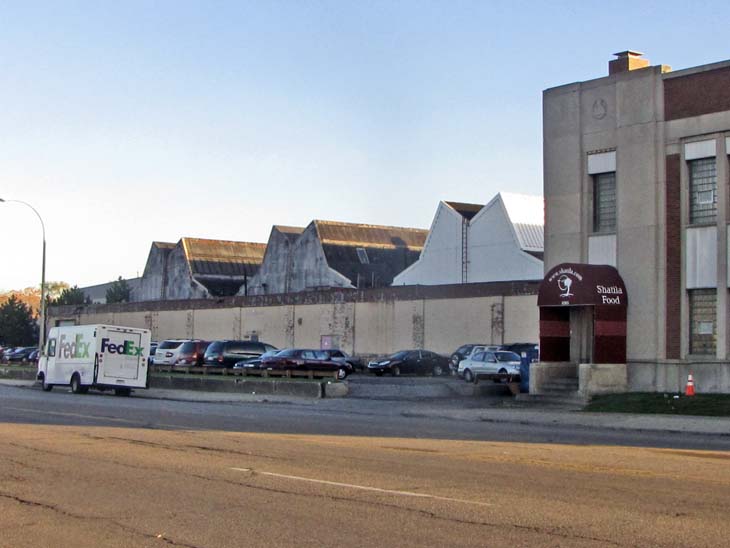 Graham-Paige Automobile Factory
8505 West Warren near the intersection with Loyno just west of the Detroit-Dearborn border

Harry Jewett was the first athlete to score a touchdown for Notre Dame in intercollegiate football.  What has that to do with this auto factory on West Warren?  Read on.  There is a connection.

The Graham Brothers, Joseph, Ray, and Robert were born in Washington, Indiana in the 1880s.  In 1901, natural gas was found in their area and a glass bottle factory was established.  The Graham Brothers participated in the development of this business, and by 1916, had a prosperous firm they sold to the Owens glass business in Toledo.   Ray Graham graduated from the Illinois in 1908 and became interested in the vehicle business.  He discovered that farmers needed trucks but that the currently-available vehicles did not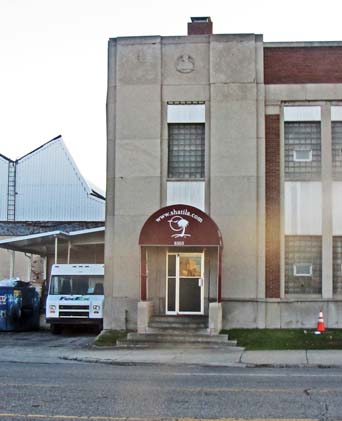 satisfy their requirements.  The Grahams developed a business by taking autos, removing much or all of the body, redesigning the back axle and, I assume, the rear suspension system, thereby creating a truck that was useful for Indiana farmers. Their standard conversion cost was about $350.  Their business grew rapidly, and by 1920, they had a well-established firm in Evansville building truck and bus bodies that they attached to chassis.

The Dodge bothers, in Detroit, manufactured many of the parts for Henry Ford's vehicle in the early years of the Twentieth Century.  But their business relationship with Ford became strained, and after 1914, they decided to set up their own auto manufacturing firm.  Henry Ford did not miss them for long since he decided to manufacture all the component parts he needed.  By 1918, the Dodge brothers were successful entrepreneurs and were well along in building the huge Dodge Main plant that once stood at the border of Hamtramck and Detroit, a factory that eventually employed upwards of 35,000 workers.

The Dodge brothers realized they were not producing for the truck market.  In the late teen years, they began cooperating with the Graham Brothers in the production of trucks.  By 1921, the Grahams came to Detroit and began building trucks for Dodge using, I assume, many Dodge components.  The trucks, however, were marketed by Dodge but bore the Graham nameplate.  The original Graham truck factory was on Meldrum Avenue, but in 1922, they built a larger one on Conant and then, in 1924, a plant on Lynch Road in Detroit.  Production of Graham Trucks rose from about one thousand in 1921 to 37,000 in 1926.  I believe the Dodge-Graham group also had truck assembly at plants in Toronto, Windsor and, perhaps, Florida and California.

Both Dodge Brothers died suddenly in 1920. Their surviving spouses sold their highly successful auto business, in 1925, to the Dillon-Reed investment business from New York.   Indeed, the Cranbrook facilities that we now cherish were funded, in large part, by assets the Dodge widows obtained from the sale of the Dodge business.  Later in the 1920s, Walter Chrysler began to take over Dodge for the huge car company he quickly assembled.  At this time, Dodge was still producing and selling Graham trucks.  But as Chrysler took over Dodge, the Grahams decided to terminate their connection with Dodge.  They sold their substantial share of the Graham truck business to the new owners of Dodge for quite a few million in 1926 and established a holding company.  One of their first decisions was to invest 11 million in Toledo's Libby-Owens glass company.

Having been highly successful in the vehicle business, the Grahams apparently found it less than rewarding to manage equity.  They quickly got back into Detroit's vehicle business.

Frederick Osborn Paige was born in 1863.  He grew up in Detroit, and by the 1880s, ran a prosperous paper business.  The following decade, he entered the insurance business.  Realizing that automobiles might be financially rewarding, he established the Reliance Automobile Company in Detroit in 1904.  At the start, that firm only produced cars in a factory located on East Fort Street.  The firm was successful and produced about one thousand cars in 1905.  With their new 1906 models, they offered a car and a commercial vehicle.  Apparently Frederick Paige saw a niche in building trucks, so after 1907, they primarily turned out trucks.  In 1909, Paige sold Reliance to Wil Durant who, along with Henry Carpo, was beginning to assemble the array of vehicle producers that soon became General Motors.  Durand was an investor who would build a factory in Owosso, so the firm moved them and produced Reliance trucks until 1912 when production shifted to Pontiac where the GMC label was used.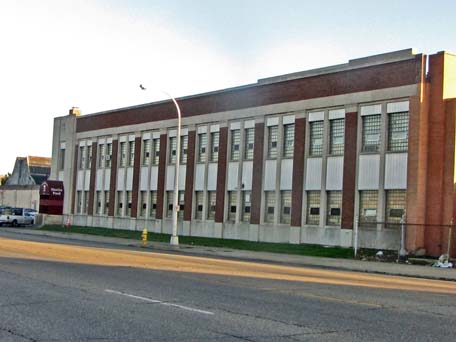 In 1909, Paige decided to return to the auto business.  Here is where the Notre Dame football player Harry Jewett enters this story.   After Jewett graduated from that South Bend college in 1890 with a degree in civil engineering, he moved to Chicago and became an entrepreneur, but one who served in the Navy during the brief Spanish-American war.  Along with other investors, he purchased coal mines and became a coal broker and wholesale merchant.  He operated his business from Chicago, but in 1903, moved to Detroit to expand his business.  I infer that he made a number of successful investments and prospered in the Motor City.  When Frederick Paige sought funds to invest in his new car company, he turned to Harry Jewett.  They formed the Paige-Detroit firm and began building cars bearing that name.  They were quite successful marketing rather upscale vehicles that included numerous engineering innovations.  For example, in 1912 they were the first brand—other than high priced luxury brands—to include an electric self-starter.  Paige-Detroit originally used a large brick factory on 21st street near Baker that had previously been used by Stearns Pharmaceutical.  I believe that building was razed since it was close the to the United States foot of the Ambassador Bridge. By the mid-teens, the firm kept its own name but sold its cars under the Paige name.  At some point, Paige apparently lost interest in the day to day management of the auto firm.  He moved to New York City and established a chemical company, but continued to own shares in his former company until 1930.

Sales were good in the period immediately following World War I, but there was a brief economic slump early in the 1920s and Paige sales declined.  By this time Harry Jewett was running Paige-Detroit.  He decided that they needed to produce a high quality but lower priced car.  He did so and, not being humble, called it the Jewett.  Throughout the 1920s, the firm produced both Paiges and Jewetts but sold more of the lower priced Jewetts.  They were not, however, what we would call an economy or very low priced car.  By the time the last Paige or Jewett rolled off the assembly line in 1928, about 400,000 had been produced meaning that it was among the more popular and successful cars of its era.

In 1927, the Graham Brothers purchased all of the common stock of the Paige-Detroit firm and Harry Jewett retired from the automobile business.  The Graham Brothers announced that they would produce a line called Graham-Paige cars.  They introduced their new model at the 1928 auto show in New York and accepted many orders.  Indeed, in 1929, they set a production record for the first year of a new car—about 73,000.  General Motor's Pontiac held the old record of a production run of 70,000 for the first year of that make's existence.

The plant you see pictured above was completed, I believe, in 1928.  Paige-Detroit purchased 45 acres in Dearborn just west of the Detroit city line and began erecting this factory.  It is a large, modern plant where many cars were built through the early 1960s.  This new plant may have helped make Paige-Detroit attractive to the Grahams.  I do not know the architect for this plant, but it resembles the factories that Albert Kahn designed in this era.  Note the attractive office building that faces West Warren with the sculpted medallion above the entryway.

The great 1929 success of Graham Paige was not repeated.  The Depression greatly curtailed auto production. Production in 1930 was about one-half what it was in 1929. The Grahams continued to bring out new models in the 1930s, but they could not sell many of them.  Similar to other manufacturers, they brought out new lower priced cars with engineering innovations, but there was little market for them.  They produced only 13,000 in 1932. That year they tried to see a Blue Streak line with modern styling.  In 1934, they introduced supercharged models.  By the mid 1930s, Graham-Paige decided that they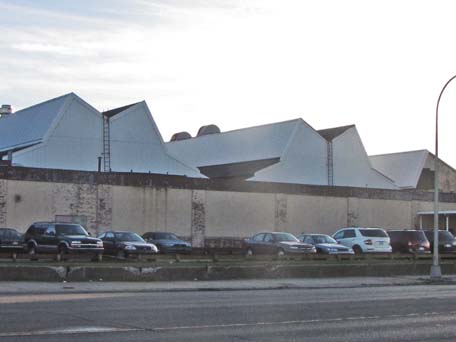 would become the leader in style and produced some very streamlined cars.  In 1936, they introduced models designed to convey the "Spirit of Motion."  These were nicknamed "Shark nose" because of the very futuristic design of the radiator area and its separation from the front fenders. For a very brief period in 1937, sales picked up and optimists assumed that the Depression was ending.  That was not the case and, although Graham-Paige brought out more new models, they did not sell. Graham Paige ceased making cars for a long span in 1939 and investigated a collaborative arrangement with the Hupp firm to manufacture stylish models using the body styles of the very attractive Cord, designed and produced by an Indiana firm that did not survive the Depression.  Graham-Paige reopened their assembly plant in 1940, but after assembling fewer than 3,000 cars, quit for good.  Many of these, I believe, were Huppmobile Skylark models.  This was another very stylish and modern car that has been a valuable collector's item but was not popular when assembled in this plant on West Warren.

Interestingly, although the Grahams got their start by popularizing trucks and made their original fortune designing and building trucks for Dodge, they did not produce many trucks when they ran Graham-Paige.  In 1930, they decided that their cars should be known as Grahams, rather than Graham-Paiges.  But the used the name Paige for a line of trucks.  Apparently as they developed their truck, Walter Chrysler reminded them that when they severed their connection with Dodge, they promised to stay out of the truck business for five years.

Fortunately for the Grahams, munitions productions picked up just after they quit the auto business in the summer of 1940.  Similar to other Detroit firms, their firm prospered during World War II.  As the war was winding down, the Grahams announced that they would return to the auto business.  However, they needed capital to design and produce a new line of vehicles.  Originally, they started working with Joseph Fraser.  He had served as president of Graham-Paige in the 1930s, but later became an executive at the Willys vehicle firm in Toledo, then well known for producing thousands of Jeeps.  Frazer returned to a management role at Graham-Paige during World War II  and announced that he wished to start his own auto firm as soon as the war ended.  He needed much capital for news dies and equipment so he went around the nation looking for someone to bankroll the auto company he wished to create.  Luckily for him, he found Henry J. Kaiser, a California multimillionaire whose fortune came from the steel industry.  Apparently, once Fraser found Kaiser and his bankroll, he lost interest in cooperating with the Graham brothers. I think that Joseph Frazer thought he would produce cars with the Graham Brothers at the West Warren plant, but once he tapped Henry Kaiser's capital, he set his sights higher.  I believe that a few early models of the Fraser were assembled in the plant you see, but most of the 7,000 Frasers that were ever built were assembled in Ypsilanti. The Graham-Paige and Kaiser-Frazer firms were linked financially. However, Kaiser and Fraser had hopes for producing cars in very large numbers.  Albert Kahn's firm had built a huge factory at Willow Run Airport in Ypsilanti where B-24 bombers were assembled.  This is the factory, run by Henry Ford and the Ford Motor Company, that turned out a new B-24 every hour.  Ford, however, did not wish to buy or use the Ypsilanti plant so it was surplus.  Kaiser and Fraser elected to assemble their briefly successful cars there.

The Grahams gave up on the auto business in 1947 and sold this West Warren plant to Chrysler.  From 1947 to 1959, Chrysler built the bodies and other components for DeSotos at this plant.  After that Chrysler terminated the DeSoto line, this plant was used for assembling Chrysler Imperials from 1959 to 1961.

The Graham-Paige firm, however, was not done.  Returning to its roots, it became an investment firm specializing in real estate. It became well known for owning Madison Square Garden in New York.  Graham-Paige was eventually bought out by other investors and its descendents are now included in the present day Viacom empire.

Kaiser-Frazier ceased making automobile in 1955, but the surviving company purchased the Willys Corporation that made Jeeps, trucks and a few automobiles.  In 1970, they sold that firm to the American Motors Corporation that emerged from the Hudson and Nash automotive firms.  American Motors was later purchased by Renault, but somewhere along the line, Chrysler purchased the division that manufactured Jeeps in Toledo.

Harry Jewett continued to prosper.  He built a very large lakefront home in Grosse Pointe Shores at 625 Lake Shore.  After leaving the auto business, he invested in other Detroit enterprises.  He also owned a 4,300-acre summer estate in Ogemaw County in northern Michigan.  That property was acquired by the State of Michigan in 1944 and is now known as Rifle River State Park.  The largest lake in that park bears the name of the first man to carry pigskin across the goal line for Notre Dame.

Architect: Unknown to me
Architectural style: 1920s manufacturing facility with saw-toothed roof
Date of construction: 1928
Use in 2010:  A major component of the building is used by Shatila Food Products
including a retail bakery and wholesale facilities.  http://www.shatila.com/
Website for Graham-Paige owners and fans: http://www.graham-paige.com/
Website for Paige-Detroit history: http://www.wcroberts.org/Paige_History/1905_Introduction.html
State of Michigan Registry of Historic Sites: Not listed
National Registry of Historic Places: Not listed
Photograph:  Ren Farley; November 10, 2010
Description prepared: November, 2010

Return to Industrial Sites

Return to Homepage