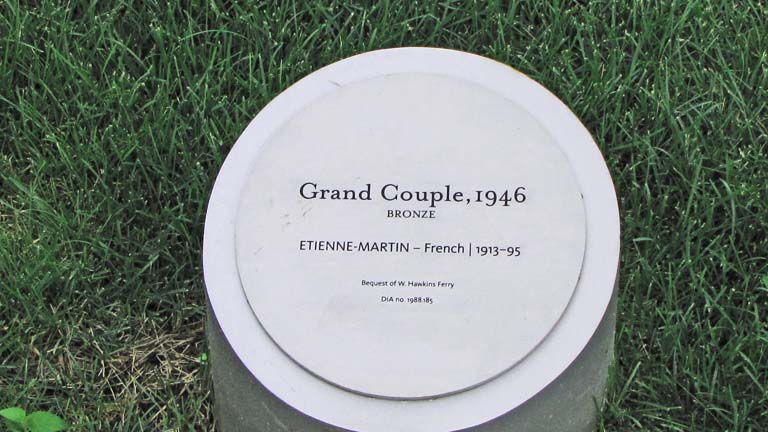 Grand Couple
Located in the Josephine Ford Sculpture Garden on the campus of the College for
Creative Studies at the intersection of John R. and East Kirby in Detroit's
Cultural Center
Etienne Martin was born in Loriol, France in 1913.  From 1929 to 1933, he studied at the École des Beaux Arts de Lyon when he became an artist and sculptor.  From 1938 until his death in 1995, he lived in Paris, with the exception of a span during World War II when he was held prisoner in Germany.

He was an innovative artist who designed a set of sculptures called Demeures.  They were to be lived in so that the inhabitants could appreciate them from the inside.  I believe that a few of them are on public display in Parisian parks.  He was also, in the early 1960s, among the first sculptors to make extensive use of fabric.  In the 1970s and 1980s, he was the head of the Sculpture Program at the École National Supérieure des Beaux Arts in Paris.

Quite a few of Etienne Martin's large and rather abstract sculptures may be found in or near the museums and sculpture parks of Western Europe.  I do not believe that many of his works are on display on this west side of the Atlantic.  The bronze sculpture that you see here was produced in 1947.  I believe that it was originally located in Martigny, Switzerland.  I do not know the story of how it was obtained by the College for Creative Studies for the Josephine Ford Sculpture Garden.
Sculptor: Etienne Martin
Date of Creation: 1947
Material:  Bonze
Use in 2011: Public Sculpture
Picture: Ren Farley, May 21, 2011
Description prepared: June, 2011

Return to Public Art and Sculpture

Return to Josephine Ford Sculpture Garden

Return to Homepage