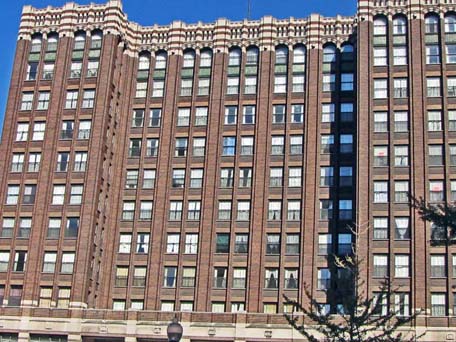 Griswold Building/The Albert
1214-1230 Griswold Street on Capital Park in downtown Detroit

Detroit's economy and population size grew more rapidly in the 1920s than in any previous decade as the booming vehicle industry propelled the metropolis into one of the world's leading manufacturing centers. There appeared to be an unlimited demand for more downtown office space so investors commissioned the Detroit's most popular and busiest architect, Albert Kahn, to design a 12-story edifice on the east side of Capitol Park. Kahn invoked many classical themes in his designs for the nearby First National Bank Building on Campus Martius and for his National Landmark Building, the General Motors or Durant Building in Detroit's New Center. He also used Art Deco styling for another of his National Landmark structures, the Fisher Tower. For this Griswold building, he used a different approach. There is a three-story base faced in attractive limestone that provided space for retail shops. And then there is the additional nine-story red brick-faced structure that once provided extensive office spaces. Then, at the roof line, he added a playful assortment of decorations that are neither in the classical nor in the Art Deco style. I read descriptions of this building that mention Art Modern as the style, but I am not sure what that means. Albert Kahn designed a research building for General Motors at about the same time, the Argonaut Building that has been successfully renov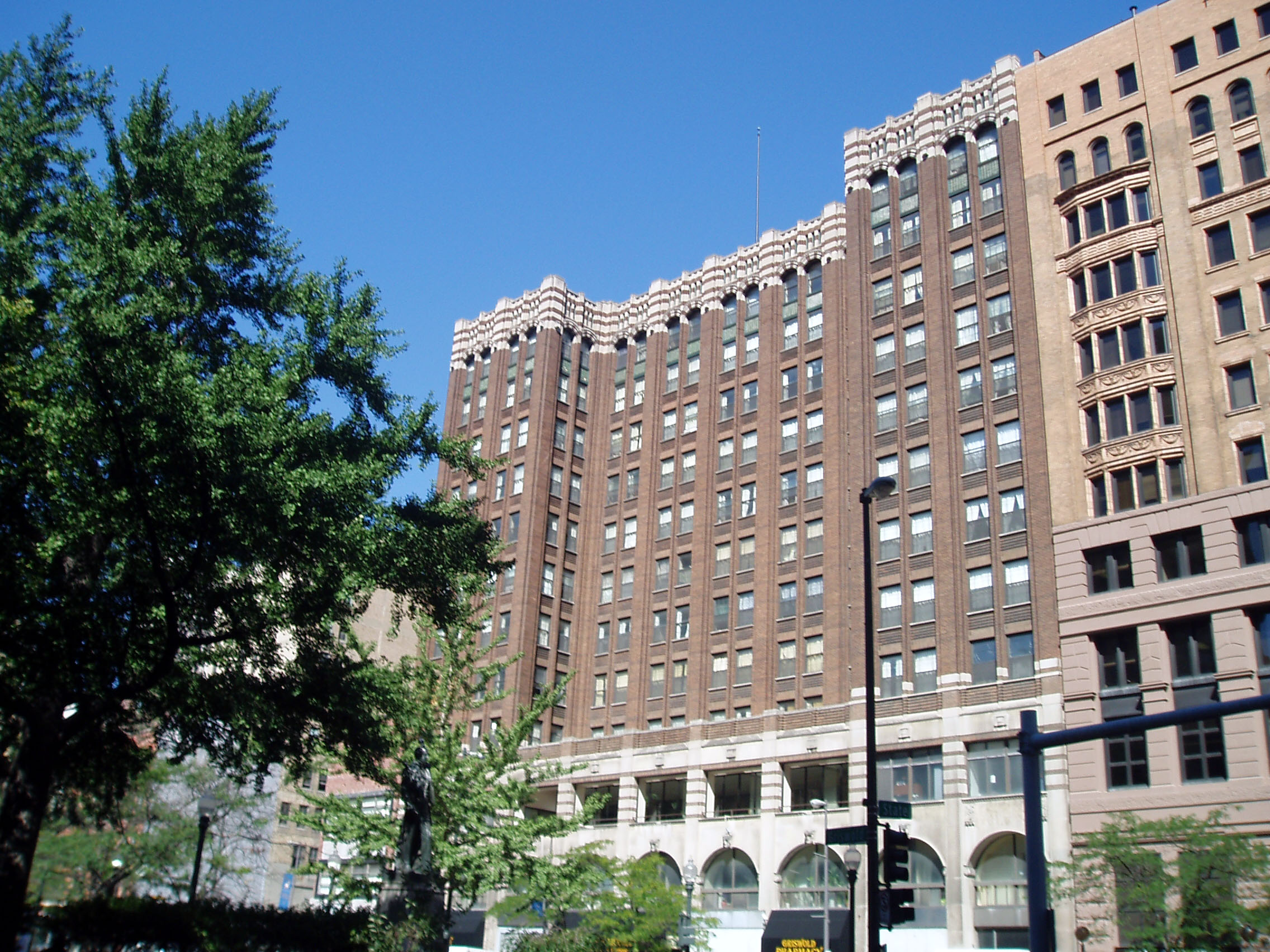 ated by the College for Creative Studies. In some ways, this Griswold Building seems to resemble the Argonaut Building. The Griswold Building provided office space for many years but, around or shortly after 1980, it was converted into housing for the older population.

This building carries the name of the street it faces. Griswold refers to Roger Griswold who served as governor of Connecticut in 1811 and 1812. Born in Lyme, Connecticut in 1762, his was a well-established Connecticut family. Indeed, his grandfather and his father both served as governors of the Connecticut colony when the British ruled North America. Griswold graduated from Yale College in 1780 and began to study law. He was, of course, too young to have served in the Revolutionary Army. He was elected to serve five terms in Congress and then was appointed to be a justice on the Connecticut Supreme Court. He later served as lieutenant governor of Connecticut and was serving as governor when he died. Interestingly, after Congress and President Madison declared war on Britain in 1812, the president asked Governor Griswold to raise four companies of troops to serve as a home guard for his state. Most New England politicians strongly opposed the war against England since their commercial and trading interests were allied with those of the British. The prospect of the United States gaining firm control of the Northwest Territories held little appeal in New England. Governor Griswold refused to raise those troops for President Madison. Key battles of the War of 1812 were fought on Lake Erie and the British occupied Detroit for almost a year in late 1812 and 1813. So why is a very major street in Detroit named after a Connecticut Governor who opposed the War of 1812?

William Woodbridge was born in Connecticut, but as a youngster, moved with his family to Marietta, Ohio in 1890 where he met and eventually became friends with Lewis Cass. After the War of 1812, was concluded, President Madison appointed Lewis Cass as governor of Michigan Territory. In 1814, Lewis Cass recruited his friend William Woodbridge to come to Michigan to serve as Secretary of the Territory and collector of customs at the port of Detroit. Woodbridge took that job and came to Detroit. While Lewis Cass served as governor, he entertained plans for higher level political appointments. Indeed, he served as Secretary of War during the Jackson Administration and then as ambassador to Paris. Cass traveled a great deal and, whenever he was away from the Territory, Woodbridge acted as governor. Woodbridge also served as the territory's first representative in Congress. Woodbridge's name appears on the Detroit neighborhood he helped to develop while Trumbull Avenue carries his wife's surname. Woodbridge honored Connecticut Governor Griswold by naming a street after him.

Perhaps the renovation of Capitol Park in 2010 and the opening of the refurbished nearby Book Cadillac Hotel will spark many more renewals of buildings in this area including the very fine but now empty Chicago style Farwell Building that also faces the park. The Broder and Sachse real estate services firm obtain control of this building in about 2014. They invested in modernizing the building for retail use at the street level. The upper eleven floors were converted into 127 luxury apartment units. This reflects the demand for upscale residences in downtown Detroit as a result of many favorable developments. The building was renamed: The Albert.

Date of Construction: 1929
Architect: Albert Kahn
Architectural style: A bit Art Deco and, maybe, a bit Modern
Use in 2016: Upscale apartments
Website for the builing: http://www.thealbertcapitolpark.com/
City of Detroit Local Historic District: Not listed
Photograph of Building in logo construction: http://www.mocpages.com/moc.php/31870
State of Michigan Registry of Historic Sites: P25133. The Griswold Building is also within the State of Michigan's Capitol Park Historic District, # P35753.
State of Michigan Historical Marker: Not erected
National Register of Historic Buildings: Listed June 9, 1980
Photograph: Ren Farley; September 30, 2010
Description updated: December, 2016
Return to Commercial and Office Buildings