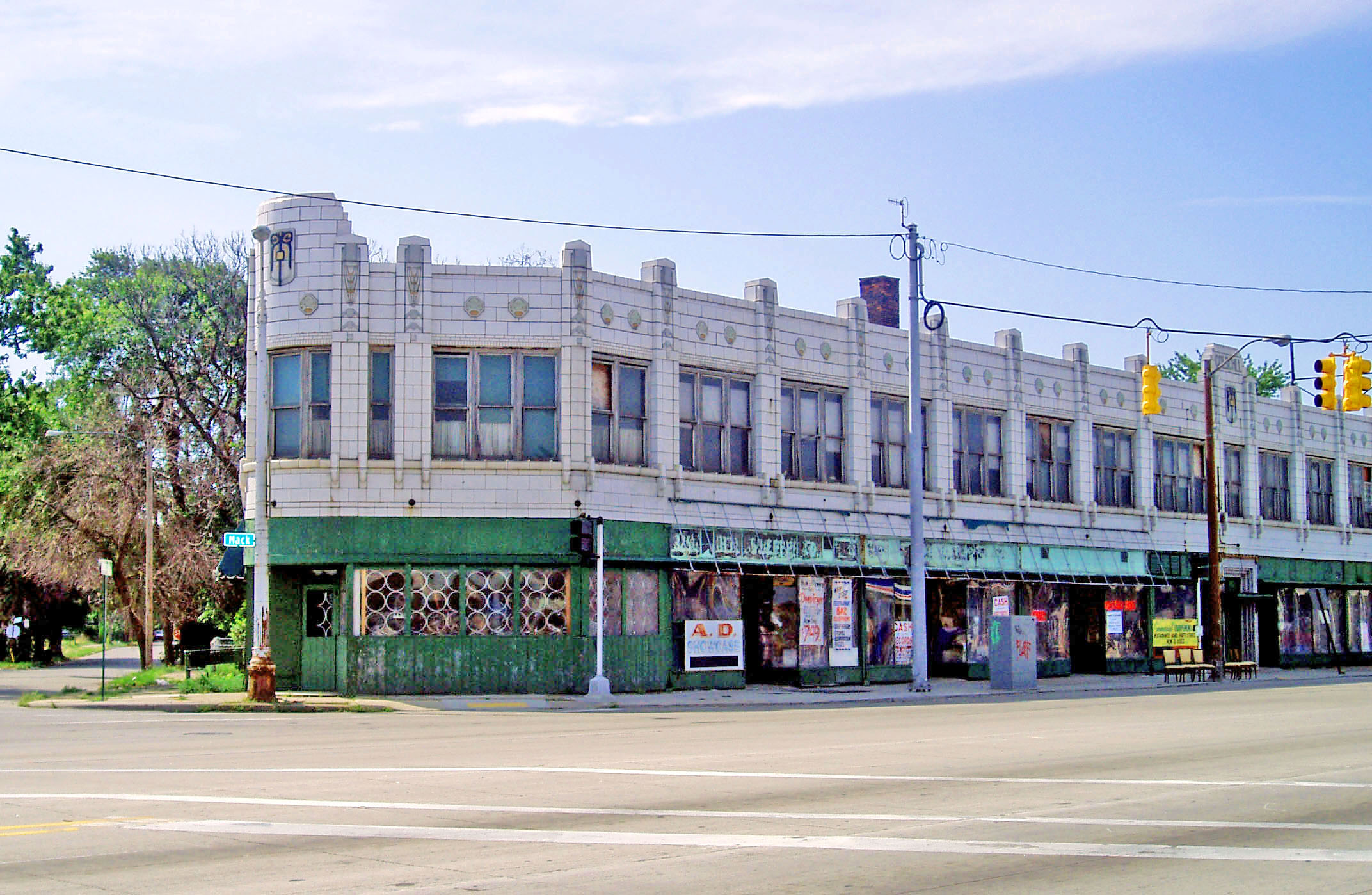 Groeschel Building
Gratiot at Mack on Detroit's East Side
If you walked through or drove around the residential neighborhoods of cities that grew rapidly during the 1920s, you would see many structures similar to this one. Land was not extremely expensive, so developers did not have to build many-storied buildings to get satisfactory returns on their investments. Two-story buildings were the rule. On the ground floor, commercial spa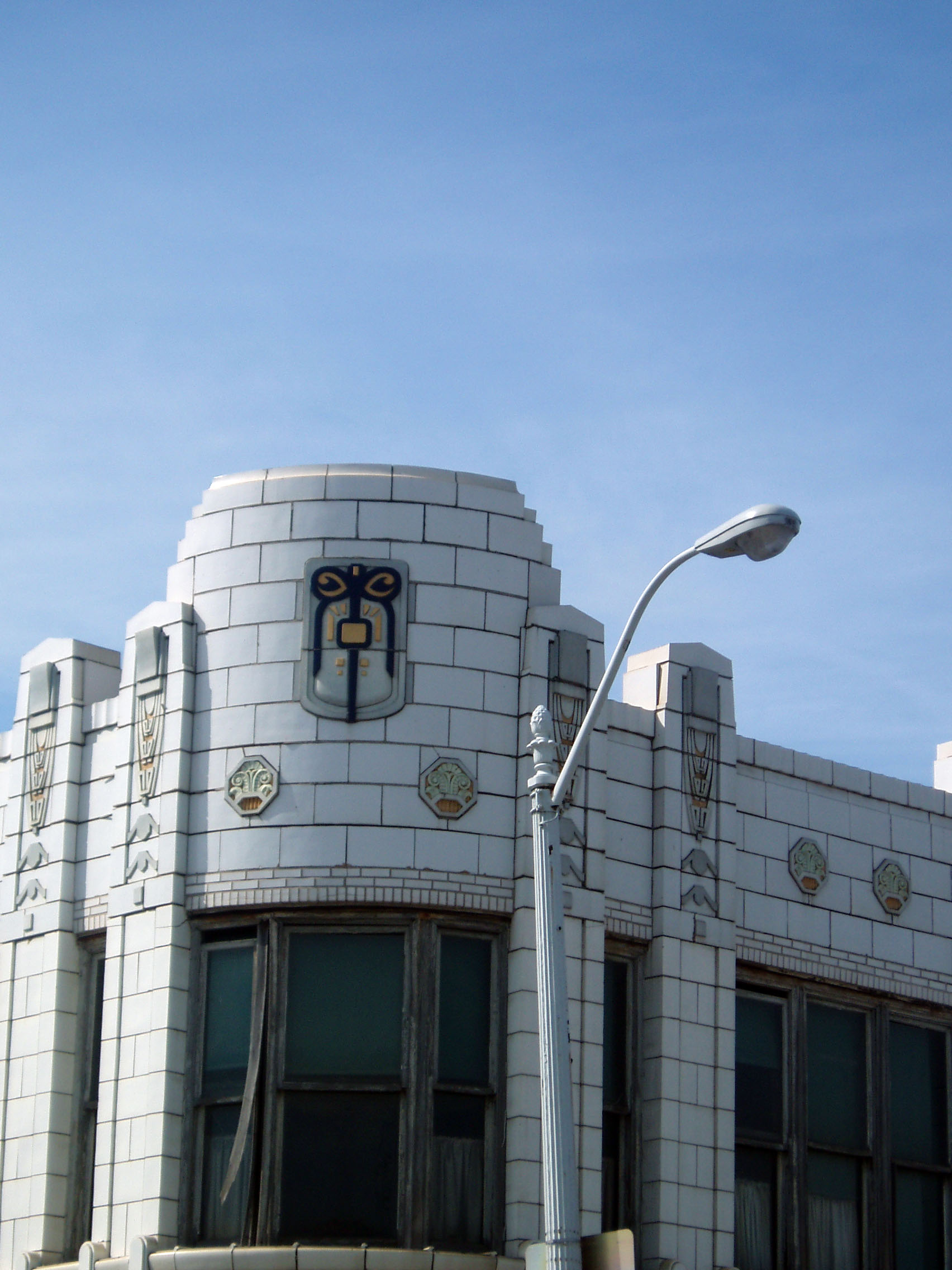 ce was rented to merchants who sold their wares to the neighborhood's residents. On the second floor, there was office space for professionals whose clients resided nearby—dentists, doctors, lawyers and a few bookkeepers. At that time, most doctors had an office in the neighborhood whose residents they served, and many or most practiced medicine on their own. The idea of doctors maintaining their offices in a hospital or medical clinic was a development of the 1960s.
The building you see differs from most such building because of how faithfully the architect executed the Art Deco design. If you look to the roofline, you will see an array of interesting designs that appear only in Art Deco buildings. I find them attractive. They certainly are different from the gargoyles and roofline embellishments used in the late Nineteenth Century. At the building's attractively curved prow, pointed at the intersection of Mack and Gratiot, you see a colorful design in green that distinguish the structure. And the name of the developer, Goeschel, appears in a bold Art Deco script above the Gratiot Avenue entry where customers entered then climbed stairs to see their doctor or dentist. The white glazed terra cotta tile must have gleamed in the sunlight when the building was new. Presumably, it would gleam once again were this building renovated. Alas, the population in the nearby neighborhoods has fallen sharply since the 1950s, so investors may think twice about putting funds into this structure.
I know very little about this building, the history of its users or the developers who made the excellent choice of an Art Deco design. I know of a few other Detroit structures these architects designed but none of them are in the Art Deco style.
Architects: Mildner and Eisen - Detroit architects
Architectural style: Quintessentially Art Deco
Date of construction: Presumably the 1920s
Use in 212. Until recently a restaurant supply store used ground floor commercial space. The building appears to be underutilized.
Book concerning Art Deco in Detroit: Art Deco in Detroit by Rebecca Binno Savage and Greg Kowalski (Charleston, S. C.: Arcadia Press, 2004)
Website of the Detroit Area Art Deco Society: http://www.daads.org/
City of Detroit Designated Historic District: Not listed
State of Michigan Registry of Historic Sites: Not listed
National Registry of Historic Places: Not listed
Photograph: Ren Farley, August 11, 2007
Description updated: May, 2012
Return to Commercial Buildings