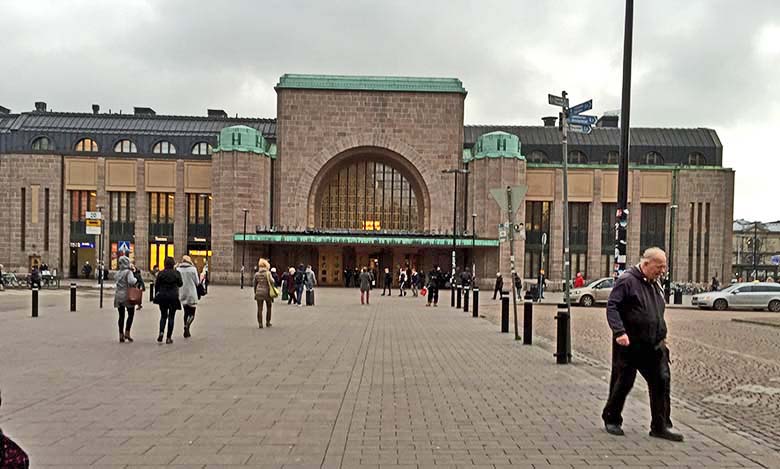 Helsinki Central Railway Station
Helsingin Päärautateasema
Stationsplatsen
Helsinki, Finland

Why, oh why, is the major railway depot in Helsinki included on a website devoted to the history and future of Detroit?  The answer is Eliel Saarinen.  He is one of the most accomplished and innovative architects to make major national and international contributions from a home base in the greater Detroit area; at least for the second half of his long and very distinguished career.  The structures at Cranbrook are a tribute his talent.  But before that, he designed many buildings in Finland with the Helsinki Railway station being his most appreciated and enduring achievement.  It will likely be an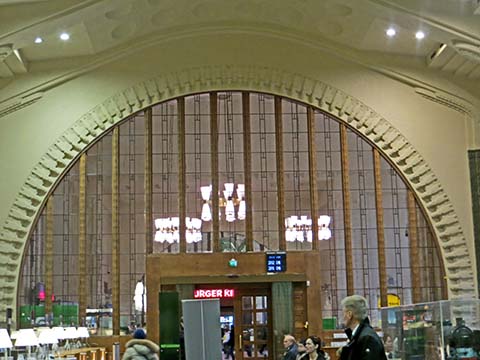 architectural marvel and busy rail station a century from now.

Eliel Saarinen was born in 1873 in what is now Finland.  At the time of his birth, however, Finland was an autonomous Grand Duchy of Russia.  His father was a minister assigned to a church located near St. Petersburg.  As a young person, Saarinen visited the Hermitage often. He greatly appreciated painting and assumed that he would become an artist.  He attended college in Helsinki with intentions to study art but shifted his interests a bit to architecture.  He also studied city planning as that discipline was then developing.

At an early age, he gained considerable fame.  While still in his twenties, he established a firm in Helsinki with Herman Gesellius and Armas Lindgren.  They quickly were awarded a number of contracts to design buildings in Helsinki, but they distinguished themselves and came to international attention with their imaginative design for the Finnish pavilion at the 1900 Paris World's Fair.  This was a creation that Saarinen accomplished before thirtieth birthday.  He was recognized for a distinctive style of Romantic architecture that incorporated some elements from the then popular Arts and Crafts movement, but apparently, many more elements from Finnish architectural traditions.

Helsinki's major railroad station dated from the 1860s and, by the turn of the last century, it was obsolete.  As early as 1904, th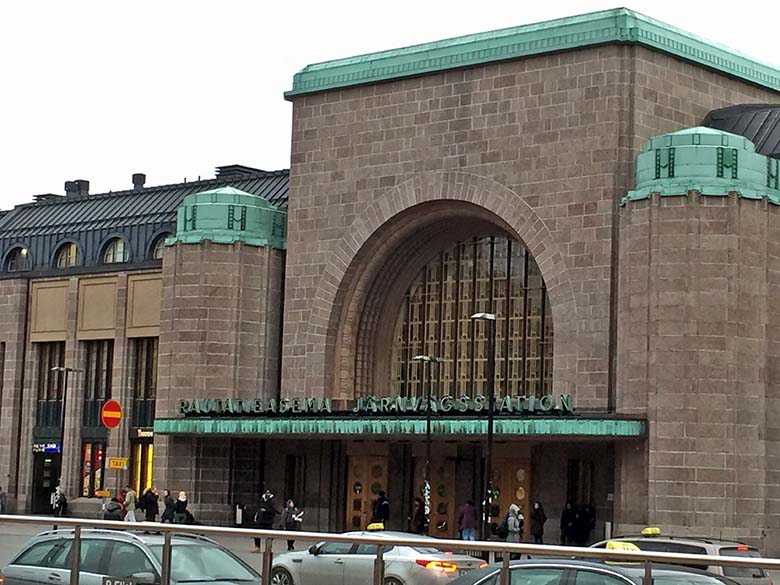 e city planned to build a much larger and more modern station.  Saarinen was selected to design the building.  His original ideas called for a structure that would include medieval elements, traditional Finnish architecture and romantic elements.  If you think about the major railroad depots being designed for major United States cities at the turn of the Twentieth Century such as New York, Washington and Chicago, you realized that their architects were quite strongly influenced by classical architecture.  You often find Greek pillars and other elements of classical style.  Saarinen's station in Helsinki ranks, in terms of architectural ken, with the most impressive stations in this country but you realize that it involves modern architecture, not ideas borrowed from Roman and Greek designers. 

Saarinen's first plans for the Helsinki depot were criticized so he sketched a very different building, the one that you see pictured here.  It certainly has many Art Nouveau features.  Actually, it is a glorious and massive building that suggests Art Deco to me.  I am a little confused about the dates for this depot.  I have read that the design began as early as 1904 and that the construction may have occurred between 1910 and 1914 but the building was not dedicated until 1919.  World War I may have delayed completion.  Saarinen maintained an interest in city planning so he designed a very major plaza to be located in front of the memorable depot.  He may also have drawn up plans for the neighborhood in which the station is located but I do not believe they were executed.  Saarinen has quite a record of designing cities or neighborhoods and, for much of his life, wrote about city planning.  I believe that he designed a master plan for Tallinn, the capitol of Estonia.

The Russian Revolution of 1917 led the Finnish officials to seek independence for Finland.  More or less peaceful negotiations were carried out and, by the end of 1917, the new Bolshevik government of Russia recognized the independence of Finland.  However, in early 1918 a Civil War broke out in Finland about how the nation was to be governed.  The Finnish Social Democratic Party led one faction while the other was led by the conservative and non-Socialists who dominated the nation's Senate.  The war was over by May of 1918 but more than 1 percent of the country's population of three million were killed in the bloody Civil War.   The Finnish economy nosedived just after the end of the nation's Civil War and World War I.  There were very few employment opportunities for architects.

In the early 1920s, the McCormick family, owners of the Chicago Tribune—the most prominent newspaper of the Midwest, wished to erect a distinctive and impressive new building in Chicago to be identified as Tribune Tower. They established an architectural competition with $100,000 in prizes, half of it going to the architect whose design was selected.  It was a well-publicized competition designed to bring great attention to the newspaper and its ability to erect a dominating skyscraper in Chicago.  Saarinen entered that competition, but finished second.  However, his design for the Chicago Tribune Tower is either one the most frequently reproduced or the most frequently reproduced sketches of a never-built structure.  Clearly, the denizens of the architectural world looked over the entries and concluded that Saarinen accomplished something brilliant in his design for a Chicago skyscraper.  It was, again, a modern building, breaking with architectural traditions.  But the o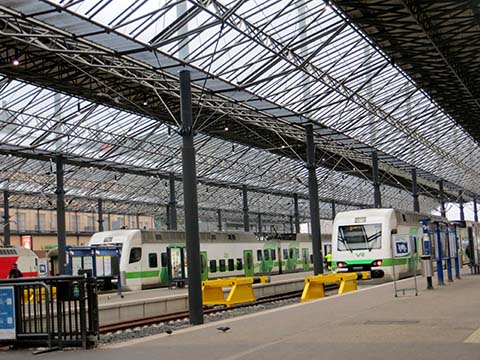 wners of the Chicago Tribune opted for a far more traditional neo-Gothic style structure designed by the New York firm of John Mead Howells and Raymond Hood.  Saarinen's design was never executed but when the Gulf Oil firm built an office building in Houston in 1929, the designers—Alfred Finn, Kenneth Franzheim and J. E. R. Carpenter—borrowed extensively from Saarinen's plans for Tribune Tower.  I believe this building was recently renamed the JPMorgan Chase Building but its architectural significance has been maintained.

In 1923, Saarinen and his family migrated from Finland to the United States where he began by establishing a practice in the Chicago area.  Perhaps he was motivated to leave because of the enthusiastic accolades he got for his design of the Chicago Tribune structure, a design that clearly brought his to the forefront of architects in the United States.  However, it seems likely that he was also strongly motivated by the continued economic crisis in Finland and the opportunities available in the booming Midwest.  One year after coming to the Chicago area, Emil Lösch—who designed the Belle Isle Bridge and was then serving as Dean of the emerging School of Architecture at the University of Michigan—invited Eliel Saarinen to take a faculty job in Ann Arbor.  Sarrinen accepted.  A year later, a student—Harry Booth—enrolled in one of the Saarinen's architecture classes.  Shortly thereafter, Harry Booth introduced Saarinen to his father, George Gough Booth.  George Booth, an immigrant from Canada, had the good fortune to have James Scripps as a father-in-law.  Booth and Scripps worked diligent to make the Detroit News a very successful and profitable endeavor.  Booth expanded his entrepreneurial activities in publishing and tried, without much success, to found an auto company.  However his acumen and his investments in the media paid off handsomely and he became a very wealthy man.

George Booth and his wife, shortly after 1900, purchased 174 acres in Oakland County where they built a summer home named Cranbrook.  This was the English town that was the ancestral home of the Booth family.  The Booths commissioned Albert Kahn to design an Arts and Crafts style home that was completed in 1908.  I do not have a picture of that home on this site.   About a dozen years later, Booth and his wife were successful enough to become extremely well endowed and generous philanthropists.  In 1922, the Booths decided that their large Oakland County estate should be the home to six institutions that they would fund: Brookside School for Children; Christ Church Cranbrook, Cranbrook School for Boys, Cranbrook Academy of Arts, the Cranbrook Institute of Sciences and Kingswood School for Girls.   In 1925, Eleil Saarinen accepted Booth's offer to become the artistic director of the Cranbook project.  He promptly assembled a distinguish array of artists, brought them to Cranbook to teach the fine arts and design.  In his twenty years as an official at Cranbrook, Saarinen designed the Cranbrook School for Boys, the Cranbrook Academy of Arts, the Cranbrook Institute of Science, the Kingswood School for Girls, a museum and library building, faculty housing and artists' studios.  One of the more successful students was his son Eero Saarinen.  After the 1940s, Eero and Eliel collaborated on many commissions throughout the nation.  Cranbrook, thanks to the inspirations of Saarinen and the financing of George Booth, is a National Historic Landmark.  Eliel Saarinen died in Bloomfield Hills in 1950.

This is why the Helsinki railroad station appears on this website.  That structure ranks with Grand Central and Pennsylvania stations in New York and Union Station in Washington as the most architecturally impressive places where I have boarded a train.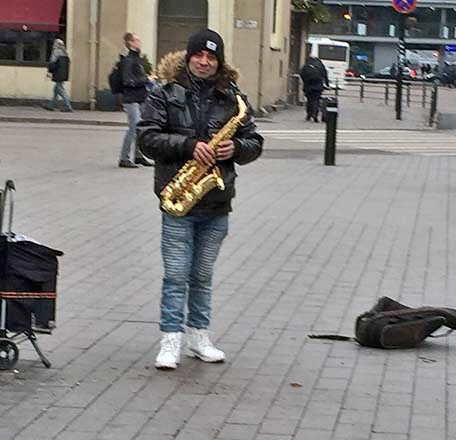 A personal note:  I visited Helsinki on a late November morning in 2015.  The sky was deeply overcast but since Helsinki is at 60 degrees, 10 minutes latitude, there is never much winter light there.  Detroit is sited at 42 degrees, 20 minutes so Helsinki is very far north of any point in the Wolverine State.   When my wife and I got out of the cab—we had taken a boat from Stockholm and were about to take a train from Helsinki to Roviemani at the Arctic Circle in northern Finland—we heard music.  We looked and saw a happy busker loudly playing "Hit the Road Jack" on his trumpet.  We appreciated his upbeat music on a very dreary and dark day so his picture also appears here.


Architect: Eliel Saarinen
Date; Dedicated 1919
Use in 2015:  A very busy railroad depot serving the transportation needs of about 200,000 passengers every day.  High speed trains link Helsinki to St. Petersberg.
Pictures:  Ren Farley; Gail Farley; November 25, 2015
Description prepared: December, 2015

Return to:

Sites linked to Detroit

Transportation

Detroit Homepage