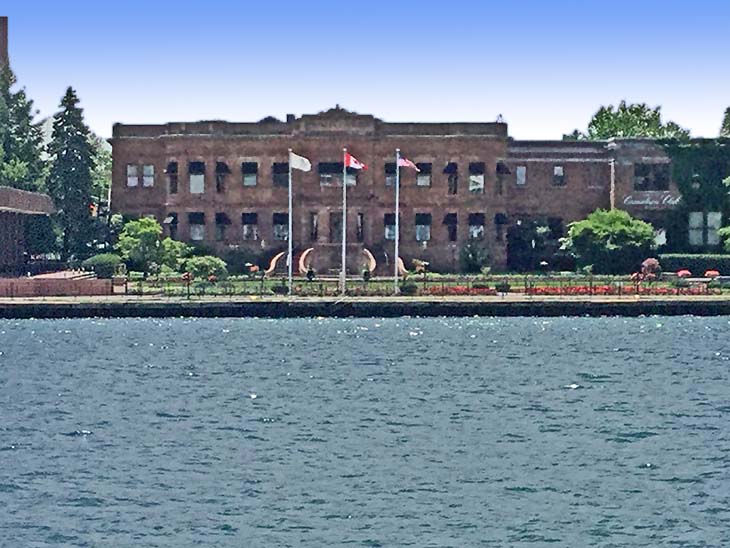 Hiram Walker and Sons Limited Main Office Building
2072 Riverside Drive East, Windsor, Ontario

This is one of the more beautiful buildings you see when you look across to Canada from the northern shores of the Detroit River near Belle Isle.  And it may be the most architectural significant building standing in Windsor.

Hiram Walker was born in Massachusetts in 1816 and migrated to Detroit in 1838 when the city's population was beginning to grow with the development of Michigan and the emergence of Detroit as a significant Great Lakes port.  Walker worked as a clerk in a grocery store and then, in 1846, established his own grocery market but that endeavor failed.  He then went into the leather business and had somewhat more success.  Later he returned to the grocery business, and this time, was successful.  Apparently by the end of the 1840s, he was distilling vinegar and whiskey for sale in his store.  He developed a variety of other businesses in Detroit, including the wholesaling of grain.  By the mid-1850s, he was selling his vinegar and whiskey throughout the region.

In 1857, Hiram Walker began buying extensive tracts of land across the river near Windsor.  I believe he did this for speculative reasons.   After some years he apparently owned more land in the province than anybody else.  Land in Ontario was very inexpensive compared to land in Michigan.  Quickly, Hiram Walker established a distillery and a grain mill on the property just across the Detroit River.  I have read a variety of stories about Walker, his distillery and its location.  Locally made whiskey at that time used a charcoal filtering process.  As a result the product often had a dark color, was not smooth and did not necessarily taste so good.  It was sold in dark glass bottles, perhaps to hide its dingy color.  Walker—who had been distilling for a decade or so—was, seemingly able to minimize the use of charcoal when filtering his whiskey and may have used a different type of oak barrel for aging.   This resulted in a clear, smooth liquid with a consistently attractive taste.  He sold his whiskey in clear glass bottles so people knew what they were buying.  I am not sure why he selected Windsor for his distillery and grain mill although land was cheap.  Apparently, whiskey distillers in Michigan put pressure on the state legislature to make it difficult for new distillers to get into business.  I believe Walker completed his Winsor distillery just shortly before the temperance movement evolved into a moral crusade in the United States and then, later, in Canada.

Walker's many businesses on both sides of the river thrived during the Civil War.  Walker continued to buy property along the south side of the Detroit River and the north shore of Lake Erie.  The products of that rich agricultural area supplied the food needs of Detroit and Windsor residents.  In the late 1880s, Walker built a 27 mile railroad—the Lake Erie and Detroit River—to transport products from the many properties he owned to Windsor and then Detroit.  At the termination point of that line on the shores of Lake Erie, he built an elaborate resort hotel, the Mattawas House in Kingsville, Ontario.  It opened in 1889.  Detroit residents seeking the curing solace of a sojourn on the beautiful shores of Lake Erie could pay their fares on Walker's railroad to arrive at the resort he built.  Alas, the Mattawas House burned in the early 1900s and was not rebuilt.

In Detroit, Walker entered the newspaper business in the 1870s and prospered as the city grew with an increasing literate and affluent population along with advertisers who used newspapers to sell their goods.

Walker, beginning about 1857, established his own company town where his distillery and flour mill were located.  He named it Walkerville.  I believe that he—or his firm—owned the entire town and provided the services we assume would be provide by a municipal government.  Apparently all homes were built and owned by the Walker firm.  Several of the more attractive and substantial ones erected for higher level employees are listed on the Canadian register of historic places.  These are the brick homes now found at 721, 731, 739, 749, 753 and 763 Walker Road.  That was the main street that he laid out for his time.  Walkerville did have legal status in Ontario.  Hiram Walker served as mayor.  I do not know if he was elected or self-appointed.

In the early 1890s, Hiram Walker commissioned the leading architects in Detroit—George Mason and Zacharias Rice—to design an office building for the Hiram Walker enterprises—distillery, grain mills, railroad and other enterprises. This building on the shores of the Detroit River is a marvelous and beautiful example of Italian Renaissance in the Florentine style using red brick and elaborate terra cotta as primarily materials.  The building is two stories of height on the Detroit River side and one and one-half story on the Windsor side.  The terra cotta is highly decorated.  There is a major and attractive and very ornate portico on the river side and an entrance on the Windsor side with brass gates and lanterns.  This is one of the most highly decorated buildings in the metropolitan Detroit area. The building, as constructed, had a kitchen, a dining room, an exercise room, a barbershop and a distinct entrance along the side for the support staff.

Albert Kahn was a 23-year old-draftsman working for Mason and Rice when this building was completed.  He was given the assignment to design the interior of Mr. Walker's showcase.  I have not seen that interior but I have read that it is as impressive as the exterior and has been little changed in the last 125 years.   Kahn used red Vermont marble for steps, marble from Egypt and onyx from Mexico for interior decorations and designed Numidian marble columns.  There is extensive mahogany and walnut paneling but Kahn used oak for the interiors of the offices.

The façade of this building facing Riverside Drive East is unlike that of any other structure in metropolitan Detroit.  You might wonder where Mason and Rice got the inspiration for that façade.  The answer is the Pand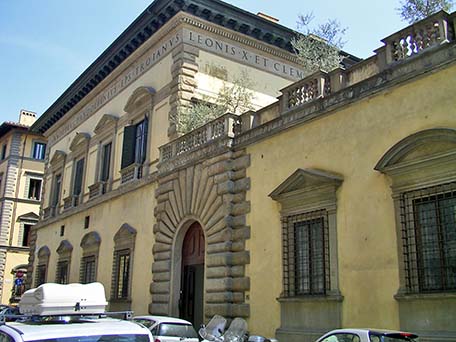 olfini Palace in Firenze.  I do not know if Mr. Walker or one of the architects made this choice.  It is one of the most impressive façades to be found in metropolitan Detroit.  This palace was designed in about 1514 by Raffello Sanzio for Giannozzo Pandolfini who was then serving as bishop of Firenze.  A thumbnail picture of this palace—not taken by me—is included on this webpage.    Alas, my picture was taken from a ship plying the Detroit River so I do not show the component of this building that resembles the bishop's palace. Bishop Pandolfini was a friend of Pope Leo X who donated statues, fountains and water displays for this palace in Florence.  Thus it was designed with attractive garden spaces.  Similarly, the architects paid great attention to the landscape design for this Hiram Walker building.  A series of massive elm trees once graced the front but they are no longer standing.  However, the water front of this building is very attractive, perhaps linked to the design of the palace in Florence.

Hiram Walker became ill in the mid-1890s and died in 1899.  He had been one of the founders of the Michigan's Children's Hospital that is now a component of the Detroit Medical Center. Apart from what passed on to his heirs, he left seven-eighths of his estate to that hospital and the other one-eights to Harper Hospital in Detroit.  His heirs sold the Hiram Walker distillery in 1927 to Harry Hatch.

A wing with a swimming pool was added to the building in 1920 and, in about 1990, was renovated.   It is currently used by the firm that operates the distillery here—now in its 160th year of producing whiskey.

It is a little surprising that there is no historical marker in the Detroit area commemorating the accomplishments of Hiram Walker.  I am not an expert on the topic of distilling but if the reports I have read are accurate, Walker greatly improved and standardized the taste of whiskey.  In addition, he played a role in the development of Michigan's Children's Hospital.

Architects:  George Mason and Zacharias Rice with Albert Kahn for the interior
Date of Construction: 1892 to 1894
Architectural Style: Italian Renaissance
Contractor: N. Reaume
Website for Canada Register of Historic Places: http://www.historicplaces.ca/en/rep-reg/place-lieu.aspx?id=7684&pid=0
Photograph:  Ren Farley June 22, 2016
Description prepared:  July, 2016

Return to Commercial Buildings

Return to Homepage